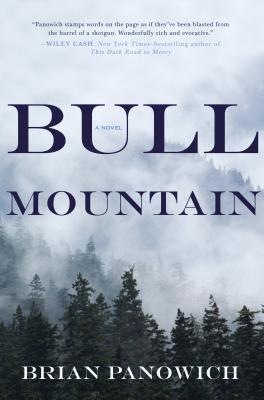 Southern Fiction
Released July 7, 2015
304 Pages
Bottom Line: Read it.
Affiliate Link: Buy from Amazon

Source: Purchased
Headline
Brian Panowich's debut novel is a jaw-dropping (yes, my jaw really did drop multiple times!) multi-generational family saga that feels like Southern "grit lit", but reads like a thriller. It's one of my favorite books of the summer and is going on my 2015 Summer Reading, Page Turners, and Books for Guys lists.
Plot Summary
North Georgia's Bull Mountain has been run by one family of outlaws (the Burroughs) for generations, but when a federal ATF (Alcohol, Tobacco, and Firearms) agent arrives to put a stop to the crime, Sheriff Clayton Burroughs' family loyalty is tested.
Why I Read It
Shannon at River City Reading had good things to say about it and Katie at Bookish Tendencies' glowing review sealed the deal for me.
Major Themes
Criminal dynasties, drugs, violence, law enforcement, loyalty, family
What I Liked Loved
As Katie at Bookish Tendencies warned, the first chapter blew my mind! My jaw was already on the floor and what did Panowich do? He made it drop again.
The story is told from various perspectives and jumps around in time, very much reminding me of the structure of Sara Taylor's The Shore. Thanks to Sara Taylor, I knew what to do this time around and immediately started taking notes on the characters and their relationships! But,

Bull Mountain

's structure is not nearly as complicated as The Shore's and I ended up not needing most of my notes. I loved how this structure enabled Panowich to slowly reveal the true nature of things.
The Burroughs family makes their living through crime (the particular crime changes over generations) and reminded me of the Knox family in Natchez Burning (both families have one member in law enforcement). They're like a redneck, mountain version of the Mafia and you do not mess with them if you value your life.

Once you get to a certain point in the story, this is not a book you can easily put down. The action really picks up in the second half and I stayed up way past my bedtime finishing the final quarter in one night.

I'd be remiss not to mention

Bull Mountain

's level of violence. If you can't handle horrifying scenes, sometimes involving children, then this book isn't for you. But, contrary to some other books I've read (Cry Father), the violence is integral to the story and serves a purpose (at least from the characters' perspectives).

Bull Mountain

does not feel like a novel chock full of violence just for the shock value.
What I Didn't Like
Nothing. This book is fantastic!
A Defining Quote
"There is a subtle symbiotic relationship between the land up here and the people who call it home that folks like yourself never seem to fully understand, no matter how many files you read, or training scenarios you run. It's not your fault, you're just not from here. It goes way beyond simple pride or honor. Pride is a brand-new red bike or a better-paying job. Up here it's something deeper than bone. It's not something that they earned or had to fight to get. They were born into it, and the fight comes on real hard when someone threatens to take it away. It's an integral part of who they are – who we are."
Good for People Who Like…
Multi-generational family sagas, "Grit Lit", Southern Gothic fiction, dark stories, mind games, page turners.
Other Books You May Like
Natchez Burning by Greg Iles
The Shore by Sara Taylor