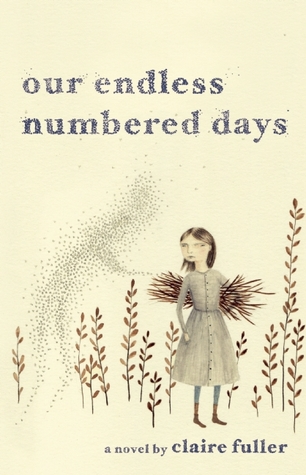 Fiction
Released March 17, 2015
382 Pages
Bottom Line: Read it.
Affiliate Link: Buy from Amazon

Source: Purchased

Headline
This is a gorgeously written story that starts out quietly, but takes a suspenseful turn and will leave you dying to talk to it over with someone…making it a perfect book club selection. I'm also adding it to my 2015 Summer Reading List.
Plot Summary
When eight year old Peggy Hillcoat is taken to live in a remote cabin in the woods (die Hutte) by her survivalist father (James), she discovers the reason he told her they had to leave London is a lie and sets about to discover the truth.
Why I Read It
A couple bloggers who have steered me to great places before (Leah at Books Speak Volumes and Allison at The Book Wheel) raved about it.
What I Liked Loved
Our Endless Numbered Days

starts out as a somewhat quiet story, but gets incredibly suspenseful during the second half (or so). I stayed up way too late finishing the final third in one night.

Fuller tells the story through the perspective of Peggy looking back on her time in the woods intermixed with chapters following her return to London. I loved this choice because, during the quieter beginning of the book, Peggy drops hints about certain things that should have alerted her to danger at the time. This gives the story a deliciously ominous feel right from the beginning.

What kicked this book from a "really like" to a "love" for me was that the story made me take the same set of puzzle pieces it started with and look at them from a completely different perspective by the end.

The writing is gorgeous…especially when Fuller describes mundane things in the woods in a  way that makes life there seem a bit magical.
In the middle, the river was a deep green, scattered with rocks poking their noses up for a breath. The water charged around them, creating eddies and whirlpools. Closer to the bank, the current dragged lengths of weed along with it so it seemed that long-haired women swam just under the surface, never coming up for air.
What I Didn't Like
I honestly couldn't come up with something I didn't like about this book, but I do think the official marketing blurb includes way too much information (so maybe steer clear if you think you want to read it and like going in blind!). Sadly, I've been feeling this way about more and more books lately.
A Defining Quote
A wave of homesickness came over me, but I wasn't sure if it was for London and shoe shops and pavements, or my father and die Hutte. I wanted both to stay and run away.
Good for People Who Like…
Gorgeous writing, child protagonists, secrets and betrayal, books that make you think, dark topics
Other Books You May Like
Station Eleven by Emily St. John Mandel