Fiction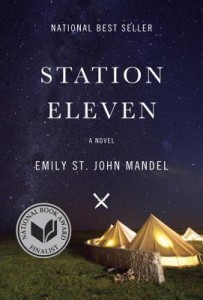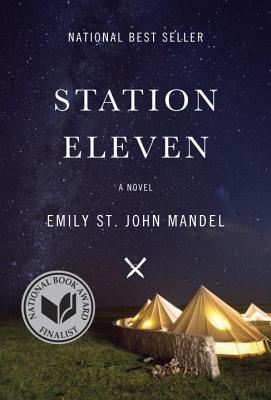 Released September, 2014
353 Pages
Bottom Line: Read it.
Affiliate Link: Buy from Amazon

Source: Purchased
Plot Summary of

Station Eleven

:
A post-apocalyptic story of what happens to civilization after an outbreak of a virulent flu (the Georgia flu) and how the survivors make due in their new world.
My Thoughts on

Station Eleven

:
What if there was a…
Flu that exploded like a neutron bomb over the surface of the earth and the shock of the collapse that followed, the first unspeakable years when everyone was traveling, before everyone caught on that there was no place they could walk to where life continued as it had before and settled wherever they could, clustered close together for safety in truck stops and former restaurants and old motels.
This is the story of Station Eleven.
I gave Station Eleven a shot because people had raved about it (and it's a National Book Award Finalist) and it was making a fair number of "Best Books of the Year" lists (it will now be on mine as well!), but I frankly expected it to be a DNF (does not finish) for me. Boy, was I wrong! I was immediately hooked by the first chapter, which is a heart-stopping account of the initial flu outbreak.
Those of you who do not normally read post-apocalyptic fiction (myself included)…do not be afraid! Station Eleven is a post-apocalyptic story for people that usually aren't into this kind of stuff. I think the fact that the characters in the story are just as confounded by what has happened to them as I was made it much easier for me to identify with this story. Plus, the recent Ebola outbreak gives the fictional Georgia flu a bit of scary realism…adding to the "this possibly could happen in real life" factor.
Following the first flu outbreak chapter, Station Eleven switches back and forth between the "before" and "after" while following the experiences of a few central characters. Arthur Leander is a famous Hollywood actor who dies onstage during night one of the outbreak. Kirsten, a child actor in Arthur's play, navigates the post-collapse world as part of the Traveling Symphony (yes, this sounds ridiculous, but the way it's written makes it plausible and removed some of the cheesiness for me). While Arthur and Kirsten are the two central players, you also get to know other people from each of their orbits.
One of the things I loved about Station Eleven is the way that details that seem incredibly random and out of place are seamlessly tied together in ways that are unexpected, but also make sense. Everything is almost cosmically connected. And, believe me, I do not do cosmic connections…but, Mandel had me totally bought in. For example, the title of the book comes from a set of unpublished comic books called Station Eleven, which turn up in the unlikeliest places throughout the story.
But, what really made this book for me was the gorgeous writing…this is a highly quotable book.
Jeevan, a paparazzi photographer who is studying to be a paramedic, on why he wants to be an EMT:
At moments when other people could only stare, he wanted to be the one to step forward.

The Traveling Symphony's motto:
Because survival is insufficient.

On the emotion involved with losing everyone you've ever loved at the same time:
Hell is the absence of the people you long for.

On "high functioning sleepwalkers" in the corporate world:
I look around sometimes and I think – this will maybe sound weird – it's like the corporate world's full of ghosts. And actually, let me revise that, my parents are in academia so I've had front-row seats for that horror show, I know academia's no different, so maybe a fairer way of putting this would be to say that adulthood's full of ghosts.

On aspirations:
First we only want to be seen, but once we're seen, that's not enough anymore. After that, we want to be remembered.
Station Eleven was a huge and pleasant surprise for me and is going on my Best Books of 2014 List (coming on December 16, click here for last year's list) and Book Club Recommendations List.
You May Also Like:
One Second After by William R. Forstchen
The Martian by Andy Weir