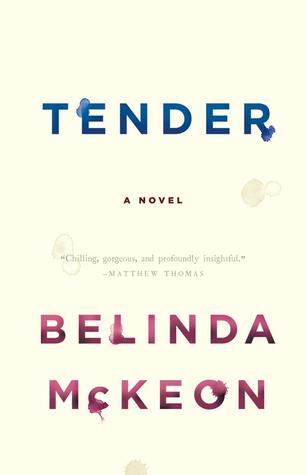 Fiction
Released February 16, 2016
416 Pages
Bottom Line: Read it.
Affiliate Link: Buy from Amazon

Source: Purchased (published by Lee Boudreaux Books)
Headline
Tender made me feel all the emotions…and pulled me out of one of the more epic reading slumps I've had in awhile.
Plot Summary
Conservative Catherine and vivacious James become virtually inseparable friends during Catherine's first year of college in Dublin, but emotions run high as they navigate the boundaries of their relationship.
Why I Read It
Shannon at River City Reading's tip to pay attention to the new Hachette imprint, Lee Boudreaux Books, led me to this novel and her subsequent review sealed the deal.
Major Themes
Friendship, relationships, sexuality
What I Liked Loved
Tender

is one of those books that just has all the intangibles. Rather than loving it for concrete reasons (i.e. the plot, the characters, etc), I love it because of the way it made me feel. These are the types of books I get most excited about because they're hard to pre-select accurately, yet they are generally the ones that end up on my Best Books of the Year lists.

Did this book make me feel tender? At times, but mostly not. Rather, it made me feel uncomfortable, embarrassed, and empathetic. I wanted to cringe and I wanted to scream "do not do what I think you're going to do under any circumstances!" over and over again, while I also remembered how hard it could be to hold yourself back when emotions overwhelmed you in your youth.

Tender

works because McKeon created heart-pounding intensity out of feelings and thoughts without much action. Early on, you experience Catherine and James' relationship developing, but there is a sense of intrigue hovering over them. I sensed that there was a train-wreck coming, but really had no idea what form this disaster would take.

As the story goes on, it becomes more and more cringe-worthy. As a reader, you are forced to sit back and helplessly watch this spiral of complete self-destruction. And, through her writing, McKeon makes you truly feel the frantic, desperate hysteria and a sense of the inevitable.
And Catherine hated herself, in that moment. For wanting to ask what she wanted to ask. For needing to. She tried to stop herself; she tried to bite it back, beat it back, this swelling in her: this awful, unforgivable surging of hope. But she could not. She could not harangue herself out of hoping. And so she looked at him. Her heart a frantic drum. "And?" she said, her voice tripping, slipping on the word. "And? What did you say?"
What I Didn't Like
The story dragged ever so slightly through the middle.
A Defining Quote
She wanted the best of his attention, she wanted the highest pitch of his energy; she wanted to be the reason he was fascinated, delighted, amused. And here were all the others, stealing this ground from her, and she resented them for it, and she resented James, for being taken in.
Good for People Who Like…
Gorgeous writing, character-driven novels, coming of age, teenage (or early college) angst