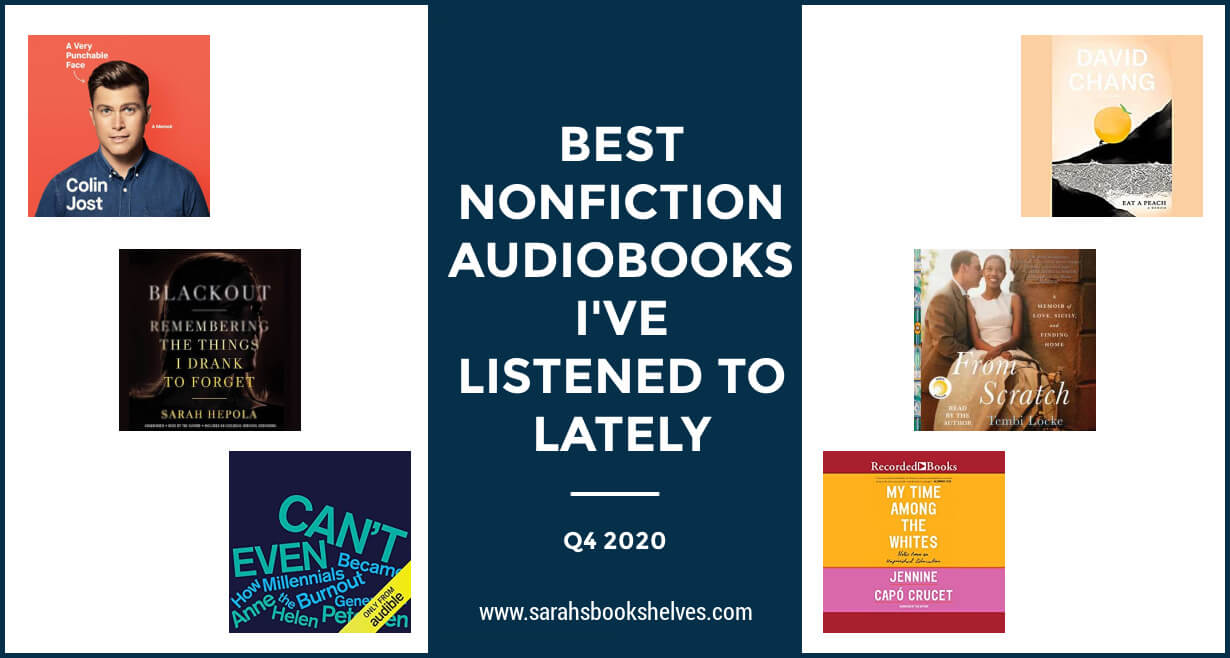 2020 turned out to be a pretty good year for nonfiction audiobooks for me! I listened to 24 audiobooks (27% of my overall reading), an increase of 14% from last year even though I felt like my listening time was drastically reduced with the arrival of COVID (i.e. my alone time around the house disappeared virtually overnight).
And, 4 of my 2020 audiobooks were 5 stars…something that is usually rare for me with audiobooks! Today, I'm sharing the best nonfiction audiobooks (because I only listen to nonfiction on audio) I listened to in the last couple months of 2020.
Libro.fm Special Offer
Use code SARAHSBOOKSHELVES to get 2 audiobooks for the price of 1 when you sign up for a new Libro.fm membership, or $14.99 up front for two audiobook credits! 
This post contains affiliate links (plus: here's your Amazon Smile-specific affiliate link
), through which I make a small commission when you make a purchase (at no cost to you!).
The Best Nonfiction Audiobooks I Listened to in 2020 (Second Half)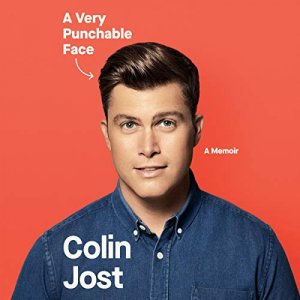 A Very Punchable Face
by Colin Jost, Narrated by the author
Memoir, Released July 14, 2020
7 Hours, 41 Minutes
Affiliate Link: Buy from Amazon
Plot Summary: Jost's story of growing up on Staten Island, NY and rising to fame as a writer and Weekend Update co-host on Saturday Night Live.
My Thoughts: This is the second memoir by a television comedian who I don't actually watch on TV that I've enjoyed on audio (the other is Born a Crime by Trevor Noah). I don't watch SNL and don't particularly like memoirs by comedians. But, Jost is likable, self-deprecating, and doesn't try too hard with his humor (this is the reason comedian memoirs don't generally work for me). He speaks with humor about his upbringing on Staten Island and my friend who grew up there said his portrayal is accurate. He also has some crazy "comedian living in NYC" stories to tell and shares what it was like to work at SNL (but not in a "spill the tea" kind of way). But, the star of this book is actually Jost's mother, who was Chief Medical Officer for the FDNY during 9/11. The section about her experience on 9/11 made me cry (the only book that's made me cry this year) and I loved what he learned from watching his mother do her job (i.e. he never thought twice about women having independent and fulfilling lives and about them working in traditionally male jobs, making as much money as men). 3.75 stars!
Blackout
by Sarah Hepola, Narrated by the author
Memoir, Released June 23, 2015
7 Hours, 35 Minutes
Affiliate Link: Buy from Amazon
Plot Summary: The story of Hepola's struggle with alcohol, particularly being a female alcoholic.
My Thoughts: Kimberly McCreight (author of A Good Marriage) and also a recovering alcoholic recommended this memoir on Episode 61 of Sarah's Bookshelves Live. Especially since COVID, I've gravitated towards intensely personal memoirs. I've found them easy to get engrossed in and a different type of escape from my own problems. Hepola talks about her long history of partying, how it made her feel (good at times, horrible at others), and the shame that came along with often not remembering what had happened the previous night. She shares some mind-blowing stories, some of which are dangerous and some of which involve decision-making that's hard to understand. She shares how she lost friends. She's reflective about all of it and is forthright with sharing her thought process at the time, no matter how cringe-y those thoughts could come across to readers (and, since time has passed, she's aware of how cringe-y they are). A great choice if you appreciate intensely personal memoirs.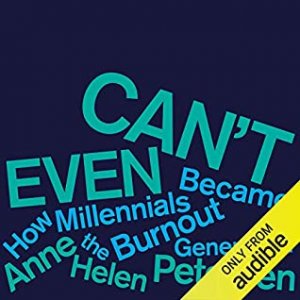 Can't Even: How Millennials Became the Burnout Generation
by Anne Helen Peterson, Narrated by the author
Nonfiction – Social Science, Released September 22, 2020
8 Hours, 25 Minutes
Affiliate Link: Buy from Amazon
Plot Summary: Peterson explores the systemic issues and societal pressures that drive widespread burnout in millennials (and, in my opinion, other generations as well).
My Thoughts: Though this book is targeted towards millennials and there are some historical and generational issues that are specific to millennials, I think much of this book is applicable to other generations and, particularly women of other generations. I also think this is more of a "burnout book" than a "millennial book." I loved and identified with some parts of this book (motherhood, work / life boundaries being obliterated by technology, the fallacy of "doing what you love" for work, the rise of the side hustle, and the division of labor and gender roles in the home) and thought other parts were questionable. She bashes capitalism without addressing the negative consequences of systems other than capitalism. She talks about companies as if all that matters is the happiness of their employees (ex: Uber), virtually ignoring a company's customers (without whom a company would not exist). And, she talks about the level of control her phone has over her (which I do understand to some extent) without addressing the ability Smartphone users have to turn off notifications from all these apps, text messages, emails, etc. I wanted to scream at her to "turn Twitter notifications off" and "mute group text trains that drive you crazy." But, overall, I think she hit on something many women feel these days…and many women, particularly working moms will identify with her message. 3.75 stars.
Eat a Peach
by David Chang, Narrated by the author
Memoir – Food / Cooking, Released September 8, 2020
9 Hours, 6 Minutes
Affiliate Link: Buy from Amazon
Plot Summary: Chang's memoir about growing up Korean American in Northern Virginia, his struggle with mental illness, and how he built his Momofuko restaurant empire.
My Thoughts: I lived in New York City for almost a decade, so I was familiar with Chang before listening to Eat a Peach, but I never ate at one of his restaurants (they were impossible to get into, so I never even tried). I couldn't regret that more…especially after listening to Eat a Peach. It might be my all-time favorite food memoir, but it is much more than just a food memoir. Chang talks about what it's like to be an Asian American who does not fit traditional Asian stereotypes (i.e. he's not book smart and he's a big guy), going into a non-traditional profession as the child of Korean immigrants, his childhood as a golf prodigy (what?!), and his struggle with mental illness (bipolar disorder). He's incredibly self-deprecating and I love his philosophy on food. He believes food should be accessible and not stuffy. He believes that people who are struggling should be able to eat delicious food alongside billionaires. And, he uses food and his eating philosophy to combat racism and racial stereotypes. It was also interesting listening to this book after COVID-19 has decimated the restaurant industry, particularly in New York City…and Chang addresses this in an Afterward. He says reading this book in light of COVID-19 is like "looking back on the excesses of the Roman Empire." I truly hope this does not turn out to be the case. Also check out this companion listen: Chang on the Bill Simmons Podcast!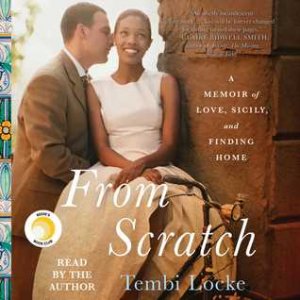 From Scratch: A Memoir of Love, Sicily, and Finding Home by Tembi Locke, Narrated by the author
Memoir – Food / Cooking, Released April 30, 2019
10 Hours, 17 Minutes
Affiliate Link: Buy from Amazon
Plot Summary: Locke's story of her interracial marriage to her Sicilian chef husband (Saro), his battle with cancer, their adoption of a daughter, Locke's relationship with Saro's Sicilian family, and how cooking and food influenced it all.
My Thoughts: It's rare that books described as "beautiful" appeal to me, but I'd call this story beautiful and I loved it. Locke's marriage is a loving, functional one, though she faces tragedy. A lot of the story is about how she grieved Saro's death and worked to keep him alive in her and her daughter's hearts and minds. Locke shares the very particular loss of Saro's food and how it was an extra layer of grief she went through when he died. She reminds you of the literal and emotional sustenance from food. Locke shares the struggle she and Saro went through to get his Sicilian family to accept her (a black woman from Texas…and an actress) as his wife. I didn't know much about Sicilian culture or traditions and was amazed to learn that they still live as other cultures did centuries ago. In some ways, it seems like a peaceful way to live, but other elements of it would drive me crazy (inefficiency, ignorance of facts in favor of social hierarchy, strict observation of traditions that don't make sense anymore, etc). P.S. – Tembi Locke is Attica Locke's (author of Bluebird, Bluebird) sister!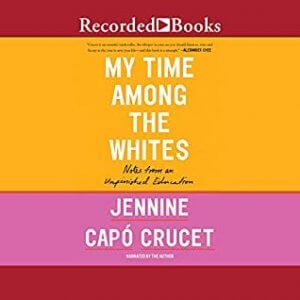 My Time Among the Whites
by Jennine Capo Crucet, Narrated by the author
Memoir, Released September 5, 2019
4 Hours, 27 Minutes
Affiliate Link: Buy from Amazon
Plot Summary: Capo Crucet's story of growing up Cuban in the Miami area and then proceeding to a mostly white, Ivy League college (Cornell), followed by grad school in Nebraska (also very white).
My Thoughts: My Time Among the Whites is what I'm calling an anti-racism memoir, which is my favorite type of anti-racist reading. I find it impactful to hear people from marginalized group's personal stories about living in America. Capo Crucet talks about how Cubans are more or less treated as white in Miami and what it was like to arrive at Cornell to realize Cubans are not treated as white outside of Miami. She talks about how uninformed she felt about what to expect at college…norms that are taken as givens by many college students were surprising to her and her family. She talks about marrying a white guy and the hurdles that come along with that. She also covers Cuban immigrant politics, which differ from other immigrant groups in America…and this felt especially relevant since I listened to it right before the 2020 election. And, she shares her views on the term "Latinx" that many Americans now use. She conveys serious messages in a heartfelt and sometimes humorous way and the overall trajectory and tone of the book reminded me of I'm Still Here by Austin Channing Brown (an #ownvoices memoir about growing up Black in white spaces…including school and work).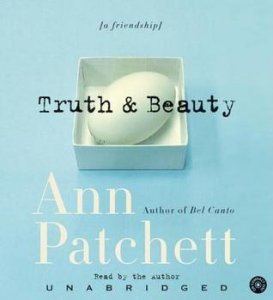 Truth & Beauty
by Ann Patchett, Narrated by the author
Memoir, Released May 1, 2004
8 Hours, 6 Minutes
Affiliate Link: Buy from Amazon
Plot Summary: The story of Patchett's long friendship with poet, author of memoir The Autobiography of a Face, and cancer survivor, Lucy Grealy (passed away from a heroin overdose in 2002).
My Thoughts: Lucy Grealy had cancer of the jaw as a child and had over 30 reconstructive surgeries to try to repair the appearance and functionality (i.e. eating, talking) of her face in the years after. She and Patchett met at the Iowa Writer's Workshop and were best friends ever since. I have to think that, in many people's eyes, Lucy was nothing more than her face and her surgeries and her cancer and her trauma. I love how Patchett portrayed Lucy as a whole person in this book. There were times when I was listening that I forgot about all her trauma…she just seemed like a regular girl struggling with her writing, friendship, love, etc (and, later, with drug addiction). Patchett did not hero worship Lucy as one could likely do with somebody like Lucy. Lucy certainly had her demons too and Patchett didn't shy away from that side of her. The memoir also includes gorgeous letters from Lucy. This story is poignant, raw, and made me appreciate the value of true friendship. P.S. – After finishing the book, I discovered that Lucy's sister had been upset with Patchett for writing this book and asked her not to. I'm still sitting with this and wondering how I'd feel if I were Lucy's family. This does slightly taint the book for me.
What's the best audiobook you've listened to lately?
Pin this post…