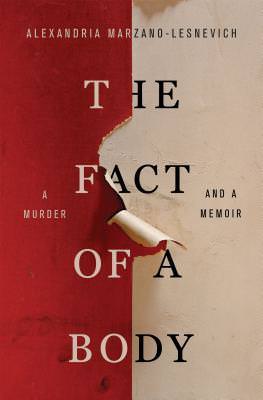 Nonfiction – Memoir / True Crime
Released May 16, 2017
336 Pages
Bottom Line: Read it.
Affiliate Link: Buy from Amazon
Source: Publisher (published by Flatiron Books)
Headline
Though not perfect, The Fact of a Body
is a thoroughly unique, complex, and emotionally gut-wrenching mash-up of true crime story and dysfunctional childhood memoir.
Plot Summary
Marzano-Lesnevich interweaves the painful story of her upbringing in an abusive family with the true story of the murder of a five year-old boy by a sex offender (Ricky Langley).
Why I Read It
A mash-up of a dysfunctional childhood memoir with true crime literally couldn't be any farther up my alley. Plus, Celeste Ng, author of Everything I Never Told You (my review), called it a "marvel."
Major Themes
Crime, Mental Illness, Pedophilia, Childhood Trauma, Abuse, Family Secrets
What I Loved
This memoir / true crime mash-up is totally unique and was mostly (see below) successful for me. Marzano-Lesnevich interweaves the true story of the murder of five year old Jeremy Guillory by convicted sex offender Ricky Langley (and Langley's childhood and coming of age) with the story of her own family and childhood, which resembles Ricky's in surprising ways.

The farther I read, the more sense it made to meld these two stories into one book.

Marzano-Lesnevich's exploration of the making of a sex offender is frightening and heart-breaking all at the same time. And, the juxtaposition of reading about the perpetrator of a sex crime alongside the victim of a sex crime gives this story incredible depth and nuance…and certainly brought up some complex feelings for me.

By the end of the book, I was just heart-broken about all of it and surprisingly emotionally gutted.
What I Didn't Like
The Fact of a Body has been compared to In Cold Blood, Midnight in the Garden of Good and Evil, Serial, and Making A Murderer. For me, the Serial and Making A Murderer comparisons were unfounded and misleading. Serial and Making A Murderer focused heavily on "is or isn't the suspect actually guilty?" And, that's not what The Fact of a Body does at all. Rather, you know who the perpetrator is right away and there is never any question of his guilt.

The Fact of a Body

is more an exploration into the psyche of a killer and sex offender…a la In Cold Blood.

Initially, I found the writing style and structure a bit tedious. The shifts between Ricky/Jeremy and Marzano-Lesnevich's childhood were jumpy and Marzano-Lesnevich injected her own opinions/speculation into the Ricky/Jeremy story with statements like "he must have been thinking X" or "maybe he does Y," which I found annoying. However, either I eventually got used to the style or things smoothed out farther into the book, because it bothered me much less by the end.
A Defining Quote
But how could I fight for what I believed when as soon as a crime was personal to me, my feelings changed? Every crime was personal to someone.
Good for People Who Like…
True Crime, dysfunctional childhood memoirs, dysfunctional families, emotional gut-wrenchers
Other Books You May Like
Another true crime book focusing on the psyche of a killer:
In Cold Blood by Truman Capote
Looking for a specific book recommendation? I've got you covered!
Participate in a limited time, free trial of my
new PERSONALIZED BOOK RECOMMENDATION service!