Both of these books deal with topics that seem somewhat frivolous on the surface (bachelor parties, homemaking), but can (and in these cases, do) have much darker undertones.
The Guest Room by Chris Bohjalian
Fiction (Released January 5, 2016)
336 Pages
Bottom Line: Read it.
Affiliate Link: Buy from Amazon

Source: Publisher (Doubleday)
Plot Summary: The aftermath of a bachelor party that married Westchester investment banker Richard Chapman hosted for his younger brother upends the lives of all the attendees and their families.
My Thoughts: Chris Bohjalian is one of my go-to authors and The Double Bind is one of my all-time favorite books, so I was ecstatic to hear he had a new novel out this year! The topic of this one sounds frivolous and sleazy (and parts of it are sleazy by necessity), but he deals with the ripple effects of the consequences of this bachelor party in a very serious and thoughtful way. Some of the plot points in this novel could have gone the direction of a cheesy action movie, but it didn't feel that way at all.
As the story started to unfold, I wondered where it was going to go…there wasn't a clear direction. But, I absolutely loved where it did go. Bohjalian covered human trafficking, marriage and what it can survive, humanity, forgiveness, and the character of men when embroiled in a compromising situation (and how much that can vary). By the end of the book, my head was swirling with "what would you do in this situation?" types of questions, making this an excellent pick for book clubs. I'd especially like to be a fly on the wall should a coed book club discuss this one!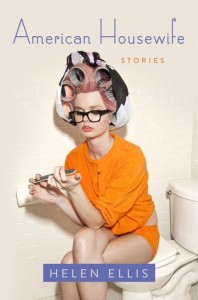 American Housewife by Helen Ellis
Fiction – Short Stories (Released January 12, 2016)
208 Pages
Bottom Line: Skip it.
Affiliate Link: Amazon

Source: Publisher (Doubleday)
Plot Summary: A satirical collection of short stories about the dark side of domesticity and homemaking (quite possibly one of my least favorite words, but appropriate in this case).
My Thoughts: This short story collection was what a lot of short story collections end up being for me: hit and miss (or, in this case, hit and so-so). It's like when a Top Chef contestant makes a "duo of lamb, tuna, whatever" and the judges ding him/her because one half of the duo was great, but the other was merely average. So, the overall dish doesn't work. I kind of expected to laugh out loud throughout this book and to encounter "yes, that's exactly how it is" writing, but that really didn't happen much. There were paragraphs here and there that were funny and spot-on, but few of the stories worked in their entirety for me. The two stories I really enjoyed ("Dumpster Diving with the Stars" and "The Fitter") were a bit darker and longer than the others, allowing me to invest in the characters. Though this collection wasn't an overall winner, it did help me clarify what types of short stories are more likely to appeal to me.