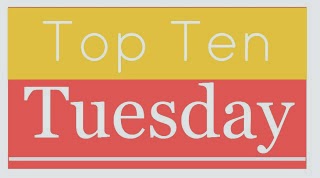 Top Ten Tuesday is a weekly meme hosted by The Broke and the Bookish that asks bloggers to create Top Ten lists on a variety of bookish topics. Most of the books on my list came from combing everyone else's lists during the last Top Ten Tuesday TBR busting topic, Top Ten Early 2016 Releases I'm Anticipating. My 2016 TBR is officially out of control! And, this week's topic will definitely not help matters.

As Close to Us As Breathing by Elizabeth Poliner (March 15, 2016)
Katie McD at Bookish Tendencies included this multi-generational family saga on her early 2016 releases list. I've heard good things about Lee Boudreaux Books (this book's imprint) and can't resist a family saga centered around summer!
June by Miranda Beverly-Whittemore (May 31, 2016)
Beverly-Whittemore's 2014 novel, Bittersweet, is one of my top summer reads…so, I was excited to hear she had another one coming out this year!
Sweetgirl by Travis Mulhauser (February 2, 2016)
Rory at Fourth Street Review's Debut Novels to Look for in Early 2016 list has already delivered me one winner (Only Love Can Break Your Heart), so I'm hopeful a second one of her picks will deliver!
The Birds of Opulence by Crystal Wilkinson (March 7, 2016)
Heather @ Capricious Reader included this novel in her 2016 Preview and the focus on multiple generations of women in the South appeals to me.
The Blind Assassin by Margaret Atwood (January 1, 2000)
I finally read my first Margaret Atwood novel (The Handmaid's Tale) over the holidays and am now looking for my next one. Kerry at Entomology of a Bookworm is enjoying The Blind Assassin now, so I think this might be the one!
The Expatriates by Janice Y.K. Lee (January 12, 2016)
I'd had my eye on this debut novel about four women living as expats in Hong Kong, then Catherine at The Gilmore Guide to Books's review officially jumped it onto my TBR.
The Heavenly Table by Donald Ray Pollock (July 12, 2016)
Yet another Rory recommendation…she said "absolutely nothing overshadows Donald Ray Pollock's new novel" in her 2016 preview post. I have never read this author, but looks like I need to!
The Nest by Cynthia D'Aprix Sweeney (March 22, 2016)
I'm a sucker for A) debuts and B) family reunion type novels…and this one has been getting a lot of attention lately. I hope it lives up to the hype.
The Sound of Gravel by Ruth Wariner (January 5, 2016)
I saw this memoir about a girl growing up in a polygamist culture on the Book of the Month Club's January selection list and Beth Fish Reads told me to "go ahead and get myself a copy", so it must be good!
Watch How We Walk by Jennifer Lovegrove (January 1, 2013)
Naomi at Consumed by Ink's review of this novel about a family of Jehovah's Witnesses made me want to scratch my fringe religion itch yet again (I've already hit Mormonism and Scientology).
Tuesday Intro

Every Tuesday, fellow blogger Bibliophile By the Sea hosts First Chapter First Paragraph Tuesday Intros, where bloggers share the first paragraph of the book they are currently reading or thinking about reading soon.
Plot Summary from Amazon
The US military is preparing to withdraw from Iraq, and newly-minted lieutenant Jack Porter struggles to accept how it's happening—through alliances with warlords who have Arab and American blood on their hands. Day after day, Jack tries to assert his leadership in the sweltering, dreary atmosphere of Ashuriyah. But his world is disrupted by the arrival of veteran Sergeant Daniel Chambers, whose aggressive style threatens to undermine the fragile peace that the troops have worked hard to establish.
Here's the first paragraph of the Prologue (this quote is from an uncorrected proof):
It's strange, trying to remember now. Not the war, though that's all tangled up, too. I mean the other parts. The way sand pebbles nipped at our faces in the wind. How the mothers glared when we raided houses looking for their sons. The smell of farm animal waste and car exhaust blending together during patrols through town, rambling, aimless hours lost to the desert.
What do you think? Would you keep reading?