I recently shared these two books in my recent post about Quintessential, Contemporary New York City books. Though these books are very different, they share a setting and a time period.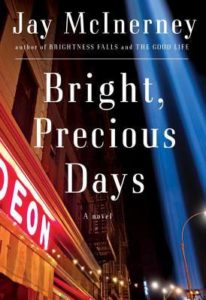 Bright, Precious Days by Jay McInerney
Fiction (Released August 2, 2016)
416 Pages
Bottom Line: Read it.
Affiliate Link: Buy from Amazon

Source: Purchased (Publisher: Knopf)

Plot Summary: McInerney's third novel about New York City golden couple, Russell and Corinne Calloway…this time set during the 2008 financial crisis.
My Thoughts: I remember loving McInerney's first two novels about the Calloways, Brightness Falls (set in the early 1990's) and The Good Life (set immediately following 9/11), when I read them years ago and it was immediately apparent that Bright, Precious Days was more vintage McInerney. Yet, I noticed things about this series that had never occurred to me before, leaving me with a somewhat complicated relationship with Bright, Precious Days.
McInerney's writing style is pretentious, yet it (mostly) worked for me in this case. Furthermore, this entire story is pretentious…with a distinctly obnoxious "Manhattan (and the Hamptons by extension) is the only place in the world that matters" kind of vibe. Yet, I found myself seduced by the Calloway's literary/publishing world, if not a bit turned off by their hoity-toity social life. While the story was easy to read and mildly entertaining, I kept wondering if it would become anything other than a rundown of life in the upper echelons of New York society during a different time period than his last book. It didn't. Despite all this, I enjoyed reading it, leading me to my "read it" recommendation…especially if you enjoyed his previous two novels.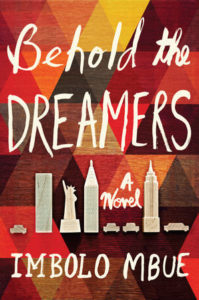 Behold the Dreamers by Imbolo Mbue
Fiction (Released August 23, 2016)
400 Pages
Bottom Line: Read it.
Affiliate Link: Buy from Amazon

Source: Publisher (Random House) via NetGalley

Plot Summary: After landing a job as the driver for a top Lehman Brothers executive, Cameroonian immigrant Jende Jonga and his family's world is shattered when the 2008 financial crisis hits.
My Thoughts: This debut novel highlighting the immigrant experience is one of the most anticipated debuts of the year (and was acquired by Random House in one of the "big debut deals" that has made news lately). I was easily drawn into this story mainly because of the Jongas. They have an optimistic (and probably idealistic) view of their opportunity in America and an earnestness about ensuring they take advantage it that immediately endeared them to me. I was rooting for them. And, I appreciated the larger points Mbue makes about the difficulty of legally immigrating to America, the appeal of America to immigrants, the ripple effects of the 2008 financial crisis, and how people's lives can be tossed into chaos even when they're doing everything right. I also appreciated her focus on the entrenchment of social status as a pre-requisite for success and how little opportunity women have to choose their own paths in countries like Cameroon.
The publisher's blurb describes Behold the Dreamers as "compulsively readable" and I agree that it was easy to read, but I wanted more out of the writing. Had the social commentary on an immigrant's view of America, the immigration process, and the Jongas' wealthy employers been a bit more unique and dazzling, it would have pushed this book to the next level for me.