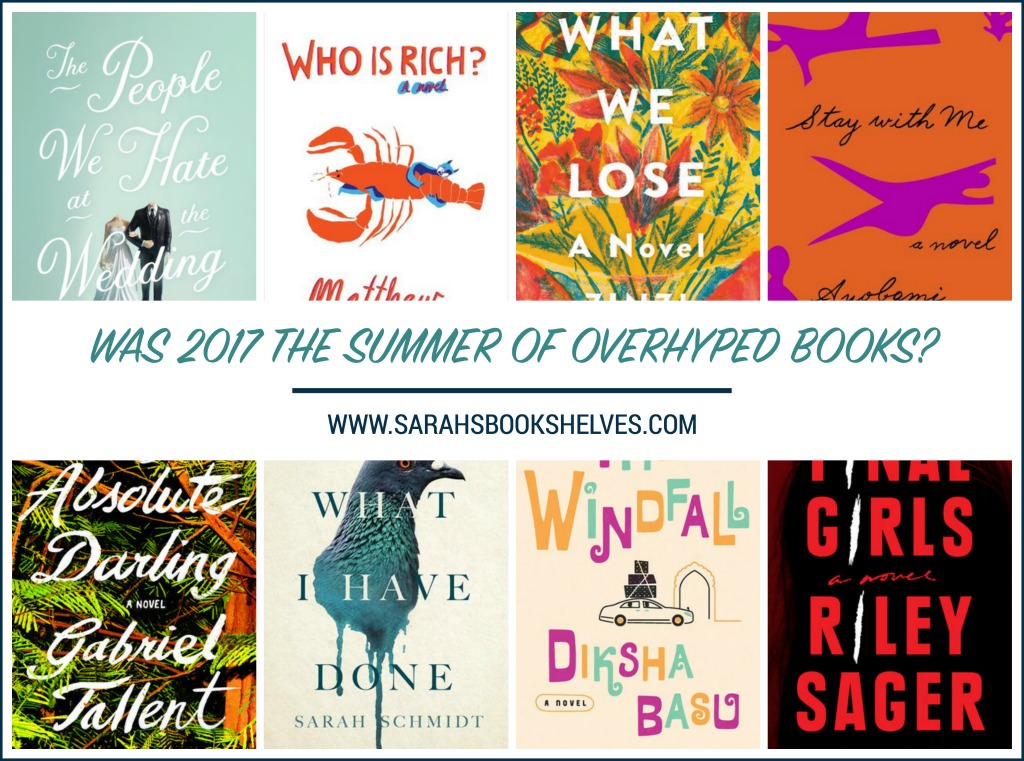 I don't think I've ever had a bigger season of reading disappointment than this past summer. And, I've been hearing similar things from other book bloggers and on reading-related podcasts.
Many of the books that didn't work for me this summer had been hyped up by publishers and the book media…making the crash hurt that much worse. At the end of every year, I write a post called 5 Books That Deserved the Hype…and 5 That Didn't. Y'all, 5 books isn't enough to account for all the overhyped books this summer, much less an entire year! Let's review the offenders…
Books Blurbed by Beloved Authors
I'm a sucker for books blurbed by authors I love. But, I also fall into the trap of thinking that means the blurbed book will be similar to said beloved author's books. While this does occasionally pan out for me, it generally didn't during the 2017 summer of overhyped books. I quickly DNF'd both of these examples…
Examples:
The People We Hate at the Wedding by Grant Ginder (blurbed by Kevin Kwan of

Crazy Rich Asians

and Jennifer Close of The Hopefuls). 

Who Is Rich?

by Matthew Klam (blurbed by Curtis Sittenfeld of Prep and American Wife) and Meg Wolitzer of The Interestings).
Hyped, But Disappointing Debuts
I've historically had good luck with debuts. But, this summer brought us a crop that were hyped by publishers as well as traditional book media (and some podcasters), but that I don't think have connected on a large scale with regular readers (i.e. people not enmeshed in the book world)…and, they didn't connect with me.
Examples:
Book of the Month Club Selections
I have to preface this by saying that I have read countless Book of the Month Club selections that I've adored and I anxiously await the announcement of their picks every month. But, I've read a couple of Book of the Month Club stinkers this summer. Let me repeat again…this is an anomaly overall!
Examples:
The Windfall

by Diksha Basu (July selection). I know some people that liked this one, but I wasn't one of them and I've heard of a number of others who thought it was completely inane.

Final Girls

by Riley Sager (July selection). Also, Stephen King called it the "first great thriller of 2017." This book is not universally disliked by any means, but I thought the ending completely jumped the shark. And after publication, there was the minor scandal surrounding Riley Sager being a male using a pen name that many assumed referred to a female author.
Here's what I'd like to know about the traditional media's new release preview lists: how are they put together?
Has someone at the publication actually vetted the books that are included on the list? Do the journalists compiling these lists do their own research to determine which books they're actually interested in? OR, do the journalists merely talk to people in the book industry, who tell them which books to include?
It's kind of like including the methodology in a summary of survey results or findings of a study. This information really impacts the way the results are interpreted! And, it would certainly help me determine which new release lists to pay the most attention to.
I do have to commend Publisher's Weekly for linking to its reviews of all the books on its Fall Preview list, meaning someone at Publisher's Weekly has actually vetted these books. The Millions occasionally links to an internal review and publicizes the name of the staffer that recommended each book included in its Great 2017 Book Preview. But, Buzzfeed, Elle Magazine, and Bookish need to get a little more transparent.
If any of you know insider details about how the traditional media's new release preview lists are put together, I'd love to hear them in the comments!
As for me, I obviously personally research every book I include in my "Most Anticipated Books of X Season" posts and indicate specifically when I've already read a book I included. That being said, I know from my own experience that it's hard to pick winners in advance. I haven't always been successful (I average about 50% or so per season). I'd like to get more successful and will be even more explicit about how I've compiled my list after the summer of overhyped books.
How do you feel about the books of Summer 2017? How do you feel about hyped books in general? And, how do you feel about hyped new release lists?