This post is part of fellow book blogger, Beth Fish Reads', weekly meme (a "community" blog post, for all those non-bloggers out there) called Weekend Cooking.
My absolute favorite food season of the year is upon us – soft shell crab season! I spent a lot of time on the Chesapeake Bay growing up and always had access to fresh soft shells. If we were really lucky, we'd get one in our crab pot, but that was fairly rare. Some people are scared of these little guys because you eat the entire thing…legs and all, but I think eating the soft version is the best way to taste their delicious crabbiness!
They're delicate and mild, so you don't want to do very much to them when you cook them. One of my biggest pet peeves (and one of the reasons I'm really picky about ordering soft shells in restaurants) is when they're served deep fried with a ton of breading and some complicated sauce. It masks the delicate flavor of the crab and all you taste is the breading and sauce. The best way I've had soft shells is deep fried with NO batter…just a light dusting of Old Bay as soon as they come out of the fryer.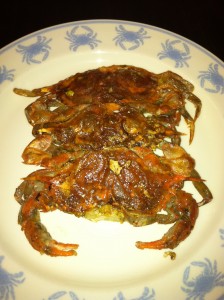 Here's how we do them at home…
Soft Shell Crabs
Warning: I'm horrible about measuring, so this "recipe" is more of a method than a true recipe.

Make sure the crabs are cleaned – ask your fish guy to do this for you.
Lightly dust crabs with flour mixed with salt, pepper, and Old Bay. Go light on the salt since Old Bay spice is fairly salty.
Melt a mix of butter and canola oil (the oil keeps the butter from burning) in a non-stick pan over medium high heat.
Fry crabs for a few minutes per side (you want every part of the crab to turn red).