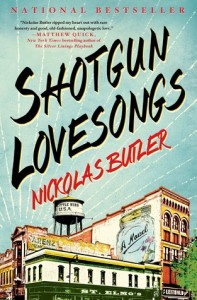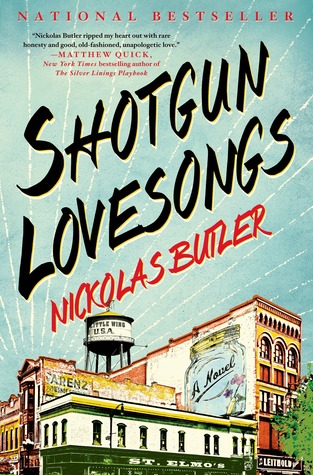 Fiction
Released March, 2014
317 Pages
Bottom Line: Read it.
Affiliate Link: Buy from Amazon
Plot Summary
Four childhood best friends from the small town of Little Wing, Wisconsin reconnect at a wedding and try to find their places in the adult world.
My Thoughts
Shotgun Lovesongs is a beautifully written book about the restorative qualities of old friends, "home", and the simple life – and, it's one of my favorite books of the year so far (along with The Wife, The Maid, and The Mistress , Black Chalk, and Bittersweet).
This is a character-based book and I loved the characters – in their own ways, they are all reflecting on what it means to be adults and wrestling with questions that arise when you take a hard look at the state of your life. And, at one time or another, they all look to each other and the town of Little Wing (which Butler portrays almost as its own character, much like NYC felt like a character in "Sex and the City") for a bit of a respite from the hard knocks of life. 
Henry is married to his childhood sweetheart (Beth) and remains in Little Wing running his father's dairy farm. Kip is a high-flying commodities trader in Chicago. Lee is a famous rock star (and Little Wing's homegrown celebrity) traveling the world on tour. Ronny, after a short career in the rodeo, also remains in Little Wing after an accident that ended his rodeo career and left him a bit "slow". Sounds like something out of the predictions section of a high school yearbook, but it makes an interesting combination of "where are they nows" for four guys from a tiny, farming town in Wisconsin.
I felt the same way about this book that I did about The Interestings (another book about long friendships), which is to say that I couldn't wait for my next opportunity to read because I wanted to sink back into their world…and the gorgeous writing.
Maggie Shipstead (author of Seating Arrangements) used the phrase "yes, that's exactly how it is" to describe Adelle Waldman's portrayal of NYC dating in The Love Affairs of Nathaniel P. I loved the phrase so much that it's the first thing that comes to mind when I find writing that just perfectly captures the essence of something. Butler's writing in Shotgun Lovesongs had me thinking "yes, that's exactly how it is" about so many things…from the mundane to the emotional.
On Jeopardy (i.e. the mundane):
"Alex Trebek stood browbeating three nerds in turtlenecks"

On old male friendships (i.e. the emotional):
"[…] that familiarity, that ability to run together, to move together without ever talking. That kind of stillness."
Since I am decidedly not a male, you may be wondering how I claim to know that old, male friendship has "familiarity" and "stillness"…well, mostly from watching my brothers interact with their cousins and old childhood friends. At a family wedding, I glanced out onto the lawn behind the reception area and my brother was sharing an adirondack chair with our male cousin (one in the chair, one perched on the arm), staring silently at the stars. They looked so peaceful and content with each other and they weren't saying a word. I pictured these two in their one chair the moment I read Butler's description of male bonding.
Shotgun Lovesongs is going on my Books for Guys list and will be included on my Best Books of 2014 list in December (click here for last year's Best Books of the Year list).
You May Also Like
The Art of Fielding by Chad Harbach
The Interestings by Meg Wolitzer
Wise Men by Stuart Nadler