This post is part of fellow book blogger, Beth Fish Reads', weekly meme (a "community" blog post, for all those non-bloggers out there) called Weekend Cooking.
Sometimes (i.e. if you have houseguests or are responsible for bringing a dish to a brunch) you need a breakfast dish that you can make the night before and that feeds a lot of people. Well, I needed one this past weekend, so I turned to my mother-in-law's Sausage and Egg Breakfast Casserole. It's delicious and comforting, although certainly not low-cal (but, you can indulge every once in awhile, right?!).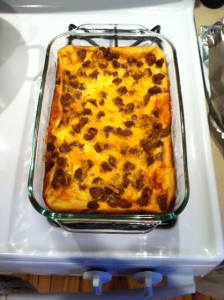 My Mother-in-Law's Sausage and Egg Breakfast Casserole
1 lb of sausage (I used 1 package of defrosted frozen sausage, which was a little less than a pound)
6 eggs
2 cups milk
1 tsp salt
1 tsp dry mustard
6 slices bread (I used a country white bread)
1 cup grated cheddar
Cook sausage.  Beat eggs; add milk, salt, and mustard.  Grease baking dish (I used a Pyrex). Layer bread on the bottom, then the sausage and cheese.  Pour milk/egg mixture over.  Refrigerate overnight. Bake @ 350 for 45 min.