One of my goals for 2015 to is make much better use of the "mini review" for books I don't have as much to say about. Not having much to say about a certain book is not the same as not liking it, so I'll continue with my "Read it" and "Skip it" recommendations in the Minis. On to the first installment…
West of Sunset by Stewart O'Nan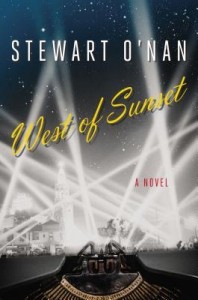 Historical Fiction (Released January 13, 2015)
304 Pages
Bottom Line: Skip it.
Affiliate Link: Amazon

Source: eGalley provided by the publisher via NetGalley
Plot Summary: A novel based on F. Scott Fitzgerald's time in Hollywood writing for movie studios and working on The Last Tycoon during the final years of his life.

My Thoughts: I was attracted to this novel because, ever since I read Z: A Novel of Zelda Fitzgerald, I've been somewhat fascinated by her and her relationship with Scott. At first, I thought this book was quiet and a bit melancholy, but enjoyable enough. But, I eventually got bored. I enjoyed O'Nan's writing…I think it's just that this time period in Fitzgerald's life is probably the least interesting. He is a famous writer in disgrace and comes across as kind of pathetic. I also think the one I'm fascinated with is Zelda and she was in an institution for most of this book. Sadly, Scott is a much more drab character without Zelda (in her prime) on his arm.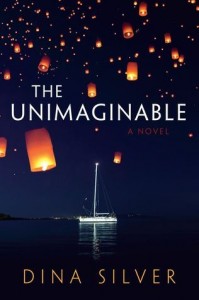 The Unimaginable by Dina Silver
Fiction (Released December 1, 2014)
268 Pages
Bottom Line: Read it…if you're looking for a quick page turner.
Affiliate Link: Amazon

Source: Purchased
Plot Summary: Based on the combination of two true stories, Jessica moves from small-town Indiana to Phuket, Thailand, where she meets a dashing sailor and volunteers to crew on his boat ("Imagine") on a sail across the Indian Ocean.
My Thoughts: The first half of this book focuses on Jessica's time teaching at a school in Phuket and her blossoming attraction to Grant Flynn (the shy, but dashing sailor). I thought the writing and the burgeoning romance with Grant were a bit cheesy during this portion. BUT, I finished the entire second half of the book in one night. Once Grant, Jessica, and Quinn (Grant's friend and the third crew member) set sail across a treacherous part of the Indian Ocean, the book becomes deadly serious and the action more than compensates for the lackluster writing. And, the fact that this is based on a true story makes the second half even more compelling.
This Town by Mark Leibovich
Nonfiction – Politics (Released July 16, 2013)
401 Pages
Bottom Line: Skip it…unless you're a D.C. insider.
Affiliate Link: Amazon

Source: Purchased
Plot Summary: The national correspondent for The New York Times Magazine's humorous take on the shallow cesspool that is the intersection of politics, media, and lobbying in Washington D.C.
My Thoughts: This Town kicked off with a bang in its opening scene…a hilarious skewering of how major D.C. personalities used Tim Russert's funeral as personal branding / networking opportunities. However, it quickly took a turn for the worse as Leibovich focused on more and more obscure D.C. political characters. Bob Barnett? Kurt Bardella? Never heard of them? Neither had I. And, it just went on and on and on…and when I finished it…there was an Epilogue…and then an Afterword (was he playing a joke on us?!). Leibovich's cutting, sarcastic writing (he is great at this) kept me from putting it down, but this is a book for real DC insiders (i.e. not me!).