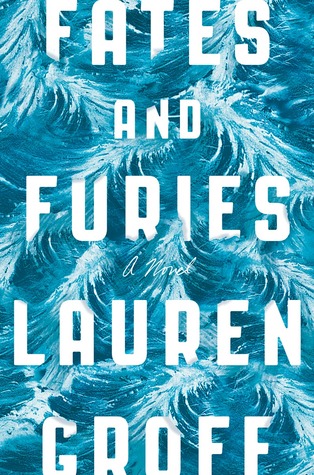 Fiction
Released September 15, 2015
400 Pages
Bottom Line: Read it.
Affiliate Link: Buy from Amazon

Source: Publisher (Riverhead) via NetGalley
Headline
The first section (Fates) was a 2 or 3 star slog, but the second section (Furies) is unquestionably a 5 star read. Overall, pushing through the beginning was worth it for me and I'm adding it to my Book Club Recommendation List.
Plot Summary
The story of the marriage of Lotto, a gregarious aspiring actor from a wealthy background, and Mathilde, a mysterious model he met in college, told first from Lotto's perspective, then from Mathilde's.
Why I Read It
The Riverhead rep at BEA's Book Group Speed Dating event sold the living daylights out of this novel. It was the book I was most excited about coming out of BEA.
Major Themes
Marriage, differing perspectives, secrets/betrayal
What I Liked
I love the overall theme of differing perspectives, particularly as it relates to a marriage. Groff deftly shows how one person's background can shape his/her perspective on events…sometimes ending up with a vastly different interpretation than others. 

Lotto's version of his life with Mathilde (Fates) seems fairly normal and even uneventful, but things completely turn on their heads once you switch to Mathilde's perspective (Furies). So many times, I was left astounded at what had really gone on.

Though it took me awhile to get there, I had a very hard time putting the book down by the end.

This is a book that has me thinking and pondering and I feel like it will stick with me for a long time.

The writing started out a bit terse and I initially had trouble getting into the flow. But, as the story moves along, the writing ends up being absolutely glorious. I was highlighting like crazy by the end.
They handed over spider plants in terra-cotta, six-packs, books, bottles of wine. Yuppies in embryo, miming their parents' manners. In twenty years, they'd have country houses and children with pretentious literary names and tennis lessons and ugly cars and liaisons with hot young interns. Hurricanes of entitlement, all swirl and noise and destruction, nothing at their centers.
What I Didn't Like
This book started very slowly for me. The first half (maybe even 60%) really meandered and I wondered when it would get to a point. Honestly, I considered putting it down multiple times in the first half and probably would have had I not been so excited about it going in. I'd probably give the Fates section 2 or 3 stars at most.

This might be one of the only books where I've been glad I knew a bit about the story before reading it (usually, I like to know as little as possible). The only thing keeping me going was knowing that the story turned on its head once you got to Mathilde's perspective.

While I realize that setting up Lotto's perspective of their life was critical to Mathilde's perspective having impact, I wish the overall book had been more heavily weighted toward Mathilde. She was the more layered, fascinating character that drew me in, yet more of the book's real estate was devoted to Lotto.

For well over half of the book, I felt incredibly distant from the characters. Events that should have gotten a reaction out of me felt ho-hum.
Lingering Questions
Was this book a victim of my overly high expectations or did I repeatedly give it a pass in the first half because of those expectations? So, did my expectations save it or kill it?

How good does an ending have to be to outweigh a long and slow journey? Clearly, this was one of the books that inspired my recent post on journeys vs. endings.

Does the phenomenal 5 star Furies section bring the entire book up to 5 stars, even though the Fates second would only get 2 or 3 stars from me? I pondered this right up until the last minute before posting this review and finally landed on no, but it did kick it up to 4 stars and a "read it" recommendation.
A Defining Quote
Up before Lotto rose a vision of himself as if attached to a hundred shining strings by his fingers, eyelids, toes, the muscles of his mouth. All the strings led to Mathilde's pointer finger, and she moved it with the subtlest of twitches and made him dance.
Good for People Who Like…
Books about marriage, secrets/betrayal, books that make you think, great writing, mind games
Other Books You May Like
Because of its theme(s) of marriage and differing perspectives within a marriage:
The Wife by Meg Wolitzer