I used to love books about crime…especially true crime. But until the last few months, it had been awhile since I'd read any memorable ones. I read Killers of the Flower Moon back in April and was excited to see that I had a number of books about crime coming up later in the year…enough to do a crime books round-up. And then, one by one, each crime book fell flat…until the past month, when I had two unexpected winners that weren't even on my radar back in April when I first decided to do this post.
3 Gripping New Crime Books…Both Fiction and Nonfiction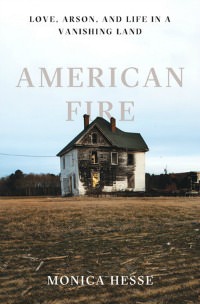 American Fire: Love, Arson, and Life in a Vanishing Land
by Monica Hesse
Nonfiction (Released July 11, 2017)
259 Pages
Affiliate Link: Buy from Amazon
Source: Purchased (Liveright) 
In the small, rural community of Accomack County on the Eastern Shore of Virginia, a serial arsonist (to the eventual tune of 67 fires in five months) was on the loose. The story behind the hunt for this arsonist (actually, arsonists), who they were, and why they couldn't stop burning down abandoned buildings is ultimately about a unique community and a love affair gone very wrong. American Fire is a portrait of a declining town similar to Hillbilly Elegy (but without the social analysis element). It's a well-told and engrossing story with a broad appeal beyond the true crime genre and is a perfect "gateway book" for those interested in dipping their toes into the true crime genre for the first time. It's going on my 2017 Summer Reading Guide! 
I spent the next two years trying to understand why he did it. The answer, inasmuch as there is an answer for these things, involved hope, poverty, pride, Walmart, erectile dysfunction, Steak-umms (the chopped meat sold in the frozen foods aisle), intrigue, and America. America: the way it's disappointing sometimes, the way it's never what it used to be. But it also involved love. The kind of love that is vaguely crazy and then completely crazy and then collapses in on itself in a way that leaves the participants bewildered and telling very different stories about what actually happened.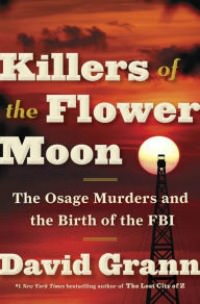 Killers of the Flower Moon
 by David Grann
Nonfiction (Released April 18, 2017)
352 Pages
Affiliate Link: Buy from Amazon
Source: Publisher (Doubleday) 
This true story of the systematic murder of many members of the Osage Indian Nation for their oil rights and the subsequent investigation into the killings is a flawless blend of history and mystery. It's about the history of the Osage Indian Nation, oil drilling in America in the 1920's, 1920's law enforcement and the FBI's first homicide case. Then, overlay all that with a murder mystery involving a stunning level of corruption that captivated the public interest at the time, but that I sure didn't hear about in any history class. Though the early details occasionally get a little dry, the story picks up steam once the FBI starts to investigate and, just when you think it's over, things become even more unbelievable. Killers of the Flower Moon would be a great choice for fans of narrative nonfiction and Erik Larson's The Devil in the White City.
The world's richest people per capita were becoming the world's most murdered.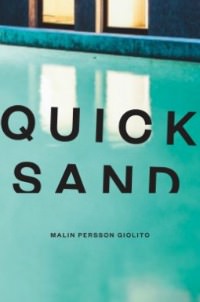 Quicksand
 by Malin Persson Giolito
Fiction (Released March 7, 2017)
513 Pages
Affiliate Link: Buy from Amazon
Source: Library (Other Press) 
I "5 star adored" this Swedish "courtroom thriller" and am amazed it hasn't gotten more buzz in the U.S. since its March release! In a nutshell, Quicksand is the movie Cruel Intentions
(elite prep school, lots of money, partying, drugs, neglected high schoolers, and an intense love affair), if Sebastian (PS – Quicksand's main character is also named Sebastian…it's almost too perfect!) had shot up his school and Annette had gone to trial for helping him. The story shifts back and forth between Maja's (Sebastian's girlfriend and the "Annette" character in Quicksand) trial and time in jail and the lead-up to the shooting, including Maja and Sebastian's love affair and Sebastian's tumultuous relationship with his billionaire father. This story is about far more than just a school shooting…it's about friendship, family, a wealthy community, the complicated entanglement of young love, the law, and a slight bit of politics. I couldn't put it down. If you like dark, twisty high school books, this is one of the best I've ever read! It's also going on my 2017 Summer Reading Guide!
The prosecutor said I did what I did because I loved Sebastian. That my love for him was the greatest thing in my life. That nothing else was more important. But it's not true. Because the greatest of all is fear, the terror of dying. Love means nothing when you believe you're going to die.