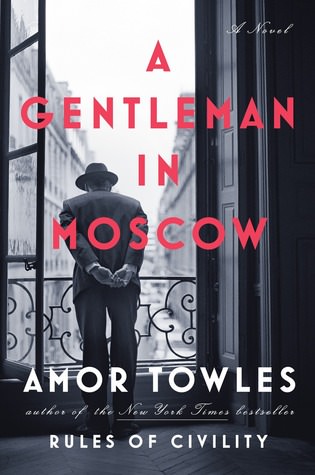 Fiction
Released September 6, 2016
448 Pages
Bottom Line: Skip it…unless you have big chunks of quiet time.
Affiliate Link: Amazon

Source: Purchased (published by Viking)
Headline
Though I appreciated A Gentleman in Moscow on an intellectual level, the formal writing style kept me from being able to connect with it emotionally.
Plot Summary
In 1920's Moscow, Count Alexander Rostov is sentenced by the Bolsheviks to "house arrest" in the illustrious Metropol Hotel, where he essentially holds court and observes his country's evolution.
Why I Read It
I loved Towles' previous novel, Rules of Civility, and some of my trusted blogger friends gave his latest 5 stars.
Major Themes
Communism, Russia, making the most out of the life you have
What I Liked
The Count is an utterly delightful character. Though he's been a gentleman of leisure his entire life, he adjusts cleverly to living in a tiny attic room (albeit in a grand hotel) and losing all freedom outside of the hotel walls. It's almost like he's an adult Eloise in the way he becomes more and more a fixture of the hotel.

The Metropol Hotel becomes a microcosm of everything that's going on in Russia…and the Count is able to get a sense of the sweeping political changes through small changes inside the hotel. For example, an elaborate ticket system appears in the hotel's restaurant, where each order has to be recorded in numerous places with numerous people, illuminating the crushing bureaucracy of Communism.

The Count's observations on life and history made me smile and chuckle throughout.
In Russia, whatever the endeavor, if the setting is glorious and the tenor grandiose, it will have its adherents. In fact, over the years, as the locations for duels became more picturesque and the pistols more finely manufactured, the best-bred men proved willing to defend their honor over lesser and lesser offenses. So while dueling may have begun as a response to high crimes—to treachery, treason, and adultery—by 1900 it had tiptoed down the stairs of reason, until they were being fought over the tilt of a hat, the duration of a glance, or the placement of a comma.
This story is a masterpiece of cleverly woven details. You'll see a split second reference to something you read about in more detail 100 pages earlier. And, the ending is like a carefully orchestrated symphony…intricate and surprising, yet every detail making sense.

I loved the subversive tone that poked fun of the Bolsheviks and, later, Stalin's communism.
What I Didn't Like
Despite everything I just said, I wasn't as enamored with 

A Gentleman in Moscow

as I expected to be…and as others are (Gilmore Guide to Books, The Book Wheel). While I appreciate its beauty, it failed to connect with me on some emotional level. I had trouble concentrating and kept zoning in and out (admittedly, this could be because of the back-to-school chaos that was going on while I was reading it). I just couldn't ever fully immerse myself in this story, which kept me from being able to love it.

This is the type of book that you should curl up with in peace and that doesn't fit well into my life right now. Particularly not in the first few weeks of September with young children!

The writing is exquisite, but very formal. This makes sense as the Count is a formal character, but I prefer a more casual style. This, in a nutshell, is the overwhelming reason I had trouble with this book.

The story often veered off on tangents that pulled me out of the story and the Count does an inordinate amount of pontificating (about wine, prime numbers, American movies, etc), which is sometimes fascinating (see the above quote about duels), but often boring.

Finally, I felt like I was reading it forever…which is not usually a good sign.
A Defining Quote
Nina had not contented herself with the views from the upper decks. She had gone below. Behind. Around. About. In the time that Nina had been in the hotel, the walls had not grown inward, they had grown outward, expanding in scope and intricacy. In her first weeks, the building had grown to encompass the life of two city blocks. In her first months, it had grown to encompass half of Moscow. If she lived in the hotel long enough, it would encompass all of Russia.
Good for People Who Like…
Historical fiction, social commentary, delightful characters, Russia, Communism, gorgeous writing