I've got two months worth of new releases for you! I read a number of solid August and September books and I have multiple favorites of the month! And, some DNF's too.
Hosted by Modern Mrs. Darcy.
This post contains affiliate links (plus: here's your Amazon Smile-specific affiliate link
).
Favorite Book of August 2020
The Boys' Club by Erica Katz
Fiction – Debut (Release Date: August 4, 2020)
416 Pages
Affiliate Link: Buy from Amazon

Source: Publisher (Harper Books)

Plot Summary: Harvard Law grad Alexandra (Alex) Vogel falls under the spell of the high-powered M&A group in her first year of her job at a prestigious NYC law firm, but she eventually finds there's a dark underbelly to BigLaw where women take the fall.
My Thoughts: The Boys' Club is my favorite kind of vacation book…one that reads easy, but has good substance (aka Brain Candy with substance). I read it in 2 days during an August beach vacation. The Boys' Club was marketed as Sweetbitter meets The Firm, but I thought it was more The Devil Wears Prada. Alex is a normal girl (albeit super smart) who gets swept up in this glitzy, high stakes world and begins to change…she then has to reckon with who she wants to be and whether she fits in at work or at home. Katz (which is a pseudonym, as she actually works in "BigLaw" in New York City) paints a spot-on portrayal of the world of BigLaw, which is incredibly stressful and can be a toxic culture for women. These people work around the clock and pretty much forfeit their personal lives. And, she provides excellent commentary on women's unique struggles with trying to pursue a career in an intense, male-dominated industry. My one complaint is that Alex is a former competitive swimmer and Katz was off on some swimming details (ex: Alex supposedly held the World Junior Records for the 50 and 400 Freestyle…it's highly improbable that the same person would ever hold these 2 particular records. One is a sprint and the other is a distance event…different specialties), but most readers would never notice this. The Boys' Club is the kind of Brain Candy I love…4.5 stars!
This place is strange. You develop a reputation, right or wrong, and then people sort of make you into it. Everybody now expects Matt to party. He's like a caricature of himself. I guess we all are.
The Death of Vivek Oji
by Akwaeke Emezi
Fiction – Literary (Release Date: August 4, 2020)
248 Pages
Affiliate Link: Buy from Amazon

Source: Publisher (Riverhead Books)

Plot Summary: When Vivek's mother discovers her son's body left virtually naked at her front door, she and those who loved him try to understand who he was as they grieve his death.
My Thoughts: The one word I kept hearing about this book before I picked it up was heart-breaking. And, that's 100% accurate. The story is told through multiple perspectives: mostly by Osita (Vivek's cousin) and chapters in the 3rd person. There are some chapters from Vivek's perspective, but not nearly as many as the others. My one gripe about this book is that I would've liked to hear more from Vivek directly. On the flip side, hearing so much about Vivek rather than from him gave him a bit of a faraway, angelic quality that I liked. This is a story about prejudice in Nigeria and there's a ton of heart. Vivek's friends offer acceptance, hope, and protection. And, his parents' struggles to understand their child offer sadness and regret. It's short, but it's not the kind of book you fly through…it's the kind you savor. 4.5 stars!
I'm not what anyone thinks I am. I never was. I didn't have the mouth to put it into words, to say what was wrong, to change the things I felt I needed to change. And every day it was difficult, walking around and knowing that people saw me one way, knowing that they were wrong, so completely wrong, that the real me was invisible to them. It didn't even exist to them. So: If nobody sees you, are you still there?
Favorite Books of September 2020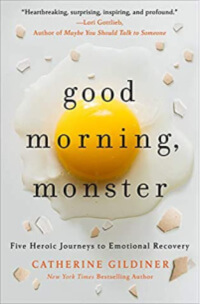 Good Morning, Monster by Catherine Gildiner
General Nonfiction (Release Date: September 22, 2020)
368 Pages
Affiliate Link: Buy from Amazon

Source: Publisher (St. Martin's Press)

Plot Summary: Gildiner, who was a psychologist in Canada for many years before becoming a writer, shares the stories of her five "most heroic and memorable patients."
My Thoughts: Psychotherapy seems to be a growing trend in the book world…first with Maybe You Should Talk to Someone by Lori Gottlieb (my review), now with Good Morning, Monster, and in the future with Group by Christie Tate (out in October). I've also learned during coronavirus that I really enjoy (maybe that's not the right word?) reading about other people's problems, so this book was right up my alley. Gildiner explicitly chose five patients to profile whose stories ended well and were inspirational. There is a finite sense of closure with each patient, including a check-in years later in most cases, and I think readers will love this. The patients she profiles also had incredibly dysfunctional childhoods, so there's a bit of a dysfunctional childhood memoir feel to the book as well. These stories will punch you in the gut, but leave you hopeful at the end. If you liked Maybe You Should Talk to Someone, here's your next book!
I had no idea on that first day that psychotherapy wasn't the psychologist solving problems but rather two people facing each other, week after week, endeavoring to reach some kind of psychological truth we could agree on.
Also Read These…
His Only Wife
by Peace Adzo Medie
Fiction – Literary (Release Date: September 1, 2020)
288 Pages
Affiliate Link: Buy from Amazon

Source: Publisher (Algonquin Books)

Plot Summary: Afi lives in Ghana with her widowed mother and is offered the "opportunity" to marry a wealthy man she's never met. He doesn't show up at their wedding, sending someone else in his place. Nevertheless, the marriage goes through and Afi moves to a swanky apartment in Accra, but discovers her husband is in love with someone else.
My Thoughts: Peace Medie grew up in Ghana and is a women's rights advocate who shines that lens on fiction in her debut novel. His Only Wife begins with this intriguing first line: "Elikem married me in absentia; he did not come to our wedding" and, from there, explores the impact of Ghanian patriarchal culture on women through Afi's story. Afi struggles with her role as wife to a predominantly absent husband and her desire to pursue a design career. The story is about Afi finding independence in her own life despite her less than ideal marriage circumstances….and her journey to figure out what matters to her. I adored Afi and her struggle to balance her internal conviction with her shyness. The story took some unexpected directions…including having more of a romantic element than I expected. It's propulsive and reads easily, yet challenges cultural norms in Ghana. A great pick for fans of readable literary fiction…4 stars!
"You know your problem? You've grown wings.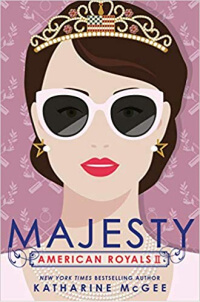 Majesty
by Katharine McGee
Young Adult – Romance (Release Date: September 1, 2020)
320 Pages
Affiliate Link: Buy from Amazon

Source: Purchased (Random House for Young Readers)

Plot Summary: This sequel to American Royals picks up right where American Royals left off (American Royals ended on a cliffhanger)…continuing to follow the Washington Family (the descendants of American "King" George Washington). I can't say anymore without spoiling American Royals.
My Thoughts: Despite the fact that I'm not normally a YA or romance reader, American Royals was a huge hit for me last year! It was pure, unapologetic fun and I was invested in each of the three relationships that were at the center of that book. So, I was looking forward to this sequel. And, I liked it…but, not as much as I expected. I loved how Beatrice snubbed some of the traditional conventions of the monarchy and how she grew into a strong, modern woman. And, how Majesty brought the Washington monarchy into the modern age overall. However, I did not love the progression of the three main relationships in this story (Beatrice's, Sam's, and Jefferson's). It's hard to talk about why without giving away spoilers, but let's just say I didn't buy how things ended up in the romance department. And, I definitely wasn't as invested in the relationships as I was in American Royals. I did love the ending and the message it conveyed about women. Overall, mixed feelings, but an easy, entertaining read…3.50 stars.
A destiny was something that happened to you, that fell upon you like rain no matter how desperately you tried to hide from it. But if you walked toward it with your head held high, then it wasn't your fate—it was simply your future.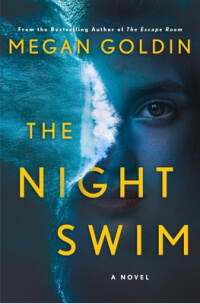 The Night Swim by Megan Goldin
Fiction – Thriller (Release Date: August 4, 2020)
352 Pages
Affiliate Link: Buy from Amazon

Source: Book of the Month (St. Martin's Press)

Plot Summary: In the new season of her hit true crime podcast, Rachel Krall follows the rape trial of a local swimming star in real time…which brings a girl who wants Rachel to investigate her sister's (Jenny Stills) years ago death out of the woodwork.
My Thoughts: I love true crime and I love podcasts, so I was 100% on board with merging the two together in the premise of this courtroom thriller (a sub-genre I love). And, I think it worked…for the most part. The story alternates real-time chapters following Rachel's investigation into the rape and Jenny Stills' death with transcripts from each of Rachel's podcast episodes. I loved this structure and would love to listen to a real-life podcast like Rachel's. I was a bit more invested in the investigation of Jenny Stills' death than I was in Rachel's investigation of the rape (there wasn't much to investigate here). But, my two bigger issues with the book were: 1) Goldin got some of the swimming details incorrect (I was a competitive swimmer growing up, so this might not jump out at many people) and 2) the ending kind of came out of left field for me. I didn't buy it for that character even in hindsight. But, overall, a decently enjoyable courtroom thriller and a good pick if you're looking for something quick and easy (I read it in 2 days on vacation).
So we have this unfair disparity in rape cases where the victim gets – let's call it what it is – violated. Twice. The first time in the attack. The second time in court.

Meanwhile, the defendant – the man accused of perpetuating brutal crimes against K – well, he does not have to make a peep. All he has to do is turn up in court each day with a solemn face and the shell-shocked demeanor of the falsely accused.
Transcendent Kingdom by Yaa Gyasi
Fiction – Literary (Release Date: September 1, 2020)
288 Pages
Affiliate Link: Buy from Amazon

Source: Publisher (Knopf)

Plot Summary: Gifty (a Ghanian immigrant who grew up in Huntsville, Alabama) goes on to study depression and addiction at Stanford Medical School after her brother (a star high school athlete) died of a heroin overdose after becoming addicted to Oxy following an ankle injury and her mother fell into depression following her brother's death.
My Thoughts: The author of Homegoing is back with her sophomore novel and it's getting all the love from critics and readers alike. I liked it, but am not as over-the-moon about it as some others are (but, still 3.75 stars). Gyasi's writing is gorgeous (I highlighted a lot) and I loved the parts of the story that focus on Gifty's childhood and what it was like to grow up with an addict brother (who she adored) and a mother who suffered bouts of depression. These parts of the story had incredible heart and I wish we'd gotten more of them. I felt like the portions of the story focusing on Gifty's life at medical school and her research into addictive behavior (she experimented on mice) lacked the heart that the childhood portions had. There were some interesting takeaways about addiction and addictive behavior that Gifty learned from various studies and I wish those had been included as little precursors to each chapter (like the data points in You Are Not Alone). Overall, Transcendent Kingdom was a "thinking" book for me (I liked what Gyasi made me consider about the relationship between science and religion) and I would have liked a bit more "feeling" to come through.
Throughout high school, I never touched a drop of alcohol because I lived in fear that addiction was like a man in a dark trench coat, stalking me, waiting for me to get off the well-lit sidewalk and step into an alley. I had seen the alley. I had watched Nana walk into the alley and I had watched my mother go in after him, and I was so angry at them for not being strong enough to stay in the light.
The DNF's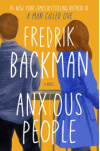 Anxious People by Fredrick Backman (September 8, 2020)
DNF at 20%
I have a mixed relationship with Fredrick Backman (I loved the Beartown series, but I DNF'd A Man Called Ove). I felt the same about about Anxious People that I did about A Man Called Ove…I initially thought the voice and characters were entertaining and made me chuckle. But, the schtick quickly got old. It felt like this story about the bank robber is a vehicle for him to talk about human nature and issues he wants to opine on…like parenting (I did love his commentary on parenting – spot on), but it came together in a messy way. Also, the characters were so annoying that I couldn't stand to read about them anymore.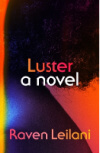 Luster by Raven Leilani (August 4, 2020)
DNF at 8%
I was interested in the premise of this debut novel (a woman becomes involved with a man in an open marriage who she met over the internet), but I couldn't get into the actual story. It's also super character-driven and I'm not sure it was the best choice for a vacation read.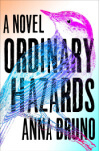 Ordinary Hazards by Anna Bruno (August 18, 2020)
DNF at 47%
I was initially really into this debut novel about a high-powered businesswoman who is drowning her sorrows in the local dive bar (including flashbacks to her failed marriage to a local man whose friends are also at the bar). I was interested in what happened with Emma's marriage and really liked the writing, but the timelines shifted back and forth between present day in the bar and flashbacks to the evolution of her relationship with her husband and I eventually got bored with the present-day sections in the bar.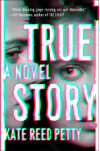 True Story by Kate Reed Petty (August 4, 2020)
DNF at 35%
Annie Jones recommended this novel about a sexual assault involving a lacrosse player and I was intrigued by the first part from the male lacrosse player's perspective (but it was also cringe-y and I gather this would've been dealt with later in the book). When the perspective switched, the story began to drag.

Wandering in Strange Lands by Morgan Jerkins (August 4, 2020)
DNF at 44%
I was completely into the first part of this part memoir / part history of the Great Migration, which focused on the low-country and the Gullah Geechee people. But, Part 2 got a bit tedious and I was having trouble focusing. I might pick this up again at some point, but it was the wrong time to be reading something that required this kind of focus.
What are the best August and September releases you've read?
Pin this post…