Historical Fiction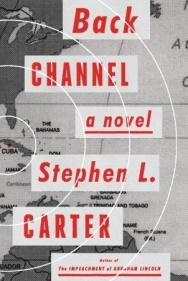 Released July, 2014
465 Pages
Bottom Line: Read it.
Affiliate Link: Buy from Amazon

Source: Purchased

Plot Summary of

Back Channel

:
Margo Jensen, a nineteen year old black Cornell student, is recruited into the world of espionage as the U.S. and the Soviet Union face off in the Cuban Missile Crisis.
My Thoughts on

Back Channel

:
Back Channel is a bit of a departure from Carter's previous novels (including The Emperor of Ocean Park and Palace Council), but I absolutely loved the change of pace. Fans of historical fiction, the Cold War, and espionage will love it and it turned out to be the female espionage novel that I was hoping Ian McEwan's Sweet Tooth would be.
A back channel is an "unofficial negotiation that runs parallel to the official one. Typically, the official negotiators know nothing about it." What if a back channel negotiation, and not the "official" version between the U.S. and Soviet governments, was what actually resulted in the deal that dissolved the Cuban Missile Crisis? It's this question that Carter explores in Back Channel. I am a complete sucker for books about scenarios that may not be true in real life, but absolutely could happen (One Second After, The Wife, The Maid, and The Mistress) and Back Channel is the perfect book if you like this kind of stuff. 
Margo Jensen is going about her normal college life until she's pulled aside by her Conflict Theory professor, Lorenz Niemeyer, a "retired" espionage man. He connects her with some shadowy characters who have a mission for her…be the conduit for the back channel negotiation between JFK and Khrushchev. She is clued into the details of the mission little by little. As she gets more deeply involved, it's apparent that no one is who they say they are and she can only trust herself.
Margo is a courageous and dynamic character. She is mature and ambitious for a nineteen year old, but retains a certain innocence from her grandmother's strict upbringing. She's also one of the only black females at Cornell and certainly a rarity in the espionage world due to her age, gender, and race.
One of the first things to hook me was Lorenz Niemeyer's nuggets of wisdom from his Conflict Theory class. He educates on the Rules of Negotiation, the first of which is that each side has to have something the other wants. In the case of the Cuban Missile Crisis, the missiles were already in Cuba, therefore the U.S. had nothing the Soviets wanted and were in an inferior negotiating position. He also opines on the dynamics of collective fear and the futility of the nuclear fallout shelters that proliferated the big cities back then. I was fascinated by all this stuff and I think I would have loved to have taken his class.
Throughout the book, I thought how intriguing it would be if this story were based on some unconfirmed rumor. Carter answers these questions in a bit of a roundabout way in the Author's Note at the end of the book. His research began with a tidbit he picked up at his father's funeral about a well-heeled African-American acquaintance having an affair with JFK. I'm going to quote him directly on the outcome of his research, so I don't mess this up:
I tracked Margo to Garrison […]. She was surprised that anyone had worked it all out, and even helped me frame my central question in a way that was relatively inoffensive. […] She had heard, she said, that I was sniffing around. Sooner or later, the tale might come out, and she wanted her version on the record. […]

"When you write your book," she said, "do me one favor. […] A way to make my life a little easier. […] Make it a novel. Change all the locations. Which university I'm at. Which towns and cities. Where I'm from. All that. Most important, change the names. Mine especially." So I did.
Does that not make you want to read this book ASAP?! I wish I'd read the Author's Note before starting the book as it added even more intrigue to the story, so I'm giving it to you now. Knowing this story could possibly be true, I'm shocked that Back Channel hasn't made more of a splash in the media (the author of The Washington Post's review actually seems not to have read Carter's Author's Note at all, as he treats the story as fanciful fun, asking readers to "suspend disbelief").
Truth or not, the premise of Back Channel is a fascinating look at a terrifying era in history. It's going on my Book Club Recommendations, Books for Guys, and Page Turners lists…and will definitely make it onto my Best Books of the Year List in December.
You May Also Like:
Palace Council by Stephen L. Carter
The Emperor of Ocean Park by Stephen L. Carter