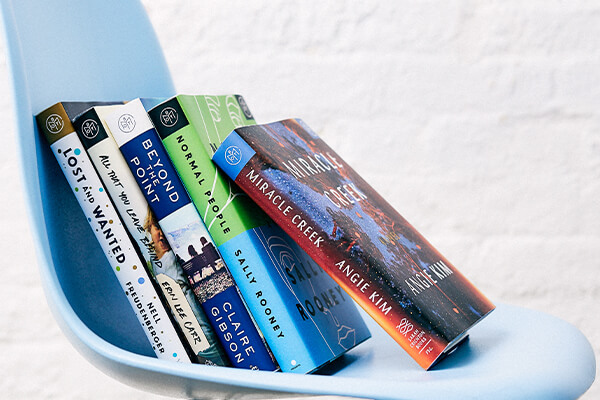 Welcome to my monthly feature "Book of the Month Selections: What Book Should You Choose?"! Every month, I provide commentary on the books that are chosen as that month's Book of the Month selections that will hopefully help you choose your pick, and tell you which book(s) I'm going to choose. AND, I provide you with the most up to date version of my Ultimate Guide to the Book of the Month Judges with free, downloadable template (below).
Way to go, Book of the Month! For the third month in a row, there are multiple selections that I'm interested in! I hadn't been happy with the picks over the past year or so, but I feel like they've turned things around the past few months! I've read and loved two of this month's selections (Normal People and Miracle Creek).
Choose the best Book of the Month selection for you every time!
I've just updated my Ultimate Guide to the Book of the Month Judges to reflect the February 2018 structural changes that significantly changed the judges that appeared regularly. Here's a free, downloadable template to help you find your go-to BOTM judge!
Book of the Month April 2019 Selections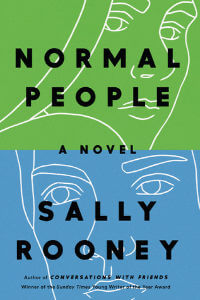 Normal People
by Sally Rooney
Literary Fiction (Release Date: April 16, 2019)
288 Pages
Average Goodreads Rating: 4.14 on 26,872 ratings
Selected By: Grace Atwood (founder of The Stripe blog and co-host of Bad on Paper Podcast)

At school Connell and Marianne pretend not to know each other. He's popular and well-adjusted, star of the school football team, while she is lonely, proud and intensely private. But when Connell comes to pick his mother up from her job at Marianne's house, a strange and indelible connection grows between the two teenagers—one they are determined to conceal.
My Thoughts:
Normal People (which has been longlisted for the 2018 Man Booker Prize) was my first experience with Sally Rooney (author of Conversations with Friends) and I adored it! This is the kind of relationship book that is utterly riveting, but also made me feel a little uncomfortable (like White Fur and Tender). Connell and Marianne's relationship is far from straightforward and is downright maddening at times, but I was rooting hard for them and completely engrossed in their story. I also loved the exploration of social and class dynamics in high school and college and how those can change over time. There's a bit of a coming of age element to the story as they both wrestle with their identities and they face challenges stemming from Marianne's family life. This is an unconventional love story and a character-driven novel I couldn't put down! I should also tell you this story involves a fair amount of sex and also does not use quotation marks for dialogue. Others who loved Normal People: Resh at The Book Satchel, Tyler Goodson, Laura Tremaine, bookseller Pam Cady, and Annie Jones.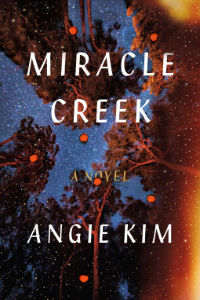 Miracle Creek by Angie Kim
Mystery / Thriller (Release Date: April 16, 2019)
368 Pages
Average Goodreads Rating: 4.29 on 258 ratings
Selected By: Liberty Hardy (co-host of Book Riot's All the Books podcast)

A literary courtroom drama about a Korean immigrant family and a young, single mother accused of murdering her eight-year-old autistic son.
My Thoughts:
This debut novel is a unique spin on the courtroom thriller, bringing in the Korean immigrant perspective and an unconventional treatment for autism among other things. Kim is a former trial lawyer and a mother of a real-life "submarine" patient (the type of "oxygen therapy" explored in the book). It's been compared Everything I Never Told You, Defending Jacob, and Pachinko (quite an array of read-alikes). Goodreads reviewers said the story is told through different points of view (POVs), that it's a page-turning thriller with excellent character themes (immigration, parenthood, grief, disability, and caregiving), and that the characters are nuanced…telling lies while still engendering the reader's sympathy. Overall, the Goodreads reviews are excellent and I had to scroll way down to find less than a 5 star review. PS – I'm about 30% through Miracle Creek and am loving it so far…and, I agree with the general themes of the Goodreads reviews so far!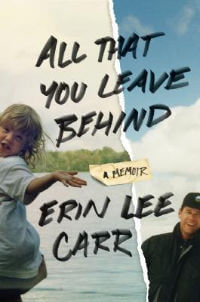 All That You Leave Behind by Erin Lee Carr
Nonfiction – Memoir (Release Date: April 9, 2019)
256 Pages
Average Goodreads Rating: 4.64 on 25 ratings
Selected By: "Book of the Month" (I'm not sure what this means…it's the first time I've seen it!)

A celebrated journalist, bestselling author, and recovering addict, David Carr was in the prime of his career when he collapsed in the newsroom of The New York Times in 2015. Shattered by his death, his daughter Erin Lee Carr, an up-and-coming documentary filmmaker at age twenty-seven, began combing through the entirety of their shared correspondence–1,936 items in total.

What started as an exercise in grief quickly grew into an active investigation: Did her father's writings contain the answers to the questions of how to move forward in life and work without your biggest champion by your side? How could she fill the space left behind by a man who had come to embody journalistic integrity, rigor, and hard reporting, whose mentorship meant everything not just to her, but to the many who served alongside him?
My Thoughts:
This memoir is an honest and raw look at Carr's relationship with her father, a larger than life, but complicated media figure. And, part of the story is told through email exchanges between Erin and her father. Goodreads reviewers said Carr doesn't try to sugarcoat her story and is honest about her and her dad's faults. They mention she addresses multi-generational addiction, grief, and navigating Carr's own media career. They loved hearing David Carr's voice (through the email exchanges) and readers who aren't familiar with David or Erin Carr liked it anyway. Carr is being compared to Kelly Corrigan (Glitter & Glue, Tell Me More) and Ariel Levy (The Rules Do Not Apply).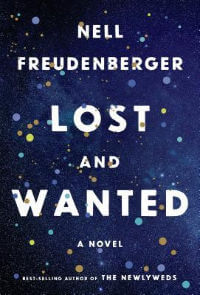 Lost and Wanted by Nell Freudenberger
Literary Fiction (Release Date: April 2, 2019)
336 Pages
Average Goodreads Rating: 3.90 on 58 ratings
Selected By: Siobhan Jones (Book of the Month Editorial Director)

Helen Clapp is a physics professor. She doesn't believe in pseudo-science, or time travel and especially not in ghosts. So when she gets a missed call from Charlie, her closest friend from university with whom she hasn't spoken in over a year, Helen thinks there must be some mistake. Because Charlie died two days ago.

Through the grief of the husband and daughter Charlie left behind, Helen is drawn into the orbit of Charlie's world, slotting in the missing pieces of her friend's past. And, as she delves into the web of their shared history, Helen finds herself entangled in the forgotten threads of her own life.
My Thoughts:
Tara from Running N Reading shared this book as her upcoming release she was excited about on shared on Episode 6 of my podcast and she's now read it and loved it. She says it's not for everyone and there's lots of science-y stuff in there (the protagonist is a physicist), but she loves Freudenger's writing and outlook on the world. She recommends it for fans of Meg Wolitzer and Ann Patchett. Goodreads reviewers said it's a bit science fiction-y, but with crossover appeal and it's not a mystery or a ghost story despite appearances. It deals with themes of women in science, women in the workplace, and female friendship, and is a "life's big questions" type of novel. Some said the story fell flat…not much happened and when something finally did, it was a bit underwhelming. I read an excerpt and loved the writing. Tyler Goodson (one of my best recommendation sources) also rated it 5 stars.
Beyond the Point by Claire Gibson
Literary Fiction (Release Date: April 2, 2019)
528 Pages
Average Goodreads Rating: 4.32 on 63 ratings
Selected By: Etaf Rum (Author of A Woman is No Man)

Duty. Honor. Country. That's West Point's motto, and every cadet who passes through its stone gates vows to live it. But on the eve of 9/11, as Dani, Hannah and Avery face four grueling years ahead, they realize they'll only survive if they do it together.

The world—of business, of love, and of war—awaits Dani, Hannah, and Avery beyond the gates of West Point. These three women know that what doesn't kill you makes you stronger. But soon, that adage no longer rings true—for their future, or their friendship. As they're pulled in different directions, will their hard-forged bond prevail or shatter?
My Thoughts:
This debut novel of female friendship was blurbed by Kate Quinn (author of The Alice Network and The Huntress). The author grew up at West Point where her dad was a professor and apparently really makes the setting come alive. Goodreads reviewers said the story features female athletes trying to play basketball for West Point and it follows their friendship for a 7 year period (right after high school through a couple years after West Point). It addresses the discrimination they face at West Point and is hard to put down. One reviewer also mentioned faith plays a big role with one of the women. Annie Jones discussed this book in her March Reading Recap podcast episode (I think she liked it, but didn't give it a star rating because she knows the author). And, the author interviews real female West Point grads in a P.S. section that's apparently not to be missed.
What Book of the Month April 2019 selection(s) will I choose?
I'm choosing two books this month…Normal People (because I've already read and loved it and want a hard copy for my shelves) and Miracle Creek (same situation as Normal People)!
Make your Book of the Month selections by Saturday, April 6th.
What book will you choose this month?
This Month's Special Deals
NEW MEMBER DEAL: New members can get a free book when they join. Use code APRILSHOWERS.
ANNUAL PAYMENT DEAL: BOTM is now a monthly subscription service. However, given that some members preferred paying upfront, they are now offering a 12-month option. Members who sign up for 12 months will pay $149.99/year. That's $12.50/book, instead of the standard price of $14.99/month.
How to Join Book of the Month…
Book of the Month is a subscription service for people who like to try new books from a curated selection and like to read in hardcover format. Through Book of the Month, you can get a hardcover book for generally significantly less than you'd pay in a bookstore or through Amazon. And, you get to try something new that has been vetted by one of Book of the Month's well-read judges!
Sign up for any of the subscription plans below and you get to choose one of five books selected by Book of the Month's panel of judges (including a surprise guest judge). Book of the Month will then mail your chosen book to your house with a cute note. You also have the option to purchase additional books for $9.99 each and to skip a month if you want.
Sign up for a Book of the Month membership (NEW pricing below)!
New members will sign up for a membership that renews monthly:
A book of your choice for $14.99 / month
Add extra books to your shipment for $9.99 each
Skip any month you want
Free shipping, always
Pin this post…