Welcome to my monthly feature "Book of the Month Selections: What Book Should You Choose?"! Every month, I provide commentary on the books that are chosen as that month's Book of the Month selections that will hopefully help you choose your pick, and tell you which book(s) I'm going to choose. AND, I provide you with the most up to date version of my Ultimate Guide to the Book of the Month Judges with free, downloadable template (below).
Continuing with Book of the Month's focus on summer reading, all of this month's selections are easy reads that would be great for the beach. Unfortunately, none really grabbed my personal interest. As a follow-up to last month's selections, I loved The Book of Essie and included it on my Best Books of 2018 So Far list! I'm also adding it to my 2018 Summer Reading Guide. I'm about 2/3 of the way through Calypso and am really enjoying that too!
Choose the best Book of the Month selection for you every time!
Check out my fun new tool to help you pick the best Book of the Month selection for your taste: my Ultimate Guide to the Book of the Month Judges and free, downloadable template to help you find your go-to BOTM judge!
Book of the Month July 2018 Selections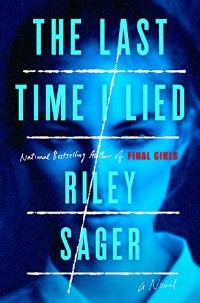 The Last Time I Lied by Riley Sager (Release Date: July 3, 2018)
384 Pages
Average Goodreads Rating: 4.17 on 570 ratings
Selected By: Brianna Goodman (Book of the Month Editorial Team)

In the new novel from the bestselling author of Final Girls, The Last Time I Lied follows a young woman as she returns to her childhood summer camp to uncover the truth about a tragedy that happened there fifteen years ago.
My Thoughts:
I wasn't a fan of Sager's debut novel, Final Girls, which was a horror movie-esque thriller. I had trouble buying the main character's decision-making and I thought the ending jumped the shark. But, Annie Jones of From the Front Porch podcast (and one of my best recommendation sources) liked The Last Time I Lied and thought it was possibly even better than Final Girls. Tina from TBR, etc. had trouble getting into it, but couldn't put it down once she got to the last quarter. Goodreads reviewers said it's more grown up and less horror movie-ish than Final Girls, it has a large cast of characters, the storyline alternates between past and present, it has a bit of a slow start, and people can't decide how they feel about the ending. Overall, the Goodreads reviews are excellent and this seems to be a standout psychological thriller.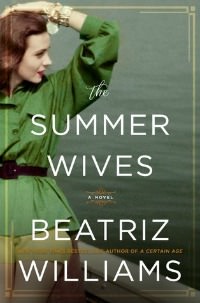 The Summer Wives by Beatriz Williams (Release Date: July 10, 2018)
384 Pages
Average Goodreads Rating: 3.95 on 417 ratings
Selected By: Liberty Hardy (co-host of Book Riot's All the Books podcast)
New York Times bestselling author Beatriz Williams brings us the blockbuster novel of the season—a spellbinding novel of romance, murder, class, power, and dark secrets set in the 1950s and '60s among the rarified world of a resort island in the Long Island Sound . . .
My Thoughts:
Beatriz Williams writes beach-y historical fiction that usually contains some sort of mystery and usually involves wealthy families with secrets. I loved her older books (A Hundred Summers, The Secret Life of Violet Grant, Tiny Little Thing), but have given up on her more recent work starting with Along the Infinite Sea (my review). She began publishing a book a year and I thought the quality suffered. The Summer Wives is "typical Beatriz Williams fare" according to Susie from Novel Visits (one of my favorite book bloggers) and involves family secrets and wealthy vs. the locals dynamics in an exclusive vacation enclave. She said that, of Williams' previous books, it's most like A Hundred Summers (my review) and Tiny Little Thing (my review)…a good thing in my view! And, Renee at It's Book Talk (another favorite book blogger) also really liked it…saying that Williams pulled off the two alternating time period narrative so well.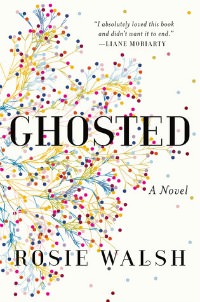 Ghosted by Rosie Walsh (Release Date: July 24, 2018)
352 Pages
Average Goodreads Rating: 4.17 on 878 ratings
Selected By: Skye Sherman (Book of the Month Brand Ambassador)

Seven perfect days. Then he disappeared. A love story with a secret at its heart.

When Sarah meets Eddie, they connect instantly and fall in love. To Sarah, it seems as though her life has finally begun. And it's mutual: It's as though Eddie has been waiting for her, too. Sarah has never been so certain of anything. So when Eddie leaves for a long-booked vacation and promises to call from the airport, she has no cause to doubt him. But he doesn't call. […]

Minutes, days, weeks go by as Sarah becomes increasingly worried. But then she discovers she's right. There is a reason for Eddie's disappearance, and it's the one thing they didn't share with each other: the truth.
My Thoughts:
Ghosted is a debut page turner with some romance and a mystery thrown in…and it was blurbed by Liane Moriarty (Big Little Lies). Nicole Bonia, co-host of The Readerly Report podcast, rated it 5 stars and called it "a lovely and absorbing novel with a uniquely modern twist on the oft told tale of doomed lovers." I read the first chapter and a little bit of the second chapter and wasn't immediately grabbed, but I may go back to it after reading the Goodreads reviews. Goodreads reviewers said it's about love and grief, is unputdownable, has likable characters, and is surprising in a very good way. But, they also said it has a bit of a slow start, unlikely coincidences, and an ending that is neatly tied up. Many Goodreads readers recommended going in blind.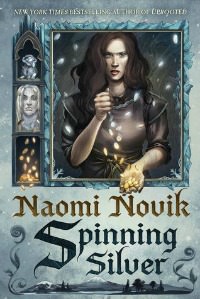 Spinning Silver by Naomi Novik (Released: July 10, 2018)
448 Pages
Average Goodreads Rating: 4.45 on 536 ratings
Selected By: Brooke Lee (BOTM Readers Committee member)
Miryem is the daughter and granddaughter of moneylenders… but her father isn't a very good one. Free to lend and reluctant to collect, he has loaned out most of his wife's dowry and left the family on the edge of poverty–until Miryem steps in. Hardening her heart against her fellow villagers' pleas, she sets out to collect what is owed–and finds herself more than up to the task. When her grandfather loans her a pouch of silver pennies, she brings it back full of gold.

But having the reputation of being able to change silver to gold can be more trouble than it's worth–especially when her fate becomes tangled with the cold creatures that haunt the wood, and whose king has learned of her reputation and wants to exploit it for reasons Miryem cannot understand.
My Thoughts:
Spinning Silver is fantasy (not one of my preferred genres), a loose retelling of Rumpelstiltskin, and said to be for fans of A Game of Thrones. Goodreads reviewers said it's different from Uprooted (her previous novel), has lots of different perspectives, and a bit of magic, religion, and romance. It also apparently has no dialogue. Honestly, I had to stop reading the Goodreads reviews because of ALL THE CAPS, gazillions of exclamation points, talking solely in GIFs, and many reviews just blathering incredible excitement about this book, but not actually reviewing the book (because they likely haven't read it yet). I think I'm too old for this one just based on the style of the Goodreads reviews.
The Girl from Blind River by Gale Massey (Release Date: July 10, 2018)
329 Pages
Average Goodreads Rating: 4.51 on 37 ratings
Selected By: Siobhan Jones (Book of the Month Editorial Director)
A gritty tale of how far we'll go to protect the ones we love for fans of Daniel Woodrell's Winter's Bone and Emma Cline's The Girls from Gale Massey, a talented new name in crime fiction.

Everyone says the Elders family are nothing but cheats, thieves, and convicts—a fact nineteen-year old Jamie Elders has been trying desperately to escape. She may have the natural talent of a poker savant, but her dreams of going pro and getting the hell out of the tiny town of Parsons, New York are going nowhere fast. Especially once she lands in a huge pile of debt to her uncle Loyal.

At Loyal's beck and call until her debt is repaid, Jamie can't easily walk away—not with her younger brother Toby left at his mercy. So when Loyal demands Jamie's help cleaning up a mess late one night, she has no choice but to agree. But disposing of a dead man and covering up his connection to the town's most powerful judge goes beyond family duty. When it comes out that the victim was a beloved athlete and Loyal pins the murder on Toby, only Jamie can save him. But with a dogged detective on her trail and her own future at stake, she'll have to decide: embrace her inner criminal, or defy it—and face the consequences.
My Thoughts:
This is a debut coming of age story / small town crime drama and it sounds pretty gritty. Goodreads reviewers said it's sad and depressing, but is also a page turner. Jamie is a spunky protagonist and the ending is surprising. Others mentioned that it's possible to get bogged down in the poker jargon and that they would've enjoyed the book more had they been interested in poker.
What Book of the Month Club July 2018 selection(s) will I choose?
I'm going to skip this month. I already have an ARC of Ghosted and haven't had great luck with Riley Sager or Beatriz Williams lately. 
Make your Book of the Month selections by Friday, July 6th.
What book will you choose this month?
This Month's Special Deals
NEW MEMBER DEAL: Anyone who purchases a new BOTM subscription will get a credit for a free book! Use code FIREWORKS.
ANNUAL PAYMENT DEAL: BOTM is now a monthly subscription service. However, given that some members preferred paying upfront, they are now offering a 12-month option. Members who sign up for 12 months will pay $149.99/year. That's $12.50/book, instead of the standard price of $14.99/month.
How to Join Book of the Month…
Book of the Month is a subscription service for people who like to try new books from a curated selection and like to read in hardcover format. Through Book of the Month, you can get a hardcover book for generally significantly less than you'd pay in a bookstore or through Amazon. And, you get to try something new that has been vetted by one of Book of the Month's well-read judges!
Sign up for any of the subscription plans below and you get to choose one of five books selected by Book of the Month's panel of judges (including a surprise guest judge). Book of the Month will then mail your chosen book to your house with a cute note. You also have the option to purchase additional books for $9.99 each and to skip a month if you want.
Sign up for a Book of the Month membership (NEW pricing below)!
New members will sign up for a membership that renews monthly:
A book of your choice for $14.99 / month
Add extra books to your shipment for $9.99 each
Skip any month you want
Free shipping, always
Support Sarah's Book Shelves on Patreon!
(and get personalized book recommendations and access to our private Facebook Group)