Welcome to my monthly feature "Book of the Month Selections: What Book Should You Choose?"! Every month, I provide commentary on the books that are chosen as that month's Book of the Month selections that will hopefully help you choose your pick, and tell you which book(s) I'm going to choose. 
I've read 1 of this month's main picks and DNF'd a second one. 
I also need to call out one of this month's add-ons: When the Stars Go Dark by Paula McLain. It's a huge departure for her as she normally writes historical fiction and this is a literary police procedural about a missing persons case. She writes about childhood trauma with incredible astuteness and sensitivity. I rated it 5 stars and it will absolutely be one of my Best Books of 2021!
This post contains affiliate links and I will be compensated if you make a purchase after clicking on my links, but I'm also a paying customer.
Book of the Month April 2021 Selections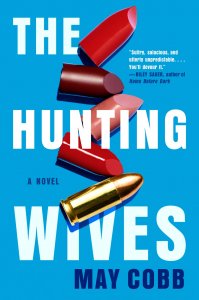 The Hunting Wives
by May Cobb
Fiction – Thriller (Release Date: May 18, 2021)
368 Pages
Average Goodreads Rating: 4.05 on 139 ratings
Recommended By: Leighton Meester (Actress, Gossip Girl)
Sophie O'Neill left behind an envy-inspiring career and the stressful, competitive life of big-city Chicago to settle down with her husband and young son in a small Texas town. It seems like the perfect life with a beautiful home in an idyllic rural community. But Sophie soon realizes that life is now too quiet, and she's feeling bored and restless.

Then she meets Margot Banks, an alluring socialite who is part of an elite clique secretly known as the Hunting Wives. Sophie finds herself completely drawn to Margot and swept into her mysterious world of late-night target practice and dangerous partying. As Sophie's curiosity gives way to full-blown obsession, she slips farther away from the safety of her family and deeper into this nest of vipers.

When the body of a teenage girl is discovered in the woods where the Hunting Wives meet, Sophie finds herself in the middle of a murder investigation and her life spiraling out of control.
My Thoughts:
The publisher calling this novel "Desperate Housewives meets Dallas meets Big Little Lies." It's wealthy people behaving badly and full of catty women. Goodreads reviewers said it has lots of dislikable characters who make terrible decisions (I know this bothers some readers, so take note!)…and it's juicy, twisty and fast-paced. They also said the mystery is sort of in the background. Those that didn't love it had trouble connecting with the characters…particularly the main character. Tina from TBR, etc rated it 4 stars and called it "Mean Girls meets Desperate Housewives melodrama for days." Blurbed by Riley Sager and A.J. Finn (but, I put little stock in this one because he seems to blurb everything).
What Comes After by JoAnne Tompkins
Fiction – Literary (Release Date: April 13, 2021)
432 Pages
Average Goodreads Rating: 4.03 on 91 ratings
Recommended By: Ann Napolitano (author of Dear Edward)

After the shocking death of two teenage boys tears apart a community in the Pacific Northwest, a mysterious pregnant girl emerges out of the woods and into the lives of those same boys' families–a moving and hopeful novel about forgiveness and human connection.
My Thoughts:
I loved (4.5 stars) this highly literary, but also propulsive debut novel. Tompkins' background encountering trauma as a trial lawyer, judicial officer, and mediator inspired her to write this story exploring anger and grief, but also of growth and forgiveness. There is a suspenseful mystery, but it lies in the background of what is ultimately a character-driven story. And, reading this story felt a bit like going on a therapeutic journey without the actual therapy. Plus, there's a wonderful and memorable dog in this story for all you dog lovers (me included)! I just recorded with JoAnne yesterday for the podcast and her episode will air in late April!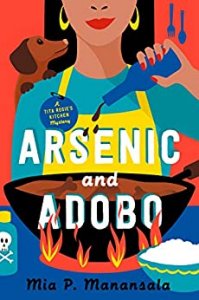 Arsenic and Adobo by Mia P. Manansala
Fiction – Cozy Mystery (Release Date: May 4, 2021)
336 Pages
Average Goodreads Rating: 4.30 on 99 ratings
Recommended By: GiGi Pandian (Author of The Alchemist's Illusion)
When Lila Macapagal moves back home to recover from a horrible breakup, her life seems to be following all the typical rom-com tropes. She's tasked with saving her Tita Rosie's failing restaurant, and she has to deal with a group of matchmaking aunties who shower her with love and judgment. But when a notoriously nasty food critic (who happens to be her ex-boyfriend) drops dead moments after a confrontation with Lila, her life quickly swerves from a Nora Ephron romp to an Agatha Christie case.

With the cops treating her like she's the one and only suspect, and the shady landlord looking to finally kick the Macapagal family out and resell the storefront, Lila's left with no choice but to conduct her own investigation. Armed with the nosy auntie network, her barista best bud, and her trusted Dachshund, Longanisa, Lila takes on this tasty, twisted case and soon finds her own neck on the chopping block…
My Thoughts:
This #OwnVoices, debut culinary cozy from a Filipino author is the first in a series. It has quirky characters, a rom-com feel, and the protagonist is in her mid-20's. Goodreads reviewers said that it's funny and feels fresh. They also said it starts out with a rom-com feel, but goes in a different direction…and there is a diverse cast of characters (not all Filipino) and a big focus on community. Reviewers that didn't love it cited the over-the-top plot (a little too many storylines going on) and drama.
Libertie by Kaitlyn Greenidge
Fiction – Historical (Release Date: March 30, 2021)
336 Pages
Average Goodreads Rating: 3.79 on 228 ratings
Recommended By: Siobhan Jones (BOTM Editorial Team)
Coming of age as a free-born Black girl in Reconstruction-era Brooklyn, Libertie Sampson was all too aware that her purposeful mother, a practicing physician, had a vision for their future together: Libertie would go to medical school and practice alongside her. But Libertie, drawn more to music than science, feels stifled by her mother's choices and is hungry for something else—is there really only one way to have an autonomous life? And she is constantly reminded that, unlike her mother, who can pass, Libertie has skin that is too dark.

When a young man from Haiti proposes to Libertie and promises she will be his equal on the island, she accepts, only to discover that she is still subordinate to him and all men. As she tries to parse what freedom actually means for a Black woman, Libertie struggles with where she might find it—for herself and for generations to come.
My Thoughts:
This novel from the author of We Love You, Charlie Freeman is inspired by one of the first black female doctors in the U.S (Dr. Susan Smith McKinney Steward). It's a story about the relationship between a mother and daughter (especially when the daughter doesn't want the path her mother hopes for her) and what freedom means to women. It also addresses colorism as Cathy can pass for white, while her daughter (Libertie) can't. Unfortunately, I DNF'd it at 22% because I got bogged down in the style. I generally have trouble with historical fiction and I really felt the historical fiction style of this one. But, Annie Jones rated it 4.5 stars even though she doesn't normally love historical fiction and @lizisreading_ rated it 5 stars. Goodreads reviewers said it's a slow burn, it's atmospheric, the writing is gorgeous, there is an excellent hook at the beginning, and it packs a lot into its 300 pages. Those that didn't love it cited a slowdown of the story in the second half and a dissatisfaction with the ending. Blurbed by Jacqueline Woodson and Mira Jacob.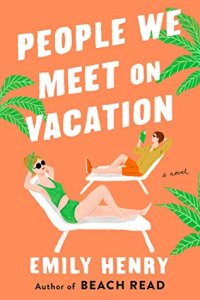 People We Meet on Vacation by Emily Henry
Fiction – Romance / Rom-Com (Release Date: May 11, 2021)
384 Pages
Average Goodreads Rating: 4.45 on 845 ratings
Recommended By: Sally Thorne (Author of Second First Impressions)
Poppy and Alex. Alex and Poppy. They have nothing in common. She's a wild child; he wears khakis. She has insatiable wanderlust; he prefers to stay home with a book. And somehow, ever since a fateful car share home from college many years ago, they are the very best of friends. For most of the year they live far apart–she's in New York City, and he's in their small hometown–but every summer, for a decade, they have taken one glorious week of vacation together.

Until two years ago, when they ruined everything. They haven't spoken since.

Poppy has everything she should want, but she's stuck in a rut. When someone asks when she was last truly happy, she knows, without a doubt, it was on that ill-fated, final trip with Alex. And so, she decides to convince her best friend to take one more vacation together–lay everything on the table, make it all right. Miraculously, he agrees.

Now she has a week to fix everything. If only she can get around the one big truth that has always stood quietly in the middle of their seemingly perfect relationship. What could possibly go wrong?
My Thoughts:
This sophomore novel from the author of Beach Read is being compared to When Harry Met Sally. Goodreads reviewers said this has a friends to lovers trope, there is commentary on the quarter life crisis (late 20's / early 30's when some people are starting to settle down in both life and career while others aren't), range of emotions (laughing and crying)…and, there's witty banter, an opposites attract dynamic, and alternating timelines (flashbacks). Most of the reviewers who were lukewarm about this one said it was because they didn't love it as much as Beach Read. Kailey from @kmc_reads loved it and it was blurbed by Jodi Picoult.
What Book of the Month April 2021 selection(s) will I choose?
I'm getting What Comes After because I loved it and want a hard copy for my shelves. I'm also adding on When the Stars Go Dark for the same reason.
Make your Book of the Month selections by Tuesday, April 6th.
What book will you choose this month?
This Month's Special Deals
NEW MEMBER DEAL: Get your first book for $9.99 with Code SPRINGFUN (enter at checkout).
ANNUAL PAYMENT DEAL: BOTM is now a monthly subscription service. However, given that some members preferred paying upfront, they are now offering a 12-month option. Members who sign up for 12 months will pay $149.99/year. That's $12.50/book, instead of the standard price of $14.99/month.
How to Join Book of the Month…
Book of the Month is a subscription service for people who like to try new books from a curated selection and like to read in hardcover format. Through Book of the Month, you can get a hardcover book for generally significantly less than you'd pay in a bookstore or through Amazon. And, you get to try something new that has been vetted by one of Book of the Month's well-read judges!
Sign up for any of the subscription plans below and you get to choose one of five books selected by Book of the Month's panel of judges (including a surprise guest judge). Book of the Month will then mail your chosen book to your house with a cute note. You also have the option to purchase additional books for $9.99 each and to skip a month if you want.
Sign up for a Book of the Month membership (NEW pricing below)!
New members will sign up for a membership that renews monthly:
A book of your choice for $14.99 / month
Add extra books to your shipment for $9.99 each
Skip any month you want
Free shipping, always
Pin this post…