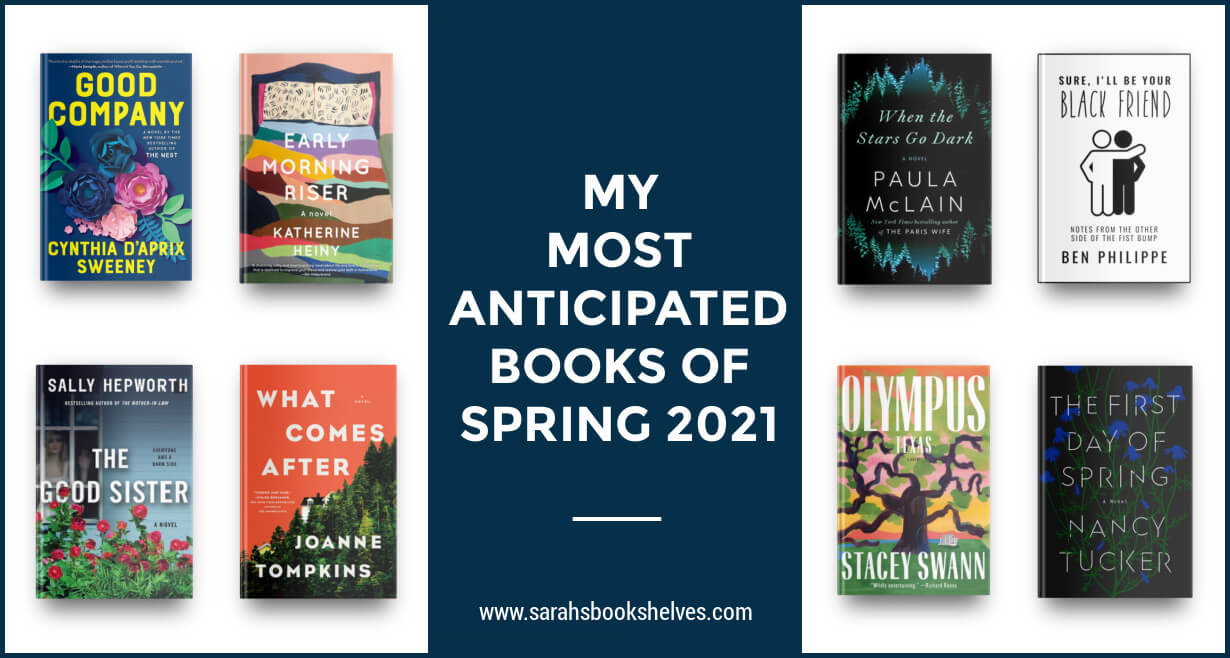 If you missed yesterday's episode of the Sarah's Bookshelves Live podcast (listen above), Catherine from Gilmore Guide to Books and I covered 12 books we're excited about that are coming out this Spring. I'm talking about 6 of them (and 2 I didn't share) again in today's blog post (noted by each book)…but, check out the podcast to hear about the rest! Just click on the time stamp link next to each book and it will take you right to the place in the podcast where we talk about that book.
As always, my Most Anticipated Books of Spring 2021 list is mostly made up of books from trusted sources who, in as many cases as possible, have already read the book. I did not look at a single publisher's catalog to create this list. I'm sharing the recommendation source for each book and will specify if that source has or has not read it yet.
I use my "Rock Your Reading" Tracker (available for purchase for $14.99) to keep an ongoing eye on my most trusted recommendation sources…and improved my reading success 42% from last year!
This post contains affiliate links (plus: here's your Amazon Smile-specific affiliate link
), through which I make a small commission when you make a purchase (at no cost to you!).
My Most Anticipated Books of Spring 2021
April
Good Company by Cynthia D'Aprix Sweeney (April 6, Ecco Books)
Discussed on the podcast [20:25]
D'Aprix Sweeney's debut novel, The Nest (my review) was a brain candy read with substance that I enjoyed! And, the premise of her sophomore novel sounds even better!
Flora Mancini has been happily married for more than twenty years. But everything she thought she knew about herself, her marriage, and her relationship with her best friend, Margot, is upended when she stumbles upon an envelope containing her husband's wedding ring—the one he claimed he lost one summer when their daughter, Ruby, was five.

Flora and Julian struggled for years, scraping together just enough acting work to raise Ruby in Manhattan and keep Julian's small theater company—Good Company—afloat. A move to Los Angeles brought their first real career successes, a chance to breathe easier, and a reunion with Margot, now a bona fide television star. But has their new life been built on lies? What happened that summer all those years ago? And what happens now?
Recommendation Source(s): Trusted author and already read and loved by Annie Jones (From the Front Porch Podcast) and Rebecca Schinsky (Book Riot).
Early Morning Riser
by Katherine Heiny
(April 13, Knopf)
Discussed on the podcast [24:21]
I adored Heiny's last novel, Standard Deviation (my review). I love her astute social commentary and snarky humor!
Jane easily falls in love with Duncan: he's charming, good-natured, and handsome. He has also slept with nearly every woman in Boyne City, Michigan. Jane sees Duncan's old girlfriends everywhere–at restaurants, at the grocery store, even three towns away. While she may be able to come to terms with dating the world's most prolific seducer of women, she wishes she didn't have to share him quite so widely. His ex-wife, Aggie, still has Duncan mow her lawn. And his coworker Jimmy comes and goes from Duncan's apartment at the most inopportune times. Jane wonders how the relationship is supposed to work with all these people in it. Not to mention most of the other residents of Boyne City, who freely share with Jane their opinions of her choices. But any notion Jane has of love and marriage changes with one terrible car crash. Now her life is permanently intertwined with Duncan's, Aggie's, and Jimmy's, and she knows she will never have Duncan to herself. But is it possible that a deeper kind of happiness is right in front of her eyes? A novel that is alternately bittersweet and laugh-out-loud funny, Early Morning Riser is Katherine Heiny's most astonishingly wonderful work to date.
Recommendation Source(s): Trusted author and already read and loved by Annie Jones (From the Front Porch Podcast).
The Good Sister by Sally Hepworth (April 13, St. Martin's Press)
Hepworth's previous novel, The Mother-in-Law, was a super enjoyable domestic suspense / brain candy with substance.

From the outside, everyone might think Fern and Rose are as close as twin sisters can be: Rose is the responsible one and Fern is the quirky one. But the sisters are devoted to one another and Rose has always been Fern's protector from the time they were small.

Fern needed protecting because their mother was a true sociopath who hid her true nature from the world, and only Rose could see it. Fern always saw the good in everyone. Years ago, Fern did something very, very bad. And Rose has never told a soul. When Fern decides to help her sister achieve her heart's desire of having a baby, Rose realizes with growing horror that Fern might make choices that can only have a terrible outcome. What Rose doesn't realize is that Fern is growing more and more aware of the secrets Rose, herself, is keeping. And that their mother might have the last word after all.
Recommendation Source(s): Trusted author and already read and loved by @littlelindsreads and Jan B. (blog reader).
What Comes After by JoAnne Tompkins (April 13, Riverhead Books)
Discussed on the podcast [5:49]
I loved (4.5 stars!) this propulsive, character-driven debut with a mystery in the background. It deals with anger and grief, but also healing and forgiveness. And, the author will be on the podcast in late April!

After the shocking death of two teenage boys tears apart a community in the Pacific Northwest, a mysterious pregnant girl emerges out of the woods and into the lives of those same boys' families–a moving and hopeful novel about forgiveness and human connection.
Recommendation Source(s): Already read and loved by ME!
When the Stars Go Dark by Paula McLain (April 13, Ballantine Books)
Discussed on the podcast [13:43]
This literary mystery / police procedural is a departure for Paula McLain (author of The Paris Wife and Circling the Sun)…and it's one of the best books I've read this year so far! It was a "unicorn" read for me (i.e. it doesn't skimp on plot, but is packed with depth and astute observations on life) and is her most personal novel yet.
Anna Hart is a seasoned missing persons detective in San Francisco with far too much knowledge of the darkest side of human nature. When overwhelming tragedy strikes her personal life, Anna, desperate and numb, flees to the Northern California village of Mendocino to grieve. She lived there as a child with her beloved foster parents, and now she believes it might be the only place left for her. Yet the day she arrives, she learns a local teenage girl has gone missing. The crime feels frighteningly reminiscent of the most crucial time in Anna's childhood, when the unsolved murder of a young girl touched Mendocino and changed the community forever. As past and present collide, Anna realizes that she has been led to this moment. The most difficult lessons of her life have given her insight into how victims come into contact with violent predators. As Anna becomes obsessed with the missing girl, she must accept that true courage means getting out of her own way and learning to let others in.
Recommendation Source(s): Trusted Author and already read and loved by ME…and Kelly Massry and Elizabeth Barnhill (@wacoreads).
Sure, I'll Be Your Black Friend by Ben Phillipe (April 27, Harper)
Discussed on the podcast [22:08]
This essay collection reminds me of I'm Still Here by Austin Channing Brown with lots of humor and snark. I'm planning to listen on audio!
In the biting, hilarious vein of What Doesn't Kill You Makes You Blacker and We Are Never Meeting in Real Life—comes Ben Philippe's candid memoir-in-essays, chronicling a lifetime of being the Black friend (see also: foreign kid, boyfriend, coworker, student, teacher, roommate, enemy) in predominantly white spaces.
Recommendation Source(s): Already read and loved by Elizabeth Barnhill (@wacoreads).
May
Olympus, Texas by Stacey Swann (May 4, Doubleday Books)
Discussed on the podcast [28:34]
This dysfunctional family drama sounds deliciously scandalous. Plus, I trust Annie Jones implicitly when it comes to family dramas.
The Briscoe family is once again the talk of their small town when March returns to East Texas two years after he was caught having an affair with his brother's wife. His mother, June, hardly welcomes him back with open arms. Her husband's own past affairs have made her tired of being the long-suffering spouse. Is it, perhaps, time for a change? Within days of March's arrival, someone is dead, marriages are upended, and even the strongest of alliances are shattered. In the end, the ties that hold them together might be exactly what drag them all down.

An expansive tour de force, Olympus, Texas cleverly weaves elements of classical mythology into a thoroughly modern family saga, rich in drama and psychological complexity. After all, at some point, don't we all wonder: What good is this destructive force we call love?
Recommendation Source(s): Already read and loved by Annie Jones (From the Front Porch Podcast) and Tyler Goodson.
The First Day of Spring by Nancy Tucker (May 18, Riverhead Books)
Discussed on the podcast [42:21]
Ashley Audrain said this novel was as if The Push had been told from Violet's perspective and I'm totally on board with that! Also, Nancy Tucker has personal and professional experience with the psychology of troubled children.
A riveting page-turner about what propels one 8-year-old girl to commit an unspeakable act, and the tensely moving effect it has on the rest of her life – especially once she has a child of her own.
Recommendation Source(s): Already read and loved by Ashley Audrain (author of The Push).
*All book summaries (in block quotes) are from Goodreads (edited for length).
What Spring 2021 books are you looking forward to?
Pin this post…