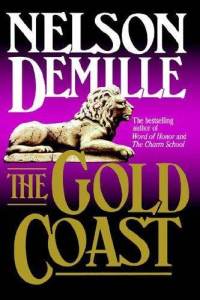 The Gold Coast (John Sutter)

by Nelson Demille, Fiction (Released April, 1990)
Bottom Line: Read it.
Summary: A mafia don invades the remnants of Long Island's aristocratic Gold Coast society and turns his neighbors' lives upside down.
My Thoughts: A review describing The Gold Coast as The Bonfire of the Vanities crossed with The Godfather convinced me to give it a try. John Sutter's (the narrator) super salty observations of crumbling Gold Coast society are hilarious and remind me a bit of Tom Wolfe. And Frank Bellarosa, the mafia don next door is quite a character. He's the fodder for some of Sutter's funniest social commentary and also provides the element of unpredictability and danger that makes this book a page turner. I think what makes this book so compelling is the rare combination of social satire and suspense…not to mention genuine humor. There is now a sequel called The Gate House, and while I enjoyed finding out what happens to all the characters, it didn't pack the punch that The Gold Coast did. The Gold Coast is one of my All-Time Favorites and is also on my Page Turners List.