Has a book that you read a long time ago ever become more and more revered in your mind as the years go by? Did you put it on a pedestal of perfection? When you revisited it later in life, has this book ever not lived up to the pedestal you put it on?
I tend to put all of Pat Conroy's books that I read in high school on the highest of pedestals. I remember loving them beyond belief, but am now really vague on the details and certainly couldn't tell you why I loved them so much.
So, I decided to reread at least one of my old Conroy favorites each year. Last year, The Great Santini and The Lords of Discipline both lived up to my memories of them. I even added The Lords of Discipline to my All-Time Favorites List. To put this in perspective, it's the only book I've added to that list since I started this blog.
This year, it was The Prince of Tides' turn….
Southern Fiction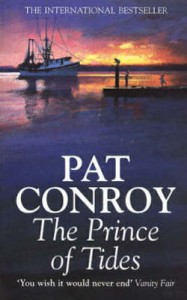 Released 1986
674 Pages
Bottom Line: Read it.
Affiliate Link: Buy from Amazon

Source: Purchased
Plot Summary
When Tom Wingo's twin sister, Savannah, tries to kill herself in New York City, he teams up with her psychiatrist to delve into the family's tragic history in the South Carolina low country (Colleton, South Carolina). 
My Thoughts
For those of you that read my blog regularly, you know that Pat Conroy is one of my favorite authors and that I think his writing is as close to perfection as a human can get. I first read The Prince of Tides in high school and remember loving it. I think I saw the movie too, but I can't really remember. This time around, I loved it a bit less than I remember. Don't get me wrong, I still think it's a fantastic book. But I actually found a couple things that bothered me about it rather than thinking it was sheer perfection.
The princely perfection…
Conroy is the master of portraying the beauty and magic of the Carolina lowcountry and I think this is the book where he makes the lowcountry shine brightest. It seems almost surreal, a bit seductive, and certainly unlike any other place on earth. He colors the background with stories (i.e. a Miami aquarium's hunt for Colleton's local mascot, an albino porpoise, and the town's campaign to save "Carolina Snow") that make growing up there sound like any kid's dream.
These are the quicksilver moments of my childhood […]. Irresistible and emblematic […]. There is a river, the town, my grandfather steering a boat through the channel, my sister fixed in that suspended rapture that she would later translate into her strongest poems, the metallic perfume of harvested oysters, the belling voices of children on the shore. When the white porpoise comes there is all this and transfiguration too.
Then he throws a story that is horrifying, sinister, and tragic on top of all this beauty. Not to mention, he pulls much of the horror from his own life and upbringing (mentally ill Savannah is based on his sister, Carol, who fell out with Conroy after this book's publication).
Twins Tom and Savannah, and brother Luke are the children of an abusive shrimper and his calculating, social climbing wife. This general atmosphere is responsible for some of the damage to the Wingo children and a particular shocking incident accounts for the rest. Much of the book deals with Tom and Savannah trying to work out their resulting issues with the help of New York psychiatrist, Dr. Susan Lowenstein, and you learn the story of the Wingo family as Tom recounts it to her in hopes of helping Savannah recover from her latest suicide attempt.
I do not know, however, when my mother and father began their long, dispiriting war against each other. Most of their skirmishes were like games of ringolevio, with the souls of their children serving as the ruined captured flags in their campaigns of attrition.
Separately, the story of Luke is one of the strongest parts of the book and provided a "must finish this book tonight" type of ending.
The princely imperfection…
First, the thing I love most about Conroy is his writing style. He could tell virtually any story and I would love reading it because of the way he tells it. But, for the first time ever, I felt like parts of The Prince of Tides were overwritten in a pretentious and long-winded way.
When there were no roses to be thrown, she brought forward the disturbed angels of nightmare who sang the canticles of knives and the blue vulnerable veins in her pale wrists.
Second, I hate, hate, hate stories within stories. I think they disrupt the flow of the central narrative and cause the reader to lose momentum. And, Conroy included a whopper of a story within a story in this book. I wanted to beat him over the head with my Kindle and scream "you are far too good for this gimmick!" The story does have a valid purpose to the overall narrative (yay!), but it went on way too long and was chock full of talking animals (boo!). 
All in all, I still love The Prince of Tides, it's just not the pure perfection that I remember. At close to 700 pages, it's going on my Time to Kill (aka The Chunksters) List.
You May Also Like
The Great Santini by Pat Conroy
The Lords of Discipline by Pat Conroy
This Dark Road to Mercy by Wiley Cash