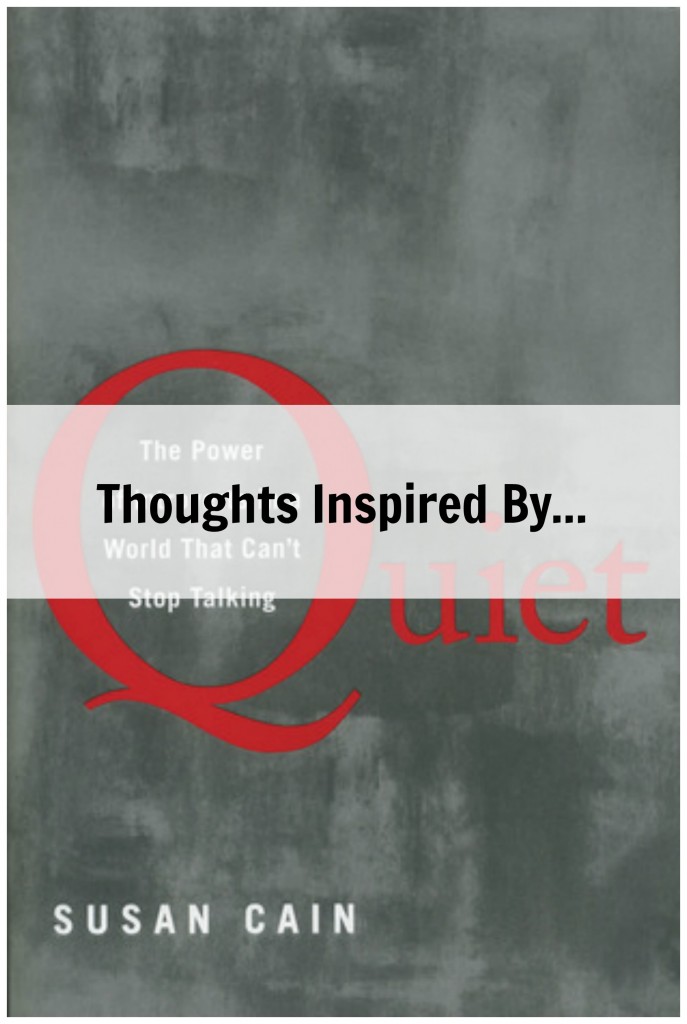 I finally read Quiet after it languished on my TBR list for a couple years. And, I'm glad because I learned some fascinating things about introversion, myself, and my relationships with other people. But, it was long-winded and I ended up skipping some sections I was less interested in. A lot has already been written about this book, so I thought I'd share the places my mind went rather than write a traditional review.
My Introversion
It wasn't until later life that I realized I was an introvert. In fact, I tested "E" (for extrovert) on the Meyers-Briggs test I took in high school. If you met me (and didn't know about my reading habits), you might be surprised to hear that I'm an introvert. One of the things this book alerted me to was that outgoing introverts do exist and I think that's probably what I am. Looking back on high school and my Meyers-Briggs test results, I think my surroundings had a huge impact. I went to a small, all-girls school and had (mostly) the same classmates from Kindergarten through 12th grade. We all knew each other so well that I don't think I experienced the signs of introversion that I popped up in later life.
Even now, I don't experience every sign of introversion. While I do prefer small groups, dislike small talk, generally avoid risk, let calls go to voicemail, and feel drained after lots of socializing, I wouldn't say I'm terribly "soft-spoken", I don't avoid conflict, and I don't tend to think before I speak (but I really should work on that!).
Introversion and Marriage
I'm married to an extrovert. My husband can talk to anyone (and enjoys it), no matter how little he has in common with that person. He wants to socialize a lot and doesn't mind small talk. He doesn't mind people invading his personal space. He doesn't really need or crave "quiet time". So, how does this work?
There have certainly been growing pains, mostly surrounding the impression that I'm being rude when I don't want to participate in some social events or need to set some boundaries. But, there are also great perks that come with his complementary personality. When we're at parties, I love that I can go stand by him if I'm tired and know that he will carry the conversation. And now that we've been married almost 7 years, he knows exactly what I need in the alone time vs. socializing department and plans activities accordingly. He also socializes some during the week while I stay home, which suits us both!
Introversion and Motherhood
The one thing I wish Cain had covered more in Quiet was the impact of motherhood on introverts. My introversion became a much bigger part of my life when I became a mother. And, an even bigger part when I became a mother the second time. My days began to consist of constant noise, chaos, and someone needing something from me virtually all the time (not to mention the lack of privacy and alone time…2 year old bathroom buddy, anyone?!). I do think this is amplified because I'm a stay-at-home Mom, but it is a tough environment for introverts.
Free time is now rare and precious to me…and I've become very selective about how I spend it. I find myself first needing to use free time to be alone and read or work on my blog, and only after that do I want to socialize. Consequently, socializing has become a smaller and smaller part of my life, which is less acceptable out in the world (or feels that way). And, since I do crave time away from all the chaos (and, consequently, from my children), I've often wondered if that means I'm not the best mother I could be.
Despite the fact that Cain didn't spend much time on this topic in her book, there is a fantastic article on her Quiet Revolution website that perfectly summed up everything floating around my brain on this topic. And, reshaped my view of myself as a mother. If you're an introverted mother, I highly recommend reading this!
Introversion and the Presidency
On a much less personal note, reading this book in February of an election year got me thinking about the impact of introversion on modern day Presidential elections.
John Quincy Adams, incidentally, is considered by political psychologists to be one of the few introverts in presidential history. – Quiet by Susan Cain
However, according this article, there have been ten introverted U.S. Presidents. But, note that the only one in recent history (i.e. the only one to survive the 24/7 modern day election process) is our current one.
The way the U.S. elects its presidents couldn't be more of a nightmare for introverts. These men and women are in front of people (mostly strangers) for years leading up to the election with little to no downtime. They are expected to come across as energetic, likable, relatable, and trustworthy (among other things). They are never allowed to be "off"…at least in public and they are rarely out of the public eye. Could an introvert even survive this? Much less actually excel enough to get elected?
Does this mean only extroverted people will choose to run for President? We will always end up with an extroverted President because they are the only types of people who can thrive in a campaign cycle? And, if so, what does that mean for how the President operates once he/she gets in office?
Parting Thought
Reading Quiet really made me wish that introverts were better understood. When we decide to stay home sometimes, we're not trying to be rude…we just need some downtime to recharge. When we hang out in the corner with our closest friends at parties, we're not trying to be exclusive…it's just where we're most comfortable. We really do want to talk to people…we'd just rather have a more personal conversation than talk about the weather, etc (i.e. small talk). And, just because we lament the end of our children's nap-times, it doesn't mean we love them less than the parents who can't wait until their children wake up.
Are you an introvert? Are you married to one? How do you feel about introverts and the electoral process?