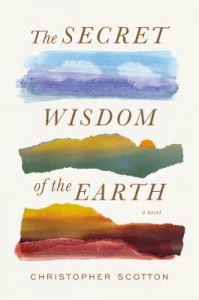 The Secret Wisdom of the Earth by Christopher Scotton
Southern Fiction (Released January 6, 2015)
466 Pages
Bottom Line: Read it.
Affiliate Link: Buy from Amazon

Source: Purchased (Publisher: Grand Central)
Plot Summary: Following the accidental death of his younger brother, Kevin and his grieving mother go to live with his grandfather in a small Appalachian town facing a ruthless coal company, racial prejudice, and homophobia.
My Thoughts: This book vaulted to the top of my backlist TBR when Ann at Books on the Table called it her favorite book of 2015 and described it as "Harper Lee meets Pat Conroy." I can now see where that description came from, but I thought it was a bit more Harper Lee and less Pat Conroy. There is a LOT going on in this book…quirky small-town farm community goings-on (i.e. bull castration), the struggles of a single industry town, the environmental impact of the coal mines, Kevin's coming of age, recovering from grief, prejudice (both racial and homophobia), and a "Friday Night Lights"-type football star. Whew! All that, plus the Atticus Finch-like character of Arthur Peebles (Kevin's grandfather) who dispenses sage life advice left and right, kept me turning the pages.
I found a lot of my reading sweet spots in one place with this book, which made it enjoyable, but there were a few issues that kept me from loving it like I expected. The writing was what many people would call beautiful, but it felt like it was trying too hard to be just that. And, the ending was one of those "here's where everyone ends up decades later" wrap-ups that almost feels like high school yearbook senior predictions. But, I do think fans of Southern fiction and coming of age stories will enjoy this one and it was the book that finally stuck for me after two DNFs in one week!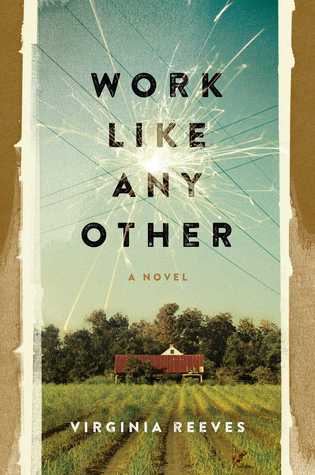 Work Like Any Other by Virginia Reeves
Southern Fiction (Released March 1, 2016)
272 Pages
Bottom Line: Skip it.
Affiliate Link: Amazon

Source: Publisher (Scribner) via NetGalley
Plot Summary: Roscoe T. Martin left a job he loved (an electrician for Alabama Power) to move to his wife's family farm, only to have his electrical work on the farm result in a tragic accident that gets Roscoe sent to prison and changes his family's lives forever.
My Thoughts: This debut novel got off to a promising start, but eventually lost its way. The story is told in two timelines: one leading up to the accident and one from Roscoe's perspective as he sits in prison after the accident. The dual timelines enabled the suspense to be in the how rather than the what, which is generally a literary structure I enjoy. I also enjoyed the reflection on work and the impact on a person's state of mind when their passion gets taken away. And, the writing is beautiful in a simple, down-to-earth way:
We are born with some things in our veins, coal for my father and farming for Marie's and a deep electrical current for me. My father's draw started from need, I suppose, and Marie's father's from land, and mine from glowing Birmingham streetlamps. I had stared at those bulbs the first time I saw them, the streets lit by a force greater than any I'd known – bigger than me, bigger than my father, bigger than his tunnels even. "I want to work with electricity," I remember telling him.
However, I think this novel would have made a better short story and it actually felt like it could have originally been a short story that was stretched into a novel (I searched Google for any truth to this and couldn't find any). After just over a quarter of the book, the story was more or less over for me. As things meandered on, I kept wondering where the storyline had left to go. And, when it finally ended, I thought "that was it?" Though this book didn't work for me, Virginia Reeves' tone and writing style have me interested to see what she does next.