As you may have gathered from all my recent talk about built-in bookshelves and building a library, we're in the process of furnishing our new house. In addition to the bookshelves, dream reading nooks have been swirling around my brain.
I don't have the ability to design my dream reading nook from scratch, but that didn't stop me from going down the Internet rabbit hole of dream reading nooks (even if some won't exactly work in my house).
My Dream Indoor Reading Nooks
Mountain Lodge
by Michael Rex Architects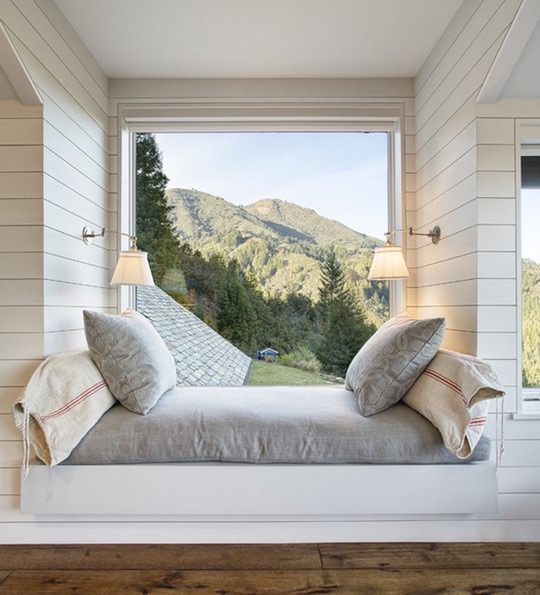 I mean…THIS. I love the calm colors, comfy looking pillows, and obviously that view. Now if I could just transplant a gorgeous mountain range outside of my window!
Gray Window Seat
by Alyssa Kapito Interiors
Again…light, calm colors. And, that window. I sense some running themes here.
Baby Nursery with Furry Rug
by The Havenly
Yes, I realize this is a baby nursery and a crying baby in that crib probably isn't conducive to great reading. But, imagine that room without the crib and you've got a fantastic reading nook! I'll take a furry, white rug any day!
Another Gray Window Seat
by Rehkamp Larson Architects
Adding a white, furry blanket or rug to the running themes…
And we can't forget the outdoor options…
Hanging Basket Chair
by The Havenly

PS – The Havenly is a cool service that helps you design your home using a virtual stylist…and is a great option for people that don't want to shell out for an expensive, full service interior designer! Plus, they're a great follow on Instagram.
Wood Porch Swing
by Swatchpop
Love this massive porch swing that can fit a gazillion pillows!
Wood Hammock Over Lily Pad Pond
by Jamie Durie
Add hammocks/swings to the running themes list…
Outdoor Glass House
from Better Homes and Gardens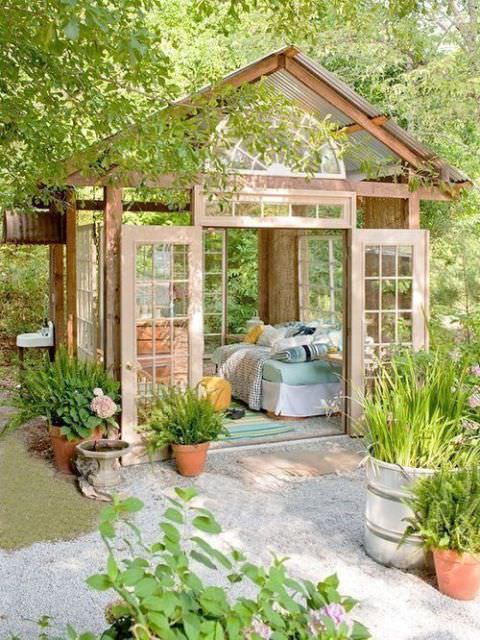 My version of the man-cave…
So, what will I do in my house?
My house doesn't really have a space for a dedicated reading nook, but there is a sectional with a chaise lounge going right in front of the fireplace in my living room that's going to double as my reading nook! The calm colors are already a go and you can bet I'm going to throw a furry, white blanket on the end of that chaise!
As for outdoors…we're still deciding what to do with our patio, so that's up in the air! I'm thinking a chaise with lots of pillows, though!
What would your dream reading nook look like?