Whew! Last week was moving week…and things were obviously chaotic! I spent almost all day every day unpacking boxes (I now understand that it can take a full 1.5 days to unpack a kitchen) and did not do a ton of reading. However, podcasts made all that unpacking much more enjoyable!
Thankfully, we were able to take a break from all the moving nonsense with a quick family trip to the Chesapeake Bay area last weekend. Let me tell you, it was much needed!
#Buildsarahsbookshelves Library Update
I'm putting together a very selective library for my new (but small) built-in bookshelves and am sharing each book I acquire on Instagram (follow me at sarahsbookshelves)! And, I'm trying to acquire all these new books at rock bottom prices.
I didn't acquire any new books for my new shelves last week, but I'll do you one better…I actually got to see my shelves live and (almost) finished for the first time! You'll see more in my upcoming post, but I'm leaning towards turning to Havenly for some free shelf styling advice.
Hosted by The Book Date.
This post contains affiliate links.
I finished reading…

The Hate U Give
 by Angie Thomas (February 28, 2017)
High readable, super compelling, and heart-breaking. An "issue" book that happens to also be, at its heart, a flat-out great story about a family. I can see why people are buzzing about this one. Also, an excellent choice for book clubs.
Affiliate Link: Buy from Amazon
The Getaway Car
 by Ann Patchett (August 25, 2011)
This slim little book (or, essay is probably a better term as it's only 45 pages long) is Patchett's thoughts and advice on writing. I'm not an aspiring writer, but Patchett's advice and outlook on life and work is down to earth and applicable beyond writing. Without the benefit of being a writer myself, I suspect this is a must read for anyone that is!
Affiliate Link: Buy from Amazon
I'm currently reading…
The Resurrection of Joan Ashby
 by Cherise Wolas (August 29, 2017)
This debut novel about a woman's view of work and marriage was a last minute Netgalley request…before I realized it was over 500 pages long! I'm about 25% through and enjoying it…Joan's struggle between achieving her professional goals and being a wife and mother is real.

Affiliate Link: Pre-Order from Amazon
South Pole Station
 by Ashley Shelby (July 4, 2017)
I read about 10% of this one…it was fine, but wasn't blowing me away. And, since it was a library hold, I wasn't feeling any pressure to continue with something that didn't blow me away.
Upcoming reading plans…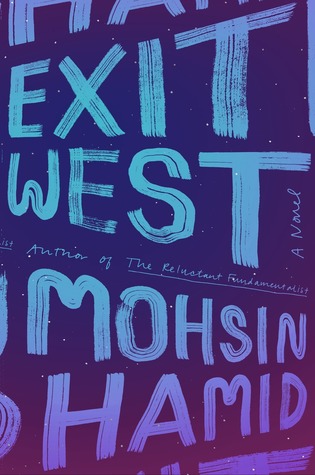 Exit West
 by Mohsin Hamid (March 7, 2017)
I've been shying away from this critical darling because I'm not a fan of magical realism, but finally put it on hold at the library after reading the first few pages at a bookstore (the writing is great!) and seeing Susie at Novel Visits mention it's a good choice for readers who think they don't like magical realism.
I was reading…
One Year Ago: I was on vacation and didn't post a Monday update!
Two Years Ago: I had just finished my first Sprint Triathlon!
How was your reading week?