Do you want to know more about the five Book of the Month Club September 2017 selections before making your choice(s)? 
Welcome to my monthly feature "Book of the Month Club Selections: What Would I Choose?"! Every month, I provide commentary on the books that are chosen as that month's Book of the Month Club selections and tell you which book(s) I would choose. 
In addition to the five September selections, Book of the Month Club is offering three extras this month (which Book of the Month Club members can add to their boxes for only $9.99 each):
Y'all, this month's selections are AWESOME! Totally makes up for last month. I've read and loved two of them, just started a third, and have heard great things about a fourth. If you've been toying with joining (details at the end of this post), you've got some great choices this month!
And one announcement: I'm working on an additional tool to help you make the best Book of the Month Club selection for you! Look for that in the coming month or so…
Book of the Month Club September 2017 Selections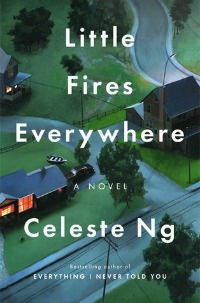 Little Fires Everywhere by Celeste Ng (Release Date: September 12, 2017)
384 Pages
Average Goodreads Rating: 4.4 on 538 ratings
Selected By: Kim Hubbard (Books Editor for People Magazine)

In Shaker Heights, a placid, progressive suburb of Cleveland, everything is planned […]. And no one embodies this spirit more than Elena Richardson, whose guiding principle is playing by the rules.

Enter Mia Warren – an enigmatic artist and single mother – who arrives in this idyllic bubble with her teenaged daughter Pearl, and rents a house from the Richardsons. Soon Mia and Pearl become more than tenants: all four Richardson children are drawn to the mother-daughter pair. But Mia carries with her a mysterious past and a disregard for the status quo that threatens to upend this carefully ordered community.
My Thoughts:
Following Ng's award-winning debut (Everything I Never Told You, my review), Little Fires Everywhere is one of the most anticipated new releases this year. I've read it and it's NOT a sophomore slump! It's premise didn't really jump out at me, yet the way Ng told this story had me engrossed immediately. It's the kind of story where you sink into the community and the characters' lives…and, I think it has the potential for even broader appeal than Everything I Never Told You. Michelle at That's What She Read (a blogger who has steered me in the right direction on a couple key books this year – The Wanderers and Emma in the Night!) loved it too. And, not surprisingly, Kirkus and Publisher's Weekly both gave it starred reviews.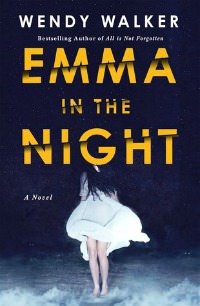 Emma in the Night by Wendy Walker (Released: August 8, 2017)
320 Pages
Average Goodreads Rating: 3.9 on 1,338 ratings
Selected By: Guest Judge Krysten Ritter (actress and soon-to-be published author
)

From the bestselling author of All is Not Forgotten comes a thriller about two missing sisters, a twisted family, and what happens when one girl comes back…
My Thoughts:
My regular readers know I've recently had a hard time finding thrillers I love. Well, I 5 star-loved Emma in the Night! It's the most satisfying psychological thriller I've read since Gone Girl! No lie…here's my review. What made it so satisfying? I questioned who was telling the truth the entire time I was reading and, best of all, the ending was surprising, yet absolutely made sense with the story (which is my number one criteria for a successful thriller). I'm not saying Emma in the Night is one of those ubiquitous Gone Girl copycats…it just left me feeling equally as satisfied. Don't believe me? Here are some other reviews from sources I trust: Novel Visits, Running N Reading, Doing Dewey, Kirkus Reviews, and Publisher's Weekly.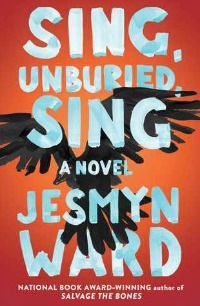 Sing, Unburied, Sing by Jesmyn Ward (Release Date: September 5, 2017)
304 Pages
Average Goodreads Rating: 4.32 on 325 ratings
Selected By: Elizabeth Kiefer (Books & Senior Features Editor, Refinery 29)

In Jesmyn Ward's first novel since her National Book Award winning Salvage the Bones, this singular American writer brings the archetypal road novel into rural twenty-first-century America. Drawing on Morrison and Faulkner, The Odyssey and the Old Testament, Ward gives us an epochal story, a journey through Mississippi's past and present that is both an intimate portrait of a family and an epic tale of hope and struggle.
My Thoughts:
Sing, Unburied, Sing is Ward's sophomore effort following her National Book Award-winning Salvage the Bones
. Tara at Running N Reading says it's "definitely an emotional, somewhat heavy, read and entirely worth the time and effort." She also said the "publisher's description thankfully doesn't give away too much and there is so much more in store for readers." Susie at Novel Visits called it "raw" and said the writing was "beautiful." Publisher's Weekly and Kirkus both gave it starred reviews. If you like a good emotional gut-wrencher, this one is your pick! Though I DNF'd Salvage the Bones, I do plan to give this one a try once my life calms down a bit (for me, the timing isn't right for a heavy, emotional gut-wrencher).
Lies She Told by Cate Holahan (Release Date: September 12, 2017)
304 Pages
Average Goodreads Rating: 3.96 on 213 ratings
Selected By: Stacey Armand ("You Be the Judge" Contest Winner
)

Liza Jones has thirty days to write the thriller that could put her back on the bestseller list. In the meantime, she's struggling to start a family with her husband, who is distracted by the disappearance of his best friend, Nick.

Beth is a new mother who suspects her husband is cheating on her while she's home alone providing for their newborn. […] But before she realizes it, she's tossing the body of her husband's mistress into the river.

Then the lines between fiction and reality begin to blur.
My Thoughts:
Lies She Told is the only September selection that I hadn't heard of…but, I now know it's a psychological thriller. It's gotten a lot of blurbs, but this one from Library Journal jumped out at me: "Recommended for anyone who enjoys Paula Hawkins or Gillian Flynn, primarily because it's better." You know I'm super skeptical of the ubiquitous The Girl on the Train and Gone Girl comparisons, so there's also that. It got a starred review from Kirkus and a good, but not starred review from Publisher's Weekly. And, Crime by the Book said this "book within a book" mystery is "pure, binge-worthy entertainment."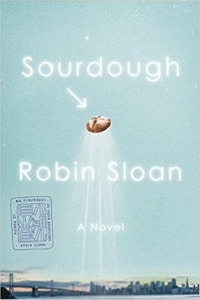 Sourdough by Robin Sloan (Release Date: September 5, 2017)
272 Pages
Average Goodreads Rating: 4.09 on 151 ratings
Selected By: Dana Schwartz (Author)

Lois Clary is a software engineer at General Dexterity, a San Francisco robotics company with world-changing ambitions. She codes all day and collapses at night, her human contact limited to the two brothers who run the neighborhood hole-in-the-wall from which she orders dinner every evening. Then, disaster! Visa issues. The brothers close up shop, and fast. But they have one last delivery for Lois: their culture, the sourdough starter used to bake their bread. She must keep it alive, they tell her—feed it daily, play it music, and learn to bake with it.

When Lois comes before the jury that decides who sells what at Bay Area markets, she encounters a close-knit club with no appetite for new members. But then, an alternative emerges: a secret market that aims to fuse food and technology. But who are these people, exactly?
My Thoughts:
I adored Sloan's quirky debut about a bookstore mixed in with a bunch of technology (odd, but it worked!), Mr. Penumbra's 24-Hour Bookstore
(my review). So, I expected a ton of quirk in his take on food…and the technology in this one takes the form of robotics. I'm about 20% through so far and am enjoying it…it's definitely quirky, a bit funny, and has a main character that I'm rooting for (however, the tech talk has gone a bit far a few times). Kirkus wasn't a fan, calling it "Fluffy but overbaked." Hmm. Publisher's Weekly also said it "overreaches." Double hmm. We'll see how I end up feeling as I read farther.
What Book of the Month Club September 2017 selection(s) would I choose?
This is a tough one for me because I'm not over the moon about any of the choices. There's a chance I would skip this month.
If you're looking for a page turner that you won't be able to put down, Emma in the Night is the ticket!
If you want something a bit more literary, you can't go wrong with Little Fires Everywhere.
Make your Book of the Month Club selections by Sunday, August 6th.
How to Join Book of the Month Club…
Book of the Month Club is a subscription service for people who like to try new books from a curated selection and like to read in hardcover format. Through Book of the Month Club, you can get a hardcover book for generally significantly less than you'd pay in a bookstore or through Amazon. And, you get to try something new that has been vetted by one of Book of the Month Club's well-read judges!
Sign up for any of the subscription plans below and you get to choose one of five books selected by Book of the Month Club's panel of judges (including a surprise guest judge). Book of the Month Club will then mail your chosen book to your house with a cute note. You also have the option to purchase additional books for $9.99 each and to skip a month if you want.
Sign up for a Book of the Month Club membership (NEW pricing below)!
New members will sign up for a membership that renews monthly:
A book of your choice for $14.99 / month
Add extra books to your shipment for $9.99 each
Skip any month you want
Free shipping, always
Special Deal:
Try 1, 2, or 3 months for just $9.99 each! 

*All book descriptions are from Goodreads.