I debated on whether to even do this post this month because I really didn't many "February 2020 Books to Read." I liked one of my February books…literally one! Worse than that, I only even finished one. But, in the spirit of honesty, I decided to share my February books as they were…and, quickly move on to March, which has already brought me better books that I'm looking forward to sharing with you!
Hosted by Modern Mrs. Darcy.
This post contains affiliate links (plus: here's your Amazon Smile-specific affiliate link
).
Favorite Book of February 2020
The Holdout
by Graham Moore
Fiction – Mystery (Release Date: February 18, 2020)
336 Pages
Affiliate Link: Buy from Amazon

Source: Publisher (Random House)

Plot Summary: Ten years ago, Maya was the lone juror who wanted to acquit Bobby Nock of murdering Jessica Silver…and she was able to convince her fellow jurors to come around to her side. Now, a true crime docuseries is reassembling those involved with the case, including the jurors.
My Thoughts: This courtroom drama was inspired by Moore's (Academy Award-winner for Best Adapted Screenplay for The Imitation Game) real-life experience serving on a jury in 2008 and sending that defendant to prison for murder. Moore thinks his jury was correct, but always wonders about the small chance they could've gotten it wrong. The Holdout does not have a particularly thriller-y vibe, but it's easy to quickly turn the pages. It looks at the impact of a high profile trial on the jury (particularly one that is sequestered)…how it affects the jurors' lives, families, and mental state…and how slippery the legal system is in the U.S. It's a less weird, more accessible version of The Body in Question (one of my Underrated Gems of 2019). The Holdout would make a great book club pick as there is lots to unpack about how we handle juries in the U.S., their ability to render fair and impartial decisions within these circumstances (particularly for high profile cases), and whether or not what we ask of jurors on high profile cases is fair. If you like a courtroom drama that delves deep into a serious issue, The Holdout is for you!
But the verdicts had nothing to do with truth. No verdict ever changed a person's opinion. Juries weren't gods. The people who went into those courtrooms looking for divine revelation came out bearing the fruits of bureaucratic negotiation.
The DNF's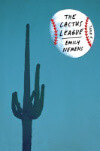 The Cactus League
by Emily Nemens (February 4, 2020)
DNF at 31%
This book about baseball was going alright for me, but I just didn't really care what happened with these people. I tried it on two different occasions a week apart. Maybe it was the fact that it's inter-connected short stories? Or, maybe my mind was all over the place since I was in the middle of the biggest reading slump I've had a in long time (a string of 4 DNF's…see below)? But, a couple other readers I trust loved it, so definitely look for a second opinion (ex: Novel Visits, Gayle Weiswasser).
Saint X by Alexis Schaitkin (February 18, 2020)
DNF at 35%
This debut novel was like a series of pump fakes. It would pull me in, then bore me to tears, then pull me in again right when I was about to quit. I read a couple reviews from people I trust who did finish it and they all said nothing much changed and the payoff wasn't worth it in the end, so I put it down.
Apartment by Teddy Wayne (February 25, 2020)
DNF at 8%
I had mixed feelings about Wayne's previous novel, Loner (my review), but I liked enough about it to give his follow-up a try. Unfortunately, the writing was really pretentious and overwritten and I didn't really care about what was going on.
What's the best book you've read so far this month?
Pin this post…