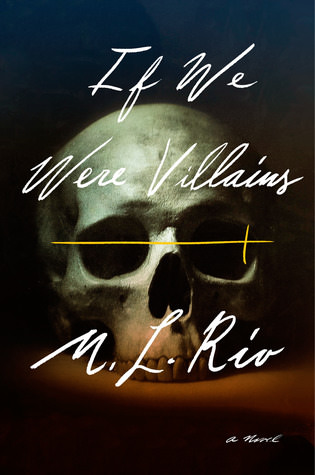 Fiction – Debut
Released April 11, 2017
352 Pages
Bottom Line: Read it.
Affiliate Link: Buy from Amazon
Source: Purchased (published by G.P. Putnam)
Headline
If We Were Villains is the dark campus novel I've been craving ever since loving Christopher J. Yates's Black Chalk three years ago…and is one of my favorite books of 2017 so far.
Plot Summary
After spending ten years in prison, Oliver Marks is ready to tell the story of the tragedy that happened to his seven best friends and fellow Shakespeare theatre students during their fourth year at Dellecher, an intense Conservatory for the arts. 
Why I Read It
Susie at Novel Visits recommended this book and compared it to Donna Tartt's The Secret History
 (which I loved). Plus, I'm a complete sucker for campus novels, especially dark ones.
Major Themes
Friendship, Shakespeare, Secrets / Betrayal
What I Loved
If We Were Villains

is a dark, sinister, Gothic campus novel jam-packed with emotional tension. The dynamics between Oliver and his group of friends are incredibly complicated and constantly shifting, resulting in nail-biting suspense. After the 20% mark, I could not put this book down!

The story kicks off with a Prologue that made me think A) I'm dying to know what happened to this group of friends ten years ago and B) I'm pretty sure it's going to be really messed up.

Though I have mixed feelings about all the Shakespeare in this book (see "What I Didn't Like" below), I do think the general theme contributed to much of the book's Gothic feel and made what could be interpreted as mundane friendship dynamics feel much more sinister. I just knew that one of these people was going to become believably capable of doing something monstrous.
What ended up happening with the Dellecher fourth years was surprising (particularly how it went down), but absolutely made sense within the context of the story. I could see how each player ended up in the role (obligatory acting pun!) they did.
What I Didn't Like
References to and excerpts from Shakespeare's plays are incorporated throughout this book. The students pepper their own conversations with Shakespeare one-liners, discuss the plays in class, and refer to themes from the plays in their daily lives. I admit I'm not a fan of Shakespeare and find his language kind of unintelligible, so this initially annoyed me. Just before the 20% mark, I actually considered putting the book down. However, I'm so relieved I kept going. I realized that you don't have to pay close attention to the Shakespeare excerpts or really understand them to get invested in the story. So, don't let a wariness of Shakespeare deter you from reading this!
A Defining Quote
Actors are by nature volatile – alchemic creatures composed of incendiary elements, emotion and ego and envy. Heat them up, stir them together, and sometimes you get gold. Sometimes disaster.
Good for People Who Like…
Campus Novels, Friendship, Shakespeare, Secrets / Betrayal, Dark Stories
Other Books You May Like
More dark, sinister campus novels:
Black Chalk
by Christopher J. Yates
The Secret History
by Donna Tartt
Looking for a specific book recommendation? I've got you covered!
Participate in a limited time, free trial of my
new PERSONALIZED BOOK RECOMMENDATION service!