My June 2020 Books to Read (and Skip) is a little lighter than normal. I didn't have many June books on my TBR list this year, but just wait, y'all, July is PACKED! But, I'm thrilled to share two June books I loved. I'll take quality over quantity any day. 
And, on a positive note, there are no books to skip or DNF's this month!
Hosted by Modern Mrs. Darcy.
This post contains affiliate links (plus: here's your Amazon Smile-specific affiliate link
).
Favorite Book of June 2020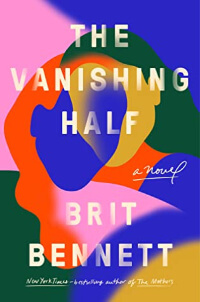 The Vanishing Half by Brit Bennett
Fiction – Literary (Release Date: June 2, 2020)
352 Pages
Affiliate Link: Buy from Amazon

Source: Publisher (Riverhead Books)

Plot Summary: After running away from their small, predominantly light-skinned black town in Louisiana (Mallard) at age sixteen, the Vignes twins' lives diverge dramatically, with one living back at home with her black daughter while the other one "passes" for white in Los Angeles, CA.
My Thoughts: Bennett's 2016 debut novel, The Mothers (my review), was one of my top 3 books of 2016, so Bennett had a lot to live up to! While The Vanishing Half didn't hit me quite as hard as The Mothers, I still loved it (despite reading it during week #2 of coronavirus quarantine, which meant an extremely distracted mental state). I finished the second half of the book in 2 days. This is a story about family and identity, told through the eyes of four unforgettable women (the Vignes twins and their respective daughters). Like in The Mothers, Bennett explores multiple serious issues (including race, status within a race, class, gender identity, belonging), but leads with her characters. These issues are all central to her characters' lives and who they are as people and we get to explore the issues through these people. And, the town of Mallard is a unique character itself. I knew from The Mothers that Brit Bennett could write and, unsurprisingly, her writing shines in The Vanishing Half as well! Plus, it would make a fantastic book club selection.
She could tell the truth, she thought, but there was no single truth anymore. She'd lived a life split between two women—each real, each a lie.
Also Read This One
What's Left of Me is Yours by Stephanie W. Scott
Fiction – Literary (Release Date: June 23, 2020)
352 Pages
Affiliate Link: Buy from Amazon

Source: Publisher (Doubleday)

Plot Summary: When Sato decides he'd like to divorce his wife, Rina, he hires Kaitaro (a "wakaresaseya") to seduce her in hopes of favorably influencing the divorce proceedings. He didn't intend for them to actually fall in love and disaster strikes when they do. 
My Thoughts: Catherine from Gilmore Guide to Books shared this debut novel on the Spring 2020 Book Preview podcast episode and the real industry (and true crime that occurred in Tokyo in 2010) it's based on sounded horrifying, but also fascinating. Apparently, divorces in Japan get incredibly contentious as shared custody of the children is not an option. So, a real industry exists where a spouse can hire someone to seduce their partner and collect evidence to be used in the battle for sole custody. The story is a mystery / love story / family drama mash-up that's told in alternating perspectives between Sumi in present day (Rina's daughter investigating what really happened to her mother) and events as they happened in the past. This story is about a woman losing her identity through marriage and a woman's struggle to find herself again. The chapters are short, so it feels fast-moving and I was fascinated by the many differences between the Japanese legal system and ours. There were occasional philosophical tangents that felt overwrought and I thought the ending was a bit anti-climactic. Other than that, I thoroughly enjoyed this look into a unique cultural phenomenon (4 stars).
There was a time when she had been visible, Rina was sure of it. It wasn't physical attention that she wanted or even romance; it was contact, for someone to see her, to prove that she was still there.
What's the best book you've read so far this month?
Pin this post…