This post is part of fellow book blogger, Beth Fish Reads', weekly meme (a "community" blog post, for all those non-bloggers out there) called Weekend Cooking.
As I discussed in a Weekend Cooking post a few months ago, my husband and I love cooking and eating fresh fish…all different kinds. And, ever since we left NYC for the suburbs, we've had a hard time finding a variety of high quality fresh fish that's convenient to buy on a regular basis. A few months ago, we got to be guinea pigs for the pre-launch of NYC-based seafood purveyor, The Lobster Place's, e-commerce business. We received a delicious raw oyster sampler on our doorstep.
This gave me the idea for my husband's Christmas present this year: The Lobster Place's Fish of the Month Club! This is actually a "wolf present"…a gift you buy for someone else because it's something you want for yourself. Sneaky, right?! 
Our first fish box arrived last Friday with a selection of five gorgeous fish: Sole, Mahi Mahi, Organic King Salmon, Striped Bass (one of my favorites!), and Monkfish. And, recipes were included for each fish on cute little cards. We tried the Lemon Sole last weekend and it was simple and delicious. We froze the remaining fish for use over the course of the month (they come in vacuum packed freezer bags).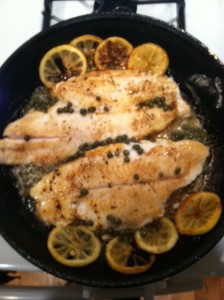 Pan-Seared Lemon Sole
Recipe courtesy of The Lobster Place (originally from Real Simple Magazine)
Ingredients
1/4 cup all-purpose flour
4 sole fillets
1/2 teaspoon kosher salt
4 1/2 teaspoons unsalted butter
1 lemon, ends trimmed, sliced into 12 thin circles
2 tablespoons capers, rinsed and drained
Directions
Place the flour on a plate. Season the sole with salt and then coat it in the flour, shaking to remove any excess; set aside.
Melt 1 tablespoon butter in a skillet over medium heat. Add the lemon and cook until lightly browned, about 2 minutes.
Push the lemon to the side and add the sole (in batches if needed – this is important, I should have cooked each piece separately for a crispier crust!). Cook until sole is the same color throughout and flakes easily, about 2 minutes per side.
Add the capers and remaining butter. Remove skillet from heat and tilt to swirl butter until it melts.
Transfer the sole and lemon to plates and spoon the capers and butter over the top.