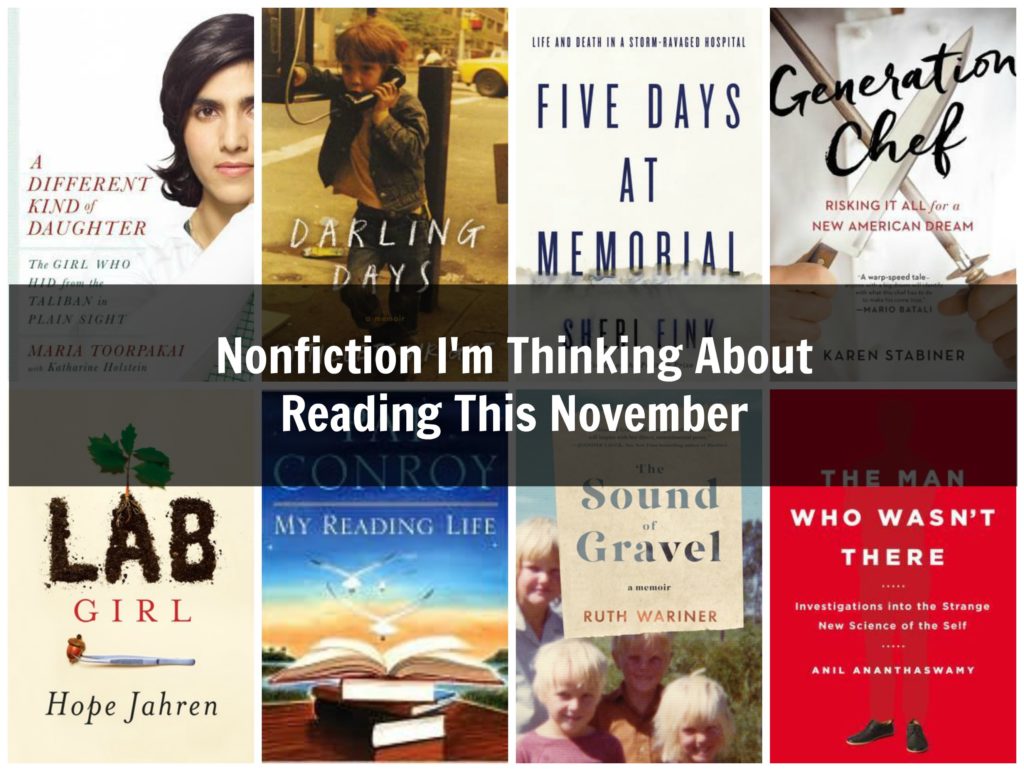 Nonfiction November has been one of my favorite reading events over the past few years…to the extent that I tend to put off reading many nonfiction titles I'm interested in until November! It looks like the official event is on hiatus this year, but I still have this huge list of nonfiction books I was planning to read. So, I thought I'd still dedicate November to reading nonfiction…and hopefully share some nonfiction-focused posts.
Here's what I have on my radar to read this month. I won't get to nearly all of these, but I need options!
A Different Kind of Daughter by Maria Toorpakai (May 3, 2016)
I wish I could remember who recommended this one, but it made me think of The Underground Girls of Kabul, which I loved.
A DIFFERENT KIND OF DAUGHTER tell of Maria's harrowing journey to play the sport she knew was her destiny, first living as a boy and roaming the violent back alleys of the frontier city of Peshawar, rising to become the number one female squash player in Pakistan.
Darling Days by iO Tillett-Wright (September 27, 2016)
The ladies at All the Books podcast and Eva at Paperback Princess recommended this memoir…and the author was peripherally involved in the Johnny Depp/Amber Heard divorce.
Unfolding in animated, crystalline prose, an emotionally raw, devastatingly powerful memoir of one young woman's extraordinary coming of age—a tale of gender and identity, freedom and addiction, rebellion and survival in the 1980s and 1990s, when punk, poverty, heroin, and art collided in the urban bohemia of New York's Lower East Side.
I've had this story about the situation at a New Orleans hospital in the aftermath of Hurricane Katrina on my TBR list forever. It's length (over 550 pages) keeps making me hesitate.
In the tradition of the best investigative journalism, physician and reporter Sheri Fink reconstructs 5 days at Memorial Medical Center and draws the reader into the lives of those who struggled mightily to survive and to maintain life amid chaos.
Generation Chef by Karen Stabiner (September 13, 2016)
I jumped on the opportunity to read this chef/restaurant story because I love all things food…now I have this ARC sitting in front of me, so this one is high on my November reading list.
Inside what life is really like for the new generation of professional cooks—a captivating tale of the make-or-break first year at a young chef's new restaurant.
Lab Girl by Hope Jahren (September 13, 2016)
This is one of those memoirs that did not initially sound appealing to me, but the rave reviews have convinced me to give it a try. I tried to time my library hold to come in for Nonfiction November, but I'm still 6th in line, so likely won't be reading it this month.
Lab Girl is a book about work, love, and the mountains that can be moved when those two things come together. It is told through Jahren's stories: about her childhood in rural Minnesota with an uncompromising mother and a father who encouraged hours of play in his classroom's labs; about how she found a sanctuary in science, and learned to perform lab work done "with both the heart and the hands"; and about the inevitable disappointments, but also the triumphs and exhilarating discoveries, of scientific work.
My Reading Life by Pat Conroy (2010)
In honor of Conroy's passing earlier this year, I promised myself I'd read the only one of his books I hadn't yet read. But earlier this week, I heard his final book (A Lowcountry Heart) was published on Tuesday, so I'll have to fit that in before this year is out also!
Bestselling author Pat Conroy acknowledges the books that have shaped him and celebrates the profound effect reading has had on his life.
The Man Who Wasn't There by Anil Ananthaswamy (August 4, 2015)
Monika at Lovely Bookshelf recommended this one.
In the tradition of Oliver Sacks, a tour of the latest neuroscience of schizophrenia, autism, Alzheimer's disease, ecstatic epilepsy, Cotard's syndrome, out-of-body experiences, and other disorders—revealing the awesome power of the human sense of self from a master of science journalism.
The Sound of Gravel by Ruth Wariner (January 5, 2016)
This memoir has been on my TBR list all year…one of those books I was "saving" for November!
A riveting, deeply-affecting true story of one girl's coming-of-age in a polygamist cult.
Which of these do you recommend…or not? What's your favorite nonfiction book of the year so far? Is anyone else planning to focus on nonfiction this month?