It's Monday, What Are You Reading?
Hosted by The Book Date.
Happy Halloween, everyone! Last week's reading was pretty unmemorable. I finished Miss Jane by Brad Watson, which was an interesting story, but diverted to boring American pastoral life background in the 1920's-30's a bit too much. And, after trying to get out of my comfort zone, I ended up DNFing Children of the New World by Alexander Weinstein at 32%. I'm now almost finished with Pat Conroy's memoir, My Reading Life, which has been somewhat of a comfort read for me (Conroy always is), but is probably my least favorite thing he's written.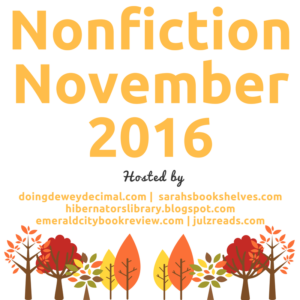 The best news is that one of my favorite reading events, Nonfiction November, will kick off this week after all! I'll be co-hosting along with Katie at Doing Dewey (big thanks to her for organizing everything!), Lory at Emerald City Book Review, Rachel at Hibernator's Library, and Julz at Julz Reads. Today, Katie is kicking things off with Your Year in Nonfiction. Hop on over to Doing Dewey to link up your posts and check out the plans for the month.
I'll be hosting Nonfiction/Fiction Book Pairing the week of November 14 – 18.
My Year in Nonfiction
One of my reading goals for 2016 was to read more nonfiction than I did last year and I'm shocked that I've actually been doing just that! A big chunk of this is via audio, which I hadn't been able to figure out how to make work for me prior to this year. But, I've found that lighter nonfiction (for me, sports and celebrity memoirs, life improvement, trashy celebrity exposes, and social/behavioral sciences) is the key to my audio success. So far, I've read or listened to 25 (32% of my total reading) nonfiction books so far this year, compared to 12 (16% of my total reading) for all of last year, and am looking forward to increasing that number this month!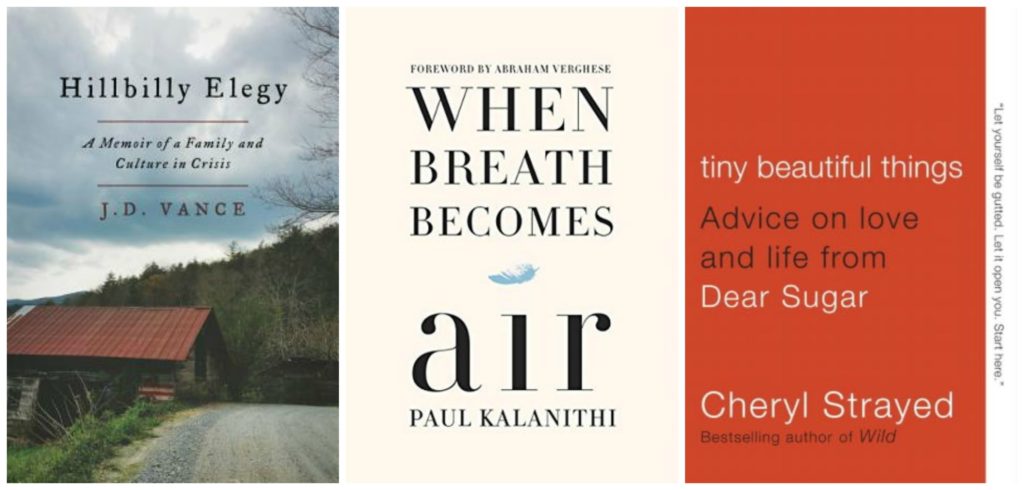 What was your favorite nonfiction read of the year?
It's a tie between Hillbilly Elegy
 by J.D. Vance (review), When Breath Becomes Air
 by Paul Kalanithi, and Tiny Beautiful Things
 by Cheryl Strayed. Not the most unique list, but my favorites are my favorites.
What nonfiction book have you recommended the most?
Right now, it's definitely Hillbilly Elegy
 by J.D. Vance (review) since it achieves a delicate balance of entertaining dysfunctional childhood memoir and social analysis that's pertinent to this election cycle. However, I think I'll be recommending Tiny Beautiful Things
 more over the long-term.
What is one topic or type of nonfiction you haven't read enough of yet?
Food / Cooking Nonfiction
This is actually a type of nonfiction I used to read tons of, but have fallen off the wagon with since I started blogging. I'm an unabashed foodie and used to love reading chef's memoirs, cooking school memoirs, and general nonfiction about food, cooking, and restaurants. I've recently fallen prey to the allure of new fiction at the expense on some of the more niche genre reading I used to love and am working on incorporating this back into my reading diet. I'm planning to start by readingKaren Stabiner's Generation Chef
 this month.
What are you hoping to get out of participating in Nonfiction November?
I'm hoping to plough through as much of my Nonfiction November 2016 reading options list as possible, add a bunch of new nonfiction books to my TBR list, and discover some new blogs to follow!
How was your reading week? How was your year in nonfiction?