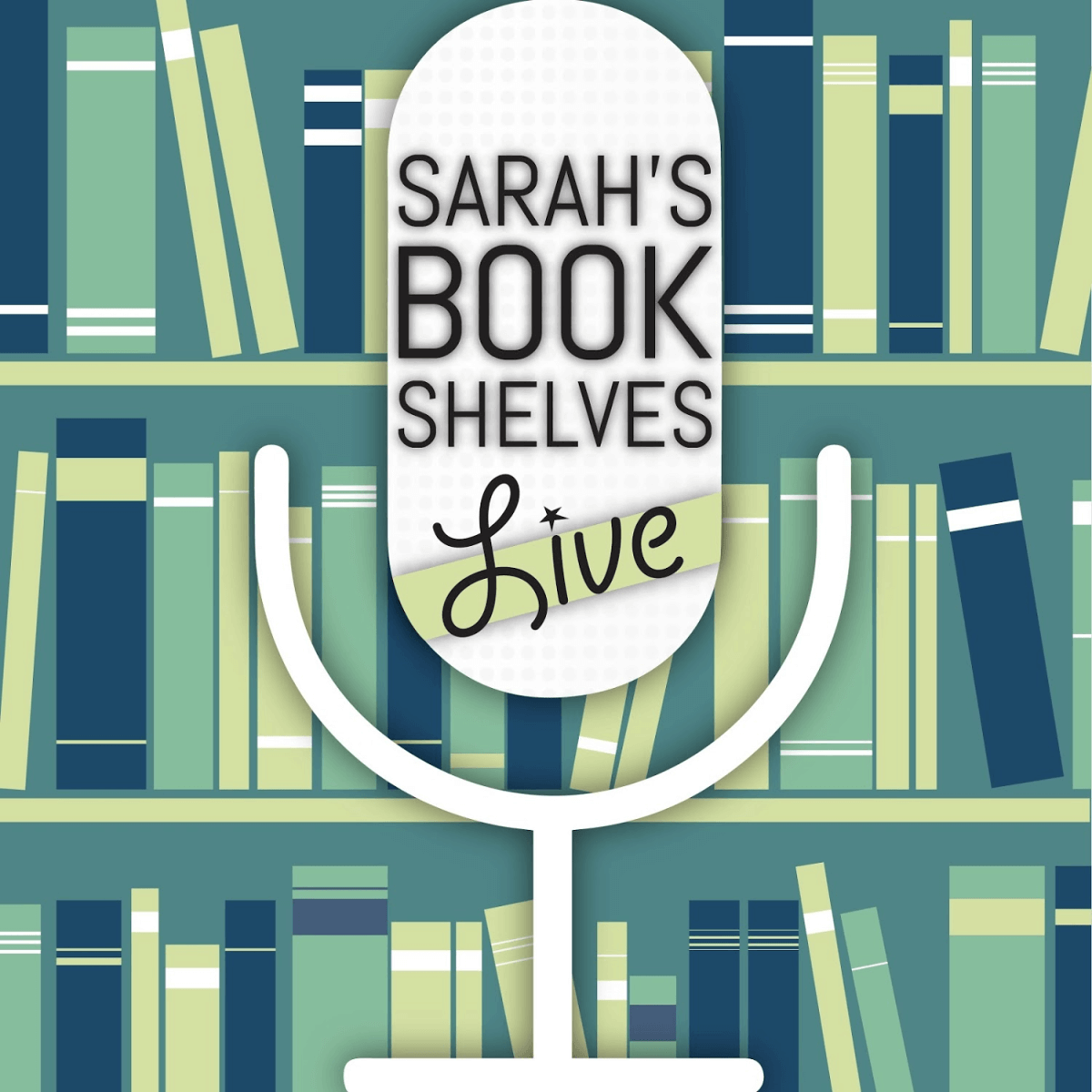 I'm so excited to finally be able to tell you about the new podcast from Sarah's Book Shelves…called Sarah's Book Shelves Live!
I've been kicking around the idea of a podcast for a couple years now and the timing finally made sense. I was a guest on a couple podcasts earlier this Fall and had so much fun actually talking about books that it turned out to be just the kick in the pants I needed!
I love listening to book podcasts and I listen to a number of them that I think are incredibly well-done, but I was itching for more podcasts that fit my particular reading taste. I also wanted a place to be a little more free-flowing than on the blog and show a little more personality…and the podcast is a great format for that.
And, most importantly, I wanted to share great book recommendations from other bookish people I trust.
To give you a little taste of what's in store, a 5 minute trailer is now available wherever you listen to podcasts. If you like the trailer, I'd love it if you could subscribe, rate, and review the podcast wherever you're listening! Subscribers, ratings, and reviews really help other listeners find the podcast.
What to Expect
What
Each week, a bookish guest (don't worry…I'm not going to just talk into the microphone alone for 40 minutes!) will share his/her book recommendations and join me for some real talk about books in this format:
2 Old Books He/She Loves

2 New Books He/She Loves

1 Book He/She Doesn't Love

1 Upcoming Release He/She's Excited About
We'll finish each episode with a lightening round-type game called "Rate It."
Occasionally, I'll bring you special episodes like New Release Previews, Summer Reading Rundowns, Best Books of the Year discussions, and more!
When
New episodes will air every Wednesday, beginning January 2.
Who
I've got some great guests coming up…
Episode 1 (Jan. 2):
Georgia Hunter, author of New York Times Bestseller We Were the Lucky Ones 
Episode 2 (Jan. 9):
Special Episode: Winter 2019 New Release Preview with Catherine of Gilmore Guide to Books
Episode 3 (Jan. 16):
Susie from Novel Visits (Fiction Audiobook Recommendations)
More upcoming guests:
Tina from TBR, etc., Tara from Running N Reading, Gayle and Nicole from The Readerly Report Podcast, and Renee from It's Book Talk.
How to Listen to a Podcast
Earlier this year, I surveyed those of you who subscribe to my email list to gather research for the podcast and many of you said you didn't know how to listen to podcasts. Don't worry, my husband didn't either! So, check out the instructions below in case you want to listen, but don't know how…
Ways to Listen
Most people listen to podcasts on their smartphones via a Podcast app (see below for options).
If you subscribe to Spotify for your music, you can also listen to podcasts there.
But, if you're like my Mom and still have a flip phone (yep, true), look out for a blog post every Wednesday sharing the most recent podcast episode and show notes. There will be a player at the top of the post (just like today's post) and you can hit the "play" button to listen on your computer!
Podcast Listening Apps
Apple Podcasts

Stitcher

Google Podcasts / Google Home

Google Play Music 

TuneIn

Overcast
How to Install and Listen on Apple Podcasts App
Go to the "App Store" on your smartphone.
Click "Search" button in the bottom righthand corner.

Type "Apple Podcast app" into the search bar.

Click "Get" next to Apple Podcasts app.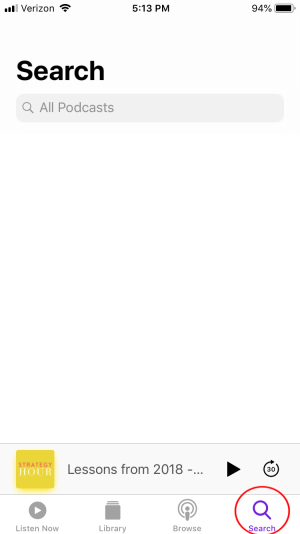 Once the app has downloaded, open it and click the "Search" button.

Type "Sarah's Book Shelves" into the search bar.

Click on Sarah's Book Shelves Live.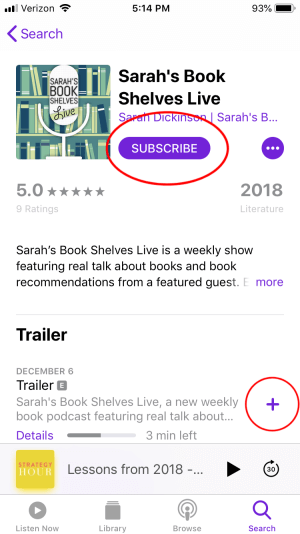 Click the purple "Subscribe" button. 

Scroll down and hit the "+" sign next to "Trailer". It will turn into a cloud with an arrow pointing down…click that to download the podcast.
Click "Listen Now" button in the bottom lefthand corner and my podcast should be in your feed. Click on it to listen. 

Once you've subscribed, news episode will automatically show up in your feed (under "Listen Now") as soon as they're released.
How to Subscribe on your Computer
Click the "iTunes" button on the media player at the top of this post…and view the podcast in iTunes.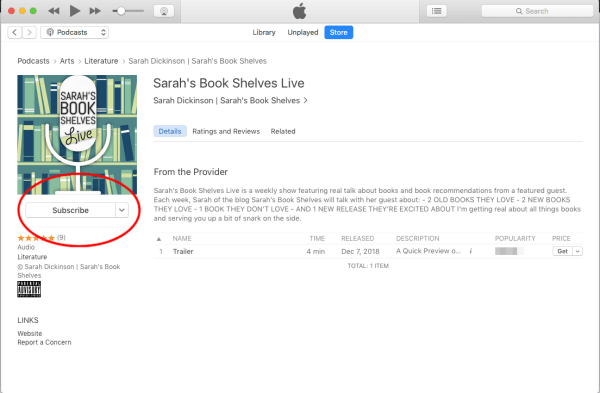 How to Support the Podcast
Share
If you like the podcast, I'd love for you to share it with your reader friends…in real life and on social media (there's easy share buttons at the bottom of this post!).
Subscribe
…wherever you listen to podcasts, so new episodes will appear in your feed as soon as they're released.
Rate and Review
Search for "Sarah's Book Shelves" in Apple Podcasts, on the screen that looks like this: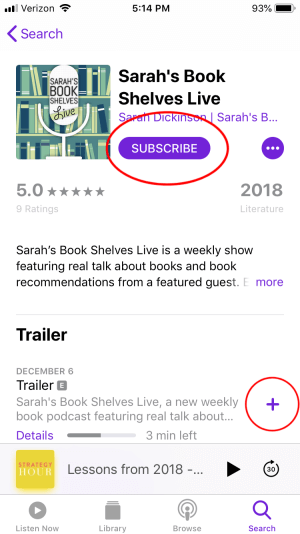 Scroll down until you see something that looks like this: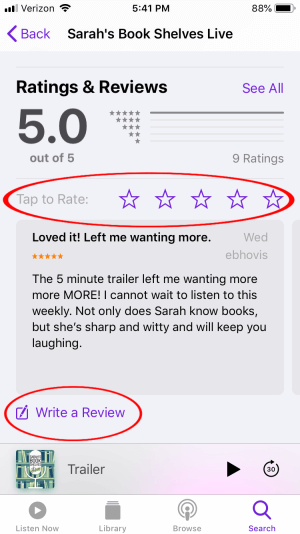 Rate by clicking the stars and review by clicking "Write a Review". Apple needs to approve all reviews before they go live, so you may not see your review pop up for a day or so.
Feedback
I want this podcast to fit what you're looking for, so I truly do want your feedback! Please tell me (email me at sarahsbookshelves@gmail.com or DM me on social media) what you like, don't like, want more of, want less of, etc. I'd also love to hear topics you'd like me to cover and guests you'd like to hear from.
Listener Reviews
Emily:
The 5 minute trailer left me wanting more, more, MORE! I cannot wait to listen to this weekly. Not only does Sarah know books, but she's sharp and witty and will keep you laughing.
Annie:
I am a huge fan of the blog and was so excited to find out that it is becoming a podcast! I love how honest and insightful Sarah is in her reviews and the trailer already has me hooked. I can tell the podcast is going to be a favorite in the new year!
Tara:
I have been following her blog for several years and get some of my VERY BEST reading recommendations from her; I am so excited about this new venture and I can assure you that it will be worth every minute. Sarah is authentic and will give her honest opinion on all the books she shares.
Can't wait to talk to you in January!