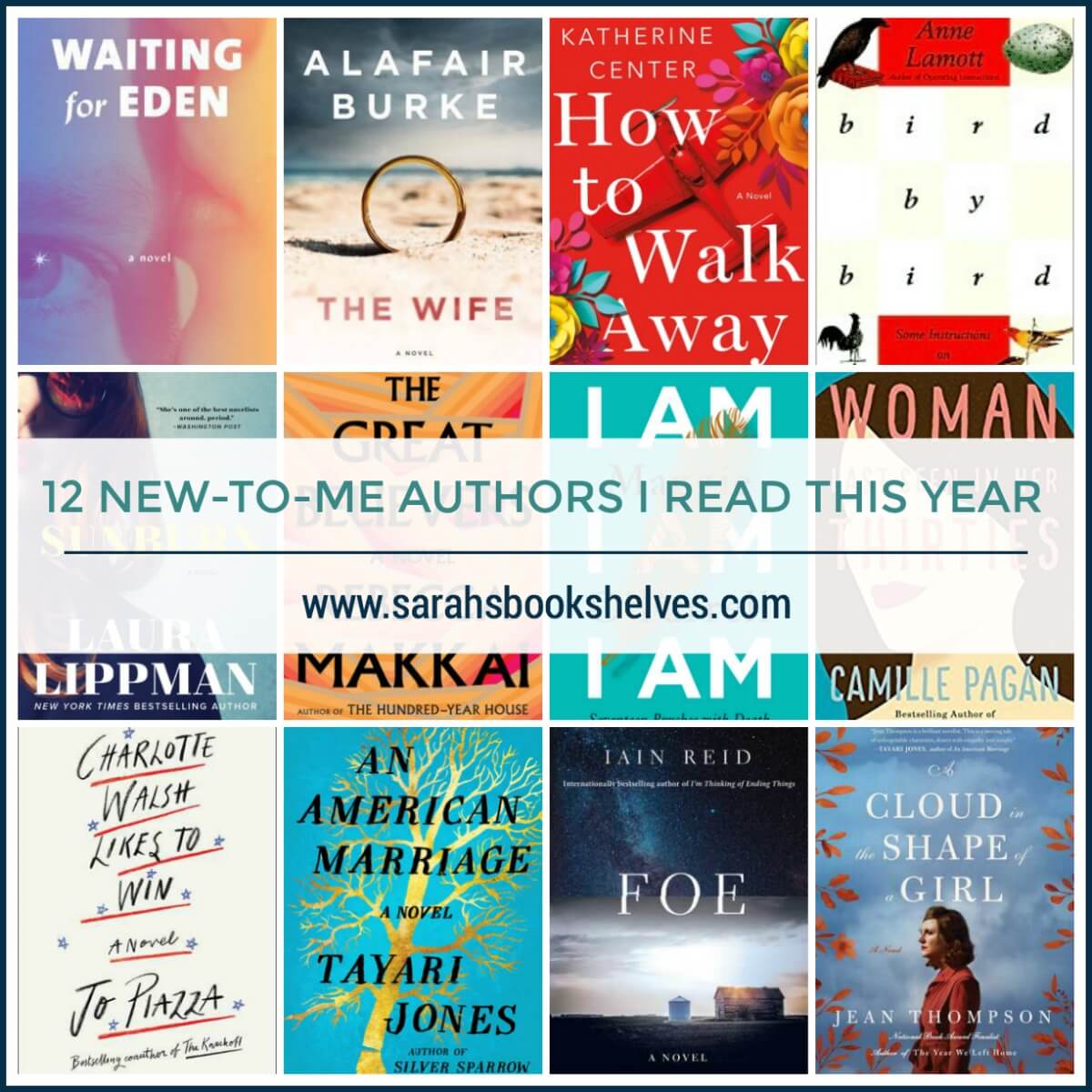 I love discovering a new-to-me author who has an extensive backlist to dig into! Though I'm late to the party on these authors, I've already fit in a second book by 4 of them (Maggie O'Farrell, Camille Pagan, Jo Piazza, and Tayari Jones)!
There are more lighter books and thrillers on this list than I normally read, so I'm thrilled to find some new authors that work for me in those genres.
This list does NOT include debut authors…since I already honored them in my Best Debuts of 2018 list.
This post contains affiliate links (plus: here's your Amazon Smile-specific affiliate link
), through which I make a small commission when you make a purchase (at no cost to you!).
12 New-To-Me Authors I Read in 2018
Elliot Ackerman (Waiting for Eden
, My Review)
Waiting for Eden was my #1 book of 2018. I loved his spare, but powerful writing style and his 2017 novel, Dark at the Crossing, is calling my name.
Alafair Burke (The Wife
, My Review
)
Y'all know I've been frustrated by thrillers with outlandish plot twists and I was thrilled to find that The Wife
 was a compelling, straight-up thriller with no gimmicks. And, she has a new book (The Better Sister) coming out in April 2019!
Katherine Center (How to Walk Away, My Review)
I didn't think I was going to like How to Walk Away because it's completely out of my wheelhouse, but it was a nice surprise! And, just like Alafair Burke, Center has a new book (Things You Save in a Fire) coming out in August 2019!
Anne Lamott (Bird by Bird: Some Instructions on Writing and Life
, My Review)
Can y'all believe I'm just now getting to Anne Lamott?! I thought she'd be serious since she writes with a bit of a religious lens, but she's super relatable and funny! I've got the audio of her memoir about her son's first year of life (Operating Instructions) on pre-order from Libro.fm.
Laura Lippman (Sunburn
, My Review)
I'm always excited to find a new thriller author I like since I'm so picky about them, but I loved the noir, "who can you trust?" vibe of Sunburn. And, she's got an extensive backlist for me to dig into.
Rebecca Makkai (The Great Believers
, My Review
) 
I know Makkai is kind of a critical darling, especially for her short stories, but I'd never read her before. You can bet I'll read her again, though…since The Great Believers
 was one of my Best Books of 2018!
Maggie O'Farrell (I Am, I Am, I Am)
Like with Tayari Jones, I made sure to fit in a second Maggie O'Farrell book (This Must Be the Place) just recently…and loved it! And, I still have Instructions for a Heatwave on my TBR list.
Camille Pagan (Woman Last Seen in Her Thirties
)
2018 was a good year for finding excellent "smart Brain Candy" authors and Camille Pagan is one of those. Thanks to Ashley Spivey for putting her on my radar and I fit in one of her backlist novels (Forever is the Worst Long Time) this year as well.
Jo Piazza (Charlotte Walsh Likes to Win
, My Review)
Catherine at Gilmore Guide to Books has been telling me to read Piazza's Fitness Junkie ever since it came out. I haven't gotten to that one yet, but did love Charlotte Walsh Likes to Win and am currently listening to her memoir about her first year of marriage, How to Be Married.
Tayari Jones (An American Marriage
, My Review)
Just like Oprah, I loved Jones' runaway hit An American Marriage
. I fit in one of her backlist titles, Silver Sparrow, just recently and I think I loved it just as much as An American Marriage
!
Iain Reid (Foe
, My Review)
I missed Reid's debut novel, I'm Thinking of Ending Things, but Foe had a compelling sense of creepiness and "what is going on?"-ness. I also just noticed Reid has written two memoirs.
Jean Thompson (A Cloud in the Shape of a Girl, My Review)
Thompson was nominated for the National Book Award for The Year We Left Home, but I was late to the party. Her latest novel snuck up on me, despite it's bleakness, which isn't for everyone.
What new-to-you authors did you read this year?