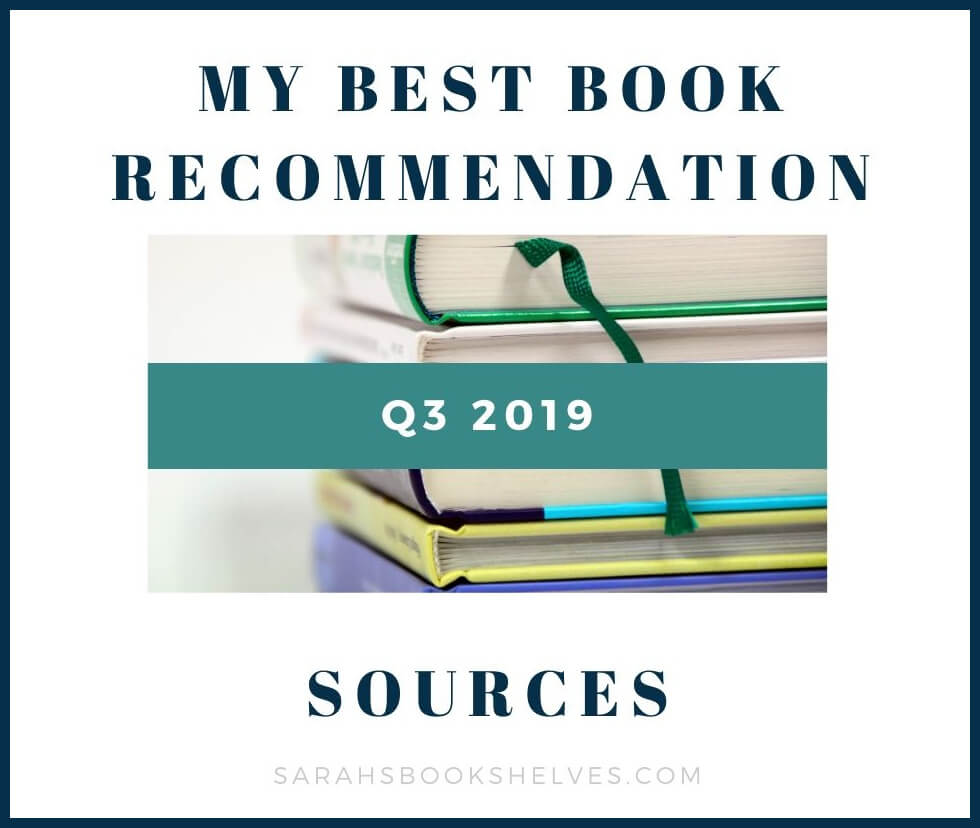 As many of you probably know, I started tracking my recommendation sources a couple years ago and using that information to pick better books. As often as possible, I'm choosing books that have already been read and recommended by trusted recommendation sources rather than from publishers' catalogs or various "Most Anticipated" book lists. The key to success is the "already read" part because it provides an opinion beyond "does the premise sound good on paper?" and independent of publishers' marketing machines.
Each quarter, I'm sharing my reading quality and my best recommendation sources. 
My Q3 2019 Reading Quality
| | |
| --- | --- |
|  % Successful Books ATTEMPTED (includes DNFs) |  83% |
|  % Successful Books FINISHED (does not include DNFs) |  95% |
Wow! My success stats are outrageously high this quarter! My Successful Books Attempted jumped from 53% in Q2 to 83%. I had a lot of DNF's in Q2 and I only had 3 in Q3, which drove this improvement. 
I also only finished 1 book I didn't like, leading me to 95% Successful Books Finished! This is the highest this number has ever been!
It seems I did a really good job picking books this quarter! Only 1/3 of the books I read were ARC's…all the others were either backlist or from my "Must Try Before End-of-Year" TBR list (meaning they'd already been read and loved by readers I trust). But, I liked (and I could probably even say loved) every single ARC I read in Q3.
How I Calculate My Best Book Recommendation Sources
This year, I'm approaching my best recommendation sources a little differently. I'm basically going to make this like a race through the end of the year.
Each quarter, I'll share my best recommendation sources for the entire year to date, rather than just that quarter. That way, I can see who's moving up and down as the year progresses. Plus, it might be fun for y'all to watch!

I picked the top 5 recommendation sources by # of successful recommendations.

Then, I sorted them by % of total recommendations that are successful, which factors in unsuccessful recommendations.
The reason I don't want to use % successful recommendations as my only metric is it could cause sources with 1 successful recommendation (100%) to beat out sources with, for example, 4 successful and 1 unsuccessful recommendation (75%).
And, this entire calculation is a work in progress. I'll be tinkering with the best way to do this all year. Hopefully, I'll have a foolproof calculation by the end of the year to include in my 2020 Rock Your Reading Tracker!
My Best Book Recommendation Sources for Q3 2019
Key Takeaways
Who have been your best and worst recommendation sources lately?
How I Keep Track of My Reading Quality and Best Recommendation Sources…and You Can Too!
Are you thinking it takes me hours to calculate my reading quality and keep track of my Best and Worst recommendation sources every month? Well, it totally could, but it doesn't. I use my "Rock Your Reading" Tracker, which automatically calculates my reading quality for me and helps me easily keep track of my recommendation sources.
If you're interested in tracking your own reading quality and recommendation sources, you can purchase my tracker for $14.99! Go here for more details or purchase below! PS – my 2020 Reading Tracker will be available for purchase in mid-November!
Purchase the tracker…
Pin this post…