Every Last One by Anna Quindlen
Fiction (Released August 13, 2010)
299 Pages
Bottom Line: Read it.
Affiliate Link: Buy from Amazon

Source: Library (Publisher: Random House)

Plot Summary: The story of the Latham family – a normal, but not perfect family with teenage children – and the ripple effects of small decisions.
My Thoughts: Catherine at Gilmore Guide recently got me started on Anna Quindlen by recommending Miller's Valley and then Every Last One…and I cannot thank her enough. Quindlen just gets it…she gets motherhood, marriage, adult female friendship, life with teenagers, and grief (and I'm sure I'll discover more as I read more of her work)…and that shines through in the "yes, that's exactly how it is" writing that permeates Every Last One.
A loose end—that's what we women call it, when we are overwhelmed by the care of small children, the weight of small tasks, a life in which we fall into bed at the end of the day exhausted from being all things to all people.
This is the rare book that combines a booming plot with depth, emotion, and sparkling writing. A central plot point drives the story, but the action really isn't what this book is about. Quindlen kicks things off with an honest portrayal of a family that isn't too perfect and isn't too dysfunctional…they are decidedly average and relatable (I know, a departure from the dysfunctional families I normally love to read about). Mary Beth, the mother, is someone I could see myself being friends with and their three children are characters I recognized clearly from my youth. But then, something unimaginable happens and the book becomes about how regular people deal with inconceivable events. An overarching theme of the constant politeness that society expects…the sometimes cavernous disparity between what society expects people to say vs. what people truthfully feel or want to say…pervades the second half of the story.
Every Last One was not the light read that I expected…it was much better than that and enabled me to finish my 2016 reading (I read this in late December) with a 5 star book.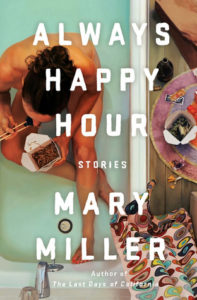 Always Happy Hour by Mary Miller
Fiction – Short Stories (Released January 10, 2017)
256 Pages
Bottom Line: Read it.
Affiliate Link: Buy from Amazon

Source: Purchased (Publisher: Liveright)

Plot Summary: A collection of short stories from the perspective of women in bad situations making bad decisions.
My Thoughts: Always Happy Hour is going to be a tough sell because 1) short stories generally are and 2) my descriptions of the book aren't the kind that generally make hoards of readers run to the bookstore…but, this collection is very, very good if you like dark stories (read between the lines: it isn't for everyone). Elements of this collection reminded me of two beloved TV shows: Seinfeld because the stories aren't really about anything, yet they're about everything (sort of snapshots of life rather than plot-heavy)…and The Office because of the deadpan tone.
This is not my life, or it is not the life I'm supposed to be living, and so I can pretend that it is. I don't consider the actuality of my situation, which is that every day I live this life it becomes more and more mine, the real one, and the one I'm supposed to be living falls further away; eventually it will be gone forever.
Most of the women in these stories have a defeatist quality about them; life has sort of left them behind. There is a sense of inertia hanging over everything and they can't seem to take control of their lives. I wanted to shake them many times…but, we've all had defeatist moments in our own lives and those moments are the reader's lifeline to relating to certain aspects of these characters' lives, if not the overall wholes. There is a sameness to many of the stories and so they ran together in my head a bit, but reading a story a day or so helped, and my two favorites (Little Bear and First Class) came towards the end of the collection. Pick this collection up if you're a fan of dark, dry humor and gorgeous writing.