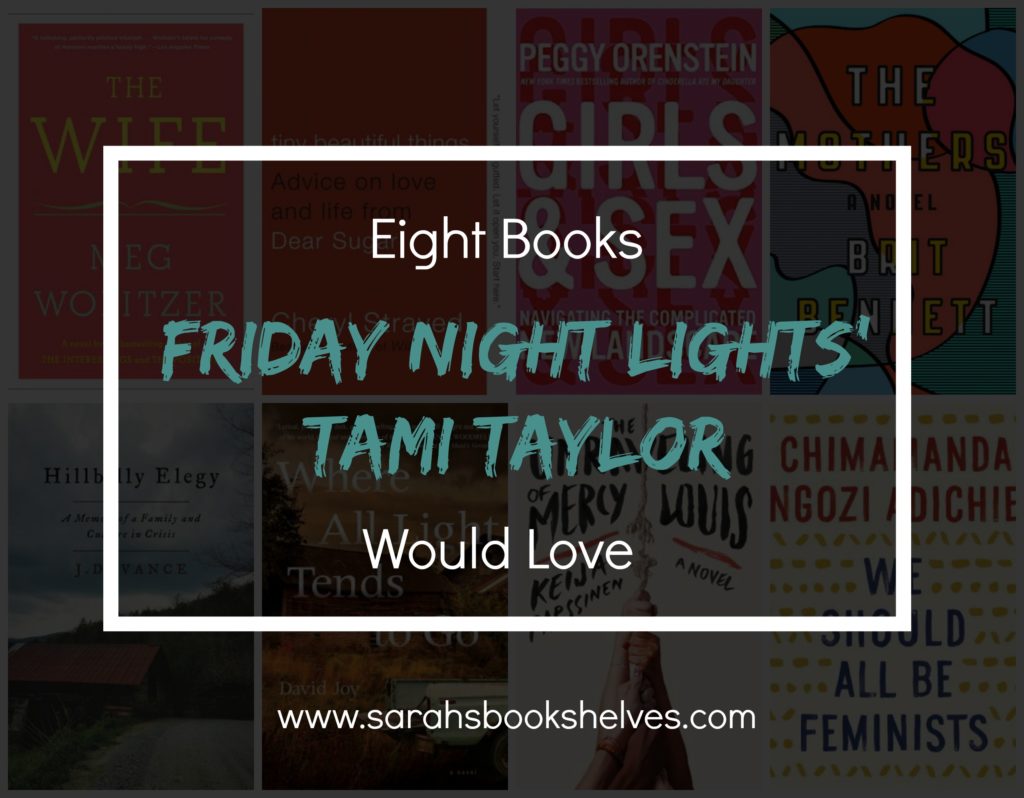 If you're a regular reader of this blog, you are probably aware of my Friday Night Lights
 (the TV show, not the movie) obsession by now. My husband makes fun of me because I talk about the characters as if they are real people…and also because I'm still obsessed with them years after the show ended. I 100% own all of the above and this post is a prime example. And, don't think I'm stopping with Tami; I feel Coach and Riggins (yes, unlikely, but I think I can make it happen) installments brewing down the line.
Eight Books Friday Night Lights' Tami Taylor Would Love
Because she focused on her career within the context of her marriage…
Because she was the Dillon High School students' main source of adult, yet non-judgmental advice…
Tiny Beautiful Things
 by Cheryl Strayed (mini review)
So she could stay informed about the high school sex scene (and counsel Julie appropriately)…
Girls & Sex
 by Peggy Orenstein
Because she counseled Becky on a major life choice…
The Mothers
 by Brit Bennett (mini review)
Because she takes kids from terrible home situations under her wing and pushes them to want more…
Hillbilly Elegy
 by J.D. Vance (mini review)
Where All Light Tends to Go
 by David Joy (mini review)
Because she's a champion for bad@ss ladies and, you know, Texas high school sports…
The Unraveling of Mercy Louis
 by Keija Parssinen (review)
Because underneath all her Southern charm, Tami is a feminist at heart…
We Should All Be Feminists
 by Chimamanda Ngozi Adichie
Fellow Friday Night Lights fans, what other books do you think Tami Taylor would love?