After having a bit of an unexpected hangover from Sweetland and having trouble settling into my next book, I thought a recovery book was in order. I was sure Along the Infinite Sea would hit the spot and was planning my next installment of my Alcohol & Advil feature. Alas, Alcohol & Advil will have to wait…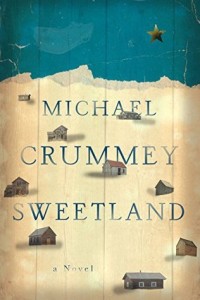 Sweetland by Michael Crummey
Fiction (Released January 19, 2015)
336 Pages
Bottom Line: Read it.
Affiliate Link: Buy from Amazon

Source: Purchased
Plot Summary: As the tiny island town of Sweetland deteriorates, the Canadian government offers the remaining residents a monetary package to "resettle" elsewhere, but Moses Sweetland doesn't want to leave his home.
My Thoughts: Sweetland is an incredibly moving book that slowly crept under my skin before going in an unexpected and intriguing direction. It begins as a portrait of a tiny (and quirky) town before moving into a world where reality is hazy. Some reviews noted that Sweetland's Canadian Island dialect takes some getting used to, but it didn't bother me at all. In fact, I found much of the writing downright gorgeous:
He looked up at the hills surrounding the cove, sunlight making them ring with meltwater. He'd always loved that sound, waited for it each spring. Hearing it made him certain of the place he came from. He'd always felt it was more than enough to wake up here, to look out on these hills. As if he'd long ago been measured and made to the island's specifications.
Moses Sweetland is a lovable curmudgeon (a character type that gets me every time…see A.J. Fikry!) and the book has a Grumpy Old Men vibe as Moses and his equally eccentric neighbors rib each other day after day. I loved the way Crummey gradually revealed surprising background information about the town's history and each of its residents…in a way that reminded me a bit of Did You Ever Have A Family. I'm thrilled to have finally been introduced to this Canadian author (thanks, Shannon and Naomi!) and been able to slide Sweetland into my Best Books of 2015 list at the last minute.
Along the Infinite Sea by Beatriz Williams
Historical Fiction (Released November 3, 2015)
461 Pages
Bottom Line: Skip it.
Affiliate Link: Buy from Amazon

Source: Publisher (Putnam) via NetGalley
Plot Summary: In 1966, pregnant and alone Pepper Schuyler sells the Mercedes Roadster she found in a shed at her sister's Cape Cod house to the mysterious Annabelle Dommerich, who has quite the story of her own.
My Thoughts: It literally pains me to write this review because Beatriz Williams is one of my go-to authors for light, but entertaining page turners about family drama and wealthy people behaving badly. Along the Infinite Sea is the third book in the Schuyler sister series, focusing on Pepper, and unfortunately, my least favorite of the three.
The story is told in duel perspectives and timelines: one focusing on Pepper in 1966 and one focusing on Annabelle's experience of falling in love during the lead-up to World War II in the 1930's. Williams has surprised me with family drama twists and turns in all her previous books, but the plot twists in Along the Infinite Sea just weren't that eye-opening. And, while Williams usually includes some romance in her books, it felt a bit heavy-handed and drawn out here.
For anyone interested in trying Beatriz Williams (and I think you should if you like family drama page turners!),  I recommend starting with A Hundred Summers, one of my fall-time favorite beach reads.