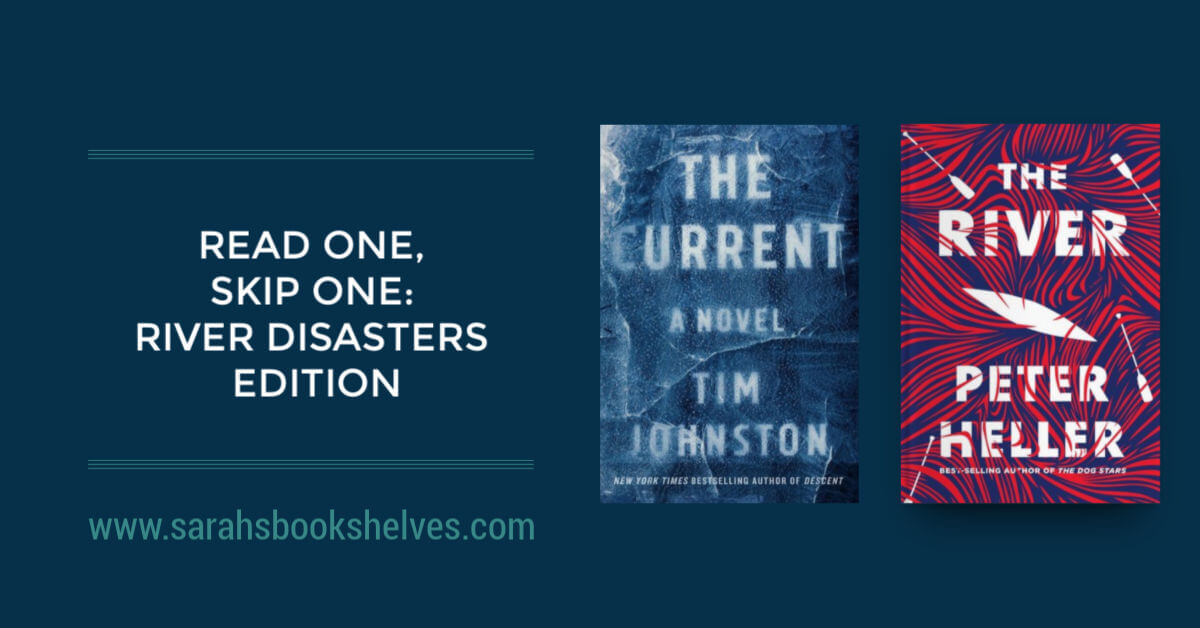 This pairing of Read One, Skip One is appropriate because both books involve river-related disasters, but I much preferred one book over the other!
This post contains affiliate links (plus: here's your Amazon Smile-specific affiliate link
).
Read This One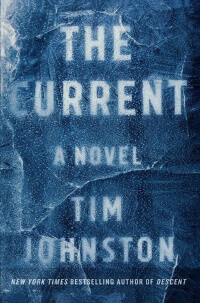 The Current
by Tim Johnston
Fiction – Mystery / Thriller (Release Date: January 22, 2019)
352 Pages
Affiliate Link: Buy from Amazon

Source: Library (Publisher: Algonquin)

Plot Summary: When two college girls end up in the icy Black Root River on their way to Minnesota, a small town is taken back to another young girl's death in the same river a decade earlier.
My Thoughts: Even though I DNF'd Johnston's last novel (Descent), I finally decided to try The Current after Susie at Novel Visits and Meredith from the Currently Reading podcast loved it and described it as a literary mystery (a genre I normally love). And, I think their categorization is spot on. It feels like a suspenseful small-town story (especially in the first half)…not a thriller. Though the beginning is a slow burn, I was immediately drawn in and wanted to find out how these two river tragedies a decade apart would connect. And, the second half really takes off. It feels more like a mystery and I couldn't put it down. My one complaint (and what kept it from being a 5 star book for me) is that the story jumps around in time and perspective with absolutely no warning. The perspective and/or time period could change within a chapter and with no heading to alert the reader. I think more chapter breaks and timeline / perspective headings would have been helpful. Still, I'll be adding The Current would make a great beach read!
"A man doesn't really ever know himself, Ed," he said. "He thinks he does, but he doesn't. There's something in him that goes deeper than anything in his raising or his beliefs or his badge or whatever the hell he lives by. And once he reaches that place, well. Right and wrong are just words."
Skip This One
The River by Peter Heller 
Fiction – Literary (Release Date: March 5, 2019)
272 Pages
Bottom Line: Skip it.
Affiliate Link: Buy from Amazon

Source: Library (Publisher: Knopf)

Plot Summary: Best friends Jack and Wynn face multiple threats on a canoe trip along the Maskwa River in Canada.
My Thoughts: The River came highly recommended by Anne Bogel (it's a minimalist pick for her 2019 Summer Reading Guide), Susie at Novel Visits, and Tina at TBR, etc. Unfortunately, I got bogged down in the camping and wilderness details (so much jargon!) and a slow start…and put it down at 23%. But, I was convinced to pick it back up and the pace definitely picked up after that point as the boys try to outrun a massive wildfire and get entangled with some dangerous people (the thriller-style elements). But, the camping details didn't let up, I had trouble connecting with the characters (I frequently got Jack and Wynn mixed up), and it got "huh?" philosophical at times. I did finish it because I wanted to know if the boys would make it out alive, but it was only 3 stars for me.
There is no place I'd rather be, he thought. And also: Something is not right. He could feel it on the back of his neck, almost the way the hair prickles and rises just before a lightning storm in the Never Summers back home.
Have you read either of these two books? What did you think?
Pin this post…