If you have not read Where They Found Her and are planning to, do not read any further. There are SPOILERS in this post. Check out my spoiler free review instead!

Where They Found Her is one of those books that it's hard to talk about without revealing spoilers. So, for the second time ever, I've written a blog post with spoilers (the first was for The Girl on the Train)!
For a general overview of my thoughts about Where They Found Her, please see my spoiler free review.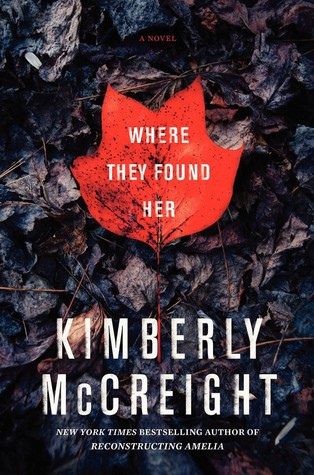 One of my favorite things about this book was that every guess I had about the outcome was wrong…which is exactly what I'm looking for in a thriller. How disappointing is it to guess the ending (The Girl on the Train, I'm looking at you)?!
My Wrong Guesses
About 30% of the way through, I thought Steve was secretly Sandy's biological father.

Speaking of Steve, I thought he was "The Captain" right up until the moment when Molly and Sandy were looking at the old yearbooks and discovered that Steve was actually Tex.

About halfway through, I thought Aiden could possibly be the father of Rose's baby (i.e. the baby found in the woods). This seemed overly obvious at the time, but I thought Stella was somehow responsible for disposing of the baby to help cover for her son.

I thought Jenna was going to have a much bigger role in the scandal of the dead baby than she did.

At the end, I thought Hannah had been another victim of Thomas Price, the Dean of Students at Ridgedale University. What I 100% did NOT see coming was Justin being the father of Hannah's baby. Did anyone out there guess this correctly?!
What were your wrong guesses? What plot twists did you get right?
There were a couple questions that I didn't think were answered, which isn't necessarily a bad thing. Sometimes endings can be a little too perfectly tied up in a bow.
My Lingering Questions
Towards the end of the book, Jenna was in a car accident after a run-in with Barbara. I thought Barbara had run her off the road in an attempt to get rid of her. This was never specifically addressed in the book, but there were certainly hints that Barbara might have been involved in her disappearance. Did Barbara cause Jenna's car accident?

What happens between Steve and Jenna? Do they reconnect in any way? Possibly jailhouse pen pals?

What was Steve's jail sentence? The book says that he confessed to voluntary manslaughter in Simon Barton's death and that the judge was leaning against pursuing much jail time. I would have liked to know how much he ended up getting.

And, who was the father of Rose's baby? To be honest, this may have been answered in the book, but I can't remember!
And, finally…
What did you all think of Jenna forcing Sandy to go off on her own following the car accident?
This was the one part of the ending that I really didn't like. It seems completely unrealistic that a mother would send her teenage daughter out into the world alone…especially after having almost died in a car accident. Isn't Jenna's brush with death more likely to give her the wherewithal to clean up her own act for the sake of her daughter than to lead her to send Sandy away because she's convinced she'll never right her ship? I couldn't figure this one out.
What do you all think? Let's talk…
After the Crash by Michel Bussi
All Is Not Forgotten by Wendy Walker
Behind her Eyes by Sarah Pinborough
The Girl on the Train by Paula Hawkins