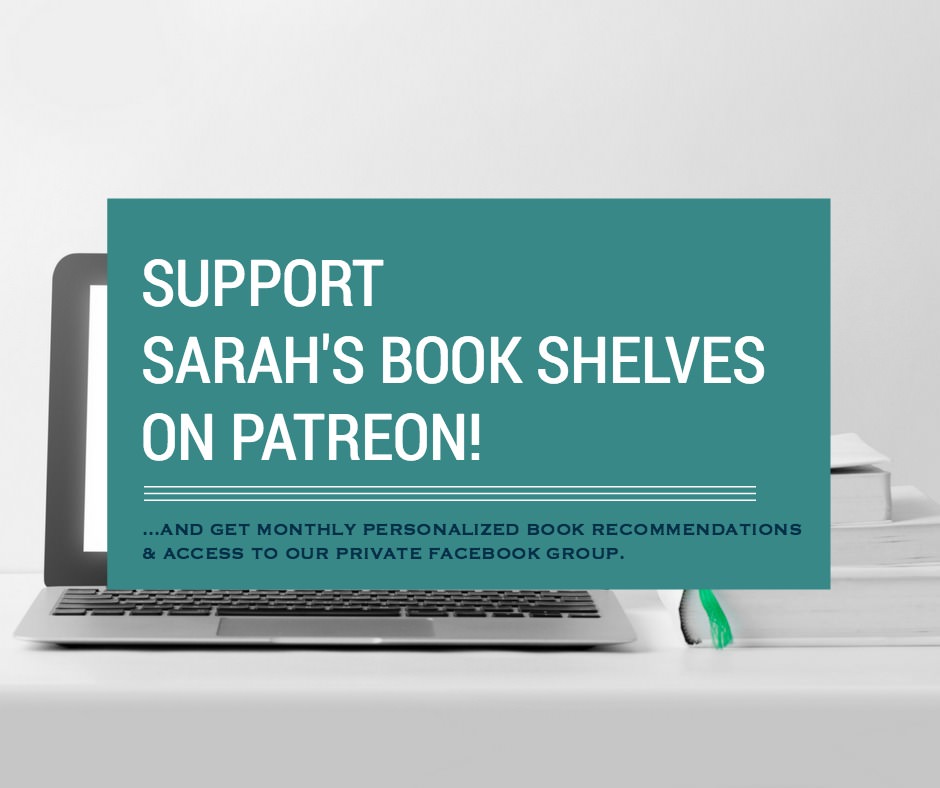 You may remember the first ever Sarah's Book Shelves Reader Survey we did earlier this year where we learned a ton about our blog readers. I asked you to tell me your biggest reading problems and two of your top answers were:
Finding the Right Books for Your Taste
Finding People to Talk Books With
I promised that new features addressing both these issues would be coming later this year. Well, they're now here!
These extra features add an fun dimension to the blog's current content and will be available to readers who support the blog on Patreon (i.e. who I'm calling my "Superstars").
What is Patreon?
Patreon is a website where you can join your favorite creator's (i.e. blog, podcast, etc) exclusive community by donating a few dollars a month to support his/her work.
In return for your support, most creators offer "rewards" (i.e. exclusive content or services for their Patreon supporters).
While Patreon is relatively new in the book blogging world, you can already support some of your favorite podcasts and authors (e.g. The Popcast with Knox and Jamie, From the Front Porch with Annie Jones and Chris Jenson, Pantsuit Politics with Sarah & Beth, and fantasy writer N.K. Jemisin) on Patreon.
Become a Sarah's Book Shelves Superstar by supporting the blog on Patreon.
How does it work?
By paying a small amount per month to join the Sarah's Book Shelves Superstars community on Patreon, I'll reward you with a level of personalized service and interaction beyond my regular blog readers.
You will get access to the following rewards:
Superstars Facebook Group – $3 per month
A private Facebook Group where Sarah's Book Shelves Superstars (i.e. Patreon supporters) can talk books and share recommendations with each other (I can only read so much and there's a huge pool of blog readers out there that have great recommendations to supplement mine!). I'll also be sharing my occasional unfiltered (i.e. stuff you won't see on the blog) thoughts about specific books and reading in general. 

Monthly Personalized Book Recommendation

and

Superstars Facebook Group – $7 per month
One book

recommendation

selected for your personal reading taste emailed directly to you each month. You may remember I did a free trial for a personalized book recommendation service last Spring. This reward is closely modeled on that free trial. Personalized book recommendations are time intensive, so this reward level will be initially limited to 20 people. 
Personalized Book Recommendations Details
I provide a book recommendation (not the actual book) based on your personal taste. You can purchase or borrow the book(s) in whatever format (e-book, audiobook, hardcover, etc) you choose from the store of your choice.
After you sign up via Patreon, you'll receive a Thank You email from

Sarah's Book Shelves

containing a link to a questionnaire. The questionnaire will give me more information about your reading taste (if you're unsure how to articulate your reading taste, check out my post on How to Ask for Book Recommendations…So You Find Books You'll Love!), so I can make the best recommendations possible for you!
Please complete the questionnaire in order to start receiving your personalized book recommendations.
Your monthly book recommendations will arrive via email the 3rd week of every month. If you sign up after the 3rd week of the month, your recommendations will begin arriving the 3rd week of the following month. Make sure to check your "Promotions" folder if you use Gmail…and/or add sarah@sarahsbookshelves.com to your Contact List.

Each month, you'll also receive an email from Sarah's Book Shelves asking for feedback on your most recent recommendation and any specific requests for your next recommendation.
Testimonials
"Two of the books suggested weren't ones on my radar or TBR list. It was fun to read a book none of my Goodreads friends (where I get most of my book recs) had read :-)"

"I felt that [the recommendations] were truly personalized – she researched my reading past and worked with what I told her were my tastes."

"The book choices were spot on. When I had read a book another suggestion was recommended."
As always, please email sarahsbookshelves@gmail.com with any questions about becoming a Sarah's Book Shelves Superstar via Patreon!