Top Ten Tuesday is a weekly meme hosted by The Broke and the Bookish that asks bloggers to create Top Ten lists on a variety of bookish topics. This week's topic is Ten Books Every X Should Read.
I love me a good conspiracy theory (consequently, I've read an ungodly amount about the Kennedys!). And when fiction poses plausible, yet highly unlikely real-life scenarios, it gets me thinking . The first books that come to mind when I think about this category are Dan Brown's (particularly The Da Vinci Code and Angels & Demons, both of which I loved). But, they've been read by many…so, here are some excellent choices that aren't Dan Brown!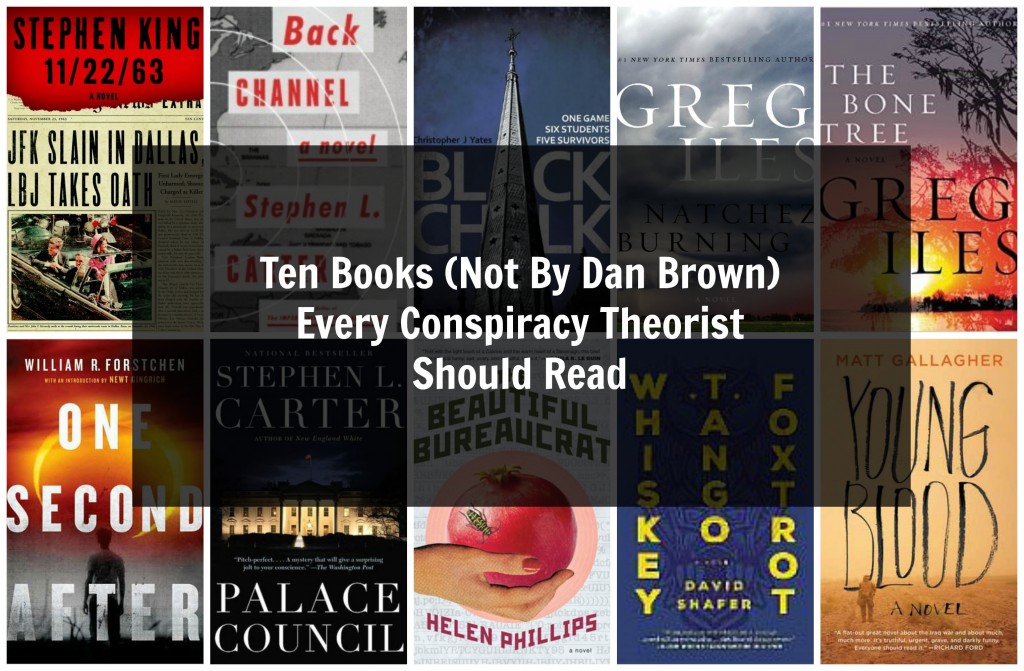 11/22/63 by Stephen King
What if someone could go back in time and stop the assassination of JFK?
Back Channel by Stephen L. Carter
What if the Cuban Missile Crisis was really resolved through a secret back channel…and the go-between was a female college student?
Black Chalk by Christopher J. Yates
What if a high stakes "game of consequences, silly forfeits, and childish dares" played by college students was actually run by a much larger and more powerful cabal of influencers?
Natchez Burning and The Bone Tree by Greg Isles
What if a splinter cell of the KKK was responsible for several high profile, unsolved Civil Rights era murders…and had a connection to the JFK assassination?
One Second After by William R. Forstchen
What would life look like if the U.S. was attacked by an EMP (electro magnetic pulse)?
Palace Council by Stephen L. Carter
What if President Nixon was a puppet for a group of wealthy businessmen and influencers?
The Beautiful Bureaucrat by Helen Phillips
What if a massive database had far more power than you could ever imagine?
Whiskey Tango Foxtrot by David Shafer
What if a cabal of powerful people could take over all the world's information (oh wait, is that Google or Facebook?)?
Youngblood by Matt Gallagher
What if the connections between U.S. forces in Iraq and the local population are far more convoluted than most people could imagine?