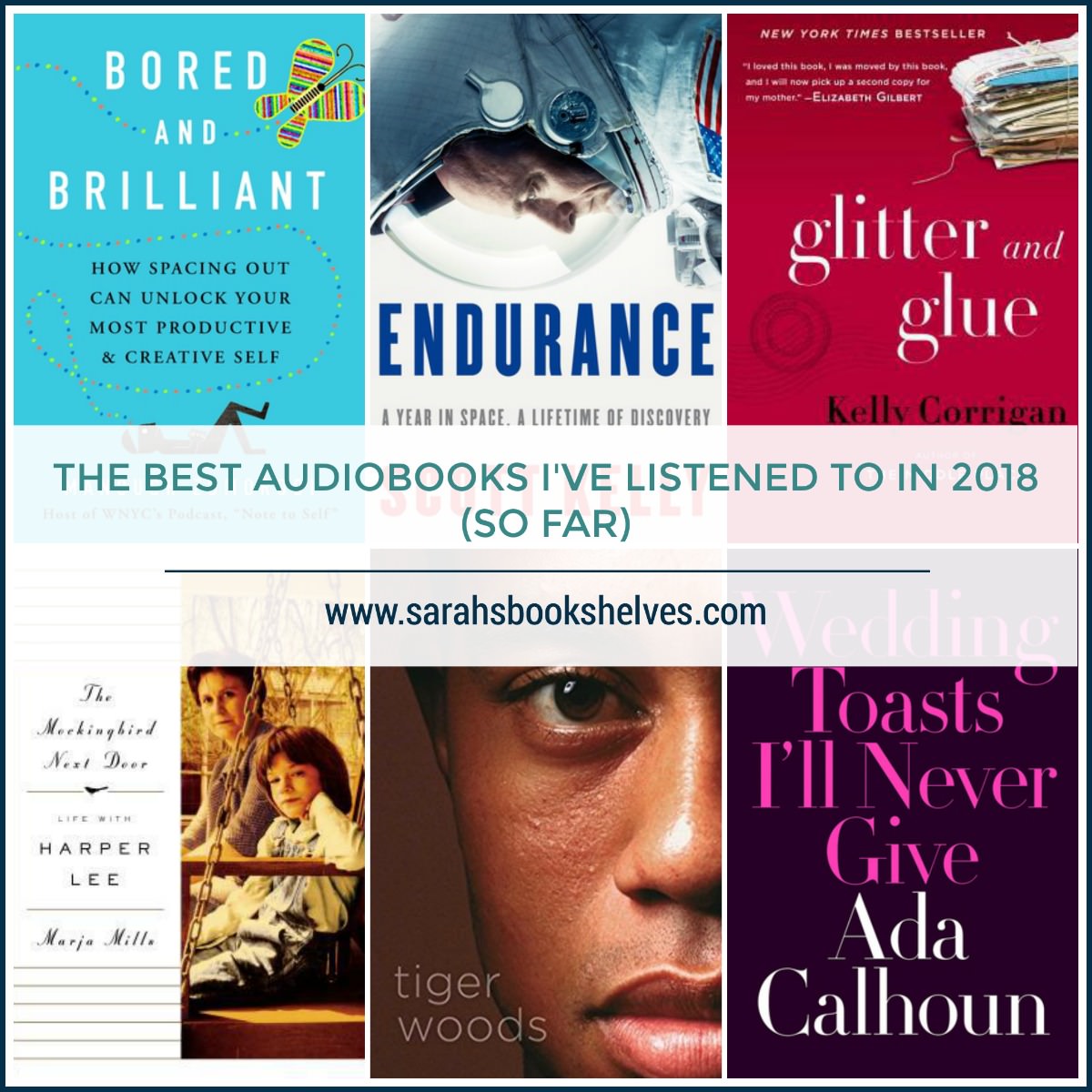 It took me awhile to get into a good grove with audiobooks, but now that I'm there, they've been such a great addition to my reading life. I had to figure out what type of books worked best for me (lighter nonfiction) and the right times to listen (not while I'm exercising). But, I've figured it out and incorporating audiobooks enables me to fit in so much more reading than I'd be able to otherwise! Plus, audiobooks are where I fit in lots of backlist books that it's hard to make time for. So, I'm excited to share the best audiobooks I've listened to in 2018 so far…
June is Audiobook Month (#loveaudiobooks) and incorporating audiobooks into my reading life has enabled me to read 20-30 more books per year, so I'm thrilled to participate in the Audio Publishers Association's "June is Audiobook Month" blog tour (#loveaudiobooks)!
Giveaway
And good news for you…as part of the blog tour, I get to offer you a giveaway of 8 audiobooks from Blackstone Publishing, High Bridge Audio, Hachette Audio, LA Theatre Works, Macmillan Audio, Post Hypnotic Press Audiobooks, Scholastic and Tantor Audio. The books will be available on Audiobooks.com, and you will get a promo code to access all 8 audiobooks. Let me know in the comments section if you'd like to be entered into the giveaway…
*Limited to U.S. residents only.

This post contains affiliate links (plus: here's your Amazon Smile-specific affiliate link
), through which I make a small commission when you make a purchase (at no cost to you!).
The Best Audiobooks I've Listened to in 2018 So Far
Bored and Brilliant
 by Manoush Zomorodi (September 5, 2017)
The host of the Note to Self podcast (which is awesome, by the way!) explores the connection between boredom (aka the opportunity for your mind to wander) and creativity. Hint: it involves unplugging from your phone and social media for periods of time. The science she shares about what excessive smartphone use is doing to our brains is fascinating and scary. And, she includes easy tips to help manage your smartphone use.
Affiliate Link: Buy from Amazon
Endurance
by Scott Kelly (October 17, 2017)
It took me the entire month of February to listen to this 12 hour audiobook! It's Astronaut Scott Kelly's (Former Congresswoman Gabby Gifford's brother-in-law) story of his year on the International Space Station. Hearing about what it's like to live on the Space Station was mostly really interesting, though the book could have been shorter.
Affiliate Link: Buy from Amazon
Glitter and Glue
 by Kelly Corrigan (February 4, 2014)
I absolutely adored Corrigan's latest memoir, Tell Me More, so I was excited to delve into her backlist. While Glitter and Glue didn't blow me away quite as much as Tell Me More, I still relished sinking back into Corrigan's signature brand of heartfelt, relatable, and sometimes irreverent observations about life and motherhood. Corrigan hadn't given much thought to what it's like to mother someone or quite appreciated her mother until she stepped into the role of surrogate caring for two children who had lost their own. If you like women's life observations-type writing (think Anna Quindlen, Cheryl Strayed), Kelly Corrigan should be next on your list!
Affiliate Link: Buy from Amazon
The Mockingbird Next Door
 by Marja Mills
Chicago Tribune journalist Marja Mills was improbably accepted by famously private Harper and Alice Lee when she visited Monroeville, AL for a story and ended up living next door to Harper. The story is as much about Mills' journey to friendship with the Lees as it as about Lee herself. As I was listening, I almost felt like I was in To Kill A Mockingbird. For a real treat, pair with Episode 172 of From the Front Porch podcast about Annie Jones' visit to Monroeville and a breakdown of what's happened with Harper Lee's estate since she passed away.
Affiliate Link: Buy from Amazon
Wedding Toasts I'll Never Give
 by Ada Calhoun (May 16, 2017)
This collection of essays flips wedding toasts on their heads…focusing on real talk about marriage with all its joys and challenges. Not the gushy platitudes that fill many actual wedding toasts. It's contemplative, a bit sad, but also real and honest. If you prefer things less sugarcoated, this collection is for you.
Affiliate Link: Buy from Amazon
Tiger Woods by Jeff Benedict and Armen Keteyian (March 27, 2018)
You've probably heard much of the scoop in this book before (especially if you're a golf fan), but mostly in little snippets over the course of his whole career. Benedict and Keteyian put all this together to paint a complete picture of Tiger as a person and an athlete. It's a cautionary tale of the pitfalls of an elite athlete in the limelight who has been trained as a machine…and sorely under-trained as a whole person. PS – Bill Simmons, one of my favorite sports writers/podcasters, loved this book and read it in a few sittings.
Affiliate Link: Buy from Amazon
What are the best audiobooks you've listened to in 2018 so far?