Last week, Goodsreads kindly informed me I was 2 books behind schedule for my 2018 reading goal. Well, I'm happy to say that, after this weekend, I'm now back on track! We spent the weekend in the Chesapeake Bay area and I was thrilled to get a lot of reading done (a house without a TV or Internet will help with that)…and do some fun things with my family (my son caught a skate off the dock!).
I also shared my June 2018 Books to Read (and Skip) last week. And, June had some winners!
Hosted by The Book Date.
This post contains affiliate links (plus: here's your Amazon Smile-specific affiliate link
), through which I make a small commission when you make a purchase (at no cost to you!).
I finished reading…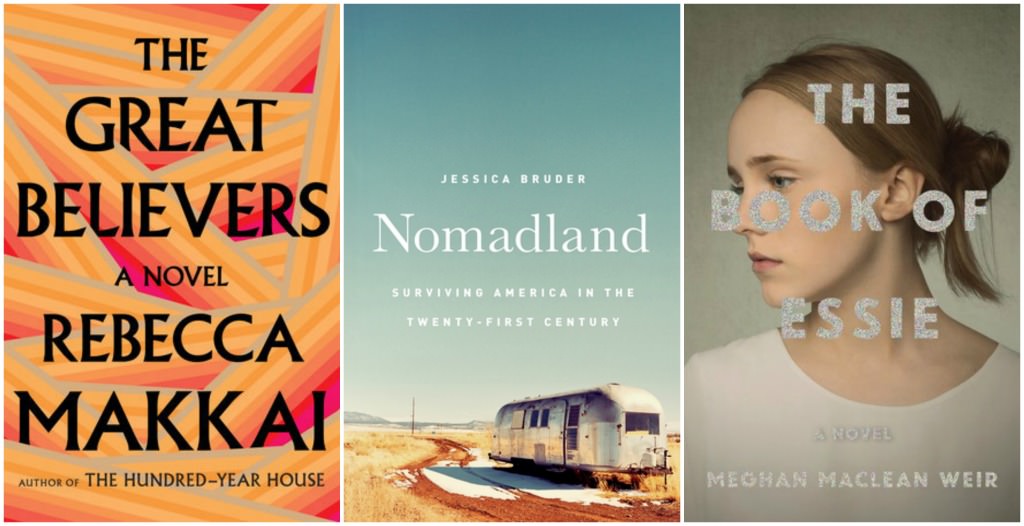 The Great Believers by Rebecca Makkai (June 19, 2018)
LOVED and reviewed last week!
Affiliate Link: Pre-Order from Amazon
Nomadland by Jessica Bruder (September 19, 2017, Audiobook)
I thought the overarching themes of a new class of nomadic, working elderly were really interesting and I was also intrigued by the behind-the-scenes of how Amazon's warehouses function, but I think this was probably more suited to a long-form article rather than a full length book. Overall, I'm lukewarm on it.
The Book of Essie by Meghan MacLean Weir (June 19, 2018)
A perfect, easy, but totally intriguing and well-done recovery book from The Great Believers! I flew through it. I'll be adding it to my 2018 Summer Reading Guide.
Affiliate Link: Buy from Amazon
I'm currently reading…
Only Child by Rhiannon Navin (February 6, 2018)
This novel about a school shooting told from the perspective of a seven year-old boy comes highly recommended by Catherine at Gilmore Guide to Books and Michelle at That's What She Read. I'm only 5% in, so I don't really have an opinion yet…I'll keep you posted!
Calypso by David Sedaris (May 29, 2018)
Y'all, I'm actually reading a hardcover book (it was one of my June Book of the Month picks)!! My first of the year if you can believe that. Because it's a hardcover, it's not my primary book…I'm reading an essay here and there. The first two essays were right on point.
Upcoming reading plans…
What We Were Promised by Lucy Tan (July 10, 2018)
Anne Bogel at Modern Mrs. Darcy recommended this family drama set in Shanghai in her 2018 Summer Reading Guide. We'll see how it goes…
I was reading…
One Year Ago: I was catching up on my Anna Quindlen backlist.
Two Years Ago: I was reading a quirky coming of age novel that ended up on my Best Books of 2016 So Far list.
How was your reading week?