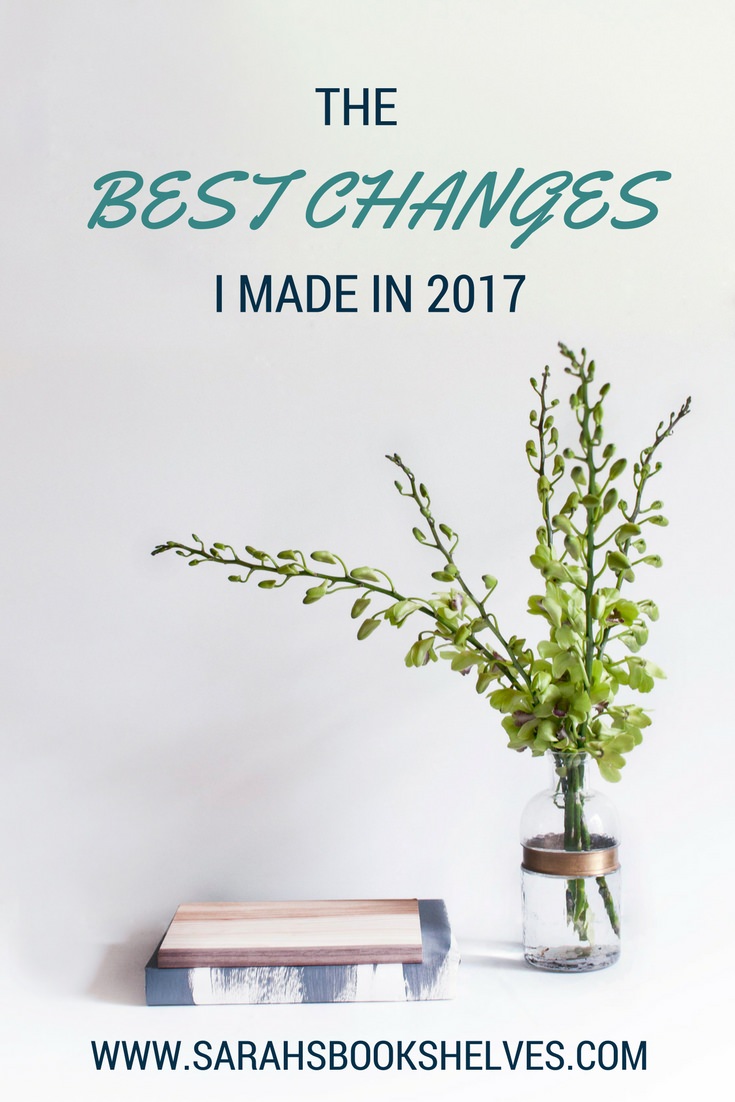 My family went through a lot of change this year and much of my mental space and emotional energy was focused on that. My other outlets had to slide in where they could, so I wasn't focused on intentionally adding more change to the situation. But, more change did find me.
I'm going to focus on three major changes, all of which I didn't really intend to make this year, but came about accidentally / out of necessity. One is blogging-related, one is reading-related, and one is neither, but all of them are long-term and on-going.
Linking up with A Month of Favorites hosted by Traveling with T, Estella's Revenge, and GirlXOXO.
This post contains affiliate links (plus: here's your Amazon Smile-specific affiliate link
).
Listened to Online Business-Related Podcasts
This year, I started listening to some online business-related podcasts (The Strategy Hour, Brilliant Business Mom, The Chopped Podcast, Simple Pin Podcast, and Online Marketing Made Easy) and they completely changed my thinking about this blog. For a long time, I've had vague ideas of shifting from blog to business, but I didn't have a consistent business-focused mentality about it. These podcasts helped me shift my thinking from "hobby" to "business (even a small one)." 
There are certain things that many online businesses (including blogs) do as a matter of course, but that book bloggers don't do for some reason. These podcasts have helped me see that I can and should do this stuff. I've already implemented a number of simple tips from these podcasts and have been plotting how to tackle some bigger ones.
I'll be sharing more about what to expect from Sarah's Book Shelves in 2018 in a later post, but a lot of it stems from pairing this with my next change…
Figured out How to Pick Better Books
Since starting this blog, I've chosen what books to read by combing publishers' catalogs and various "Most Anticipated Books of X Season" lists, which give you the book's premise, the publishers' selling points, and author blurbs (those quotes from well known authors that are on the cover of new books…endorsements, if you will).
I finally realized this system has not been serving me well! The early information I was using to make decisions came from the very people who want to sell as many books as possible (i.e. publishers). So, of course they're going to slap "THE thriller of 2017"-type labels on books that may or may not be very good. I don't blame them (it's their job to create hype), but I don't have to listen to them.
So, I started thinking about a new system for picking books. Many of my favorite books of 2017 were recommended to me by trusted sources and weren't on my radar during all that catalog combing. I realized the source of the recommendation is way more important than the book itself.
Over the last few months, I tracked all my recommendation sources and numerically figured out who gives me the best (and worst) ones. I'll be using this system to pick books moving forward (and I hope you'll join me!) and integrating this theme into everything I do on the blog next year, including…
My Most Anticipated Books of Winter 2018 list (coming on December 26) will mostly be books from trusted sources who, in as many cases as possible, have already read the book. For the first time ever, I did not look at a single publisher's catalog to create this list.
A tool to help you figure out which Best Books of the Year lists are most compatible with your reading taste (coming on December 19).
I'm working on a Reading Tracker that will enable you to easily figure out who your go-to and no-go recommendation sources are throughout the year (plus, a bunch of other good stuff)…which will be available for sale in January.
Started Exercising for Longevity
This last change was forced upon me when I threw out my back in February, but I learned some valuable lessons that will serve me well over the long-term.
Up until Winter 2017, I ran a lot (including occasional races) and did Sprint Triathlons. Throwing out my back forced me to drastically cut back my exercising and I haven't competed in a race since Thanksgiving 2016. The long recovery and endless hours of physical therapy since then have taught me how to exercise for longevity…and that longevity should be my goal now that I'm approaching 40.
What does this actually mean?
Don't go all-out every workout. I should go hard about 2 days a week and convert some of my weekly workouts into recovery workouts at an easier pace.
Spend more time on recovery. For me, this includes foam rolling, recovery yoga (I love Jasyoga's videos), sleep, and stretching.
Increase the strength training, cut back on the cardio (which is hard on my joints). I'm now strength training 4 days/week and doing cardio 2 days/week rather than the reverse. And, my strength work is heavily focused on glutes, hips, and core to protect my lower back.
Appreciate the ability to just go for a run…at whatever speed feels good to me that day.
Listen to my body. If something hurts, stop whatever I'm doing. If I'm really dragging, take some rest. My body is probably telling me something.
What were the best changes you made this year?