I spent last week dotting some i's and crossing some t's for Christmas preparations, but I'm finally in a spot where I can relax a bit. Shopping is done, gifts are organized (but not yet wrapped), Christmas cards are finally sent (no thanks to Tiny Prints, whose post-Shutterfly purchase system was beyond annoying), and school activities are over. I'm hoping to get some good reading in this week and enjoy the holidays!
If you've still got some holiday shopping to do, check out my Best Holiday Gifts for Book Lovers 2017! I've got you covered with book recommendations, the gift for book lovers that keeps on giving, and bookish gifts that aren't books. Best of all, you can get all this stuff without leaving your couch!
Finally, I posted my Best Books (hint: they're different than the literary critics' picks) and Best Debuts of 2017 lists and have one more coming (Best Audiobooks I Listened to in 2017). I also have Which Best Books of 2017 Lists Do You Agree With? coming on Tuesday…with a free download to help you find your Go-To and No-Go Bookish Media Sources!
Hosted by The Book Date.
This post contains affiliate links (plus: here's your Amazon Smile-specific affiliate link
).
Favorite Instagram Post
Follow me sarahsbookshelves
I finished reading…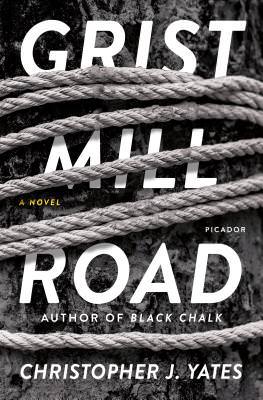 Grist Mill Road
 by Christopher J. Yates (January 9, 2018)
You know those books that you have structural issues with, but you still can't put down? Well, Grist Mill Road was one of those. Also, once you realize what the cover means, it's absolutely chilling. Mini review coming.
Affiliate Link: Pre-Order from Amazon
I'm currently reading…

The Party
 by Elizabeth Day (August 15, 2017)
I'm about 70% through this psychological story (notice I didn't say thriller…it's definitely not one) about two British, school friends that culminates at one of their 40th birthday parties. It's decent, but I'm not dying to get back to it. However, I am intrigued enough to want to see how it ends.
Affiliate Link: Buy from Amazon
Upcoming reading plans…
It's the time of year when I'm alternating between backlist books and 2018 new releases…unless library holds throw a wrench in my plans. I'd planned to read The Virgin Suicides last week, but library holds did throw a wrench, so I'll try to fit it in after my next 2018 release…

Tell Me More: Stories About the 12 Hardest Things I'm Learning to Say
 by Kelly Corrigan (January 9, 2018)
This essay collection by the author of Glitter and Glue
comes recommended by Annie Jones at From the Front Porch podcast, one of my Go-To Recommendation Sources.
I was reading…
One Year Ago: It was the day after Christmas!
Two Years Ago: I finally read The Handmaid's Tale!
How was your reading week?